HEALTH CARE BRIEFING: Becerra Assuages GOP on 'Medicare for All'
Bloomberg Government subscribers get the stories like this first. Act now and gain unlimited access to everything you need to know. Learn more.
Xavier Becerra, President Joe Biden's pick to lead the Health and Human Services Department, assured lawmakers yesterday that as HHS secretary he'd build on the existing private sector insurance scheme in the U.S. rather than push for Medicare for All.
When he was a member of the House, Becerra championed the federal government-operated health-care program that would cover all Americans, in a shift that would effectively wipe out the private-sector health insurance industry.
"The most important thing is to give everyone in this country coverage, good coverage," said Becerra, now California's attorney general, in response to a question from the Senate Finance Committee's ranking member, Mike Crapo (R-Idaho). Biden has "made it very clear where he wants to build on the Affordable Care Act. That will be my mission," he said.
Crapo said he appreciated the response. "I strongly support private insurance so patients can choose the coverage option that best meets their needs," he said in opening remarks, adding he and Becerra had spoken privately about the need to maintain the country's current system while building upon it.
The health-care industry pushed back on proposals favored by some Democrats during the presidential campaign to replace private insurance with Medicare for All or to supplement it with a public option. Industry groups from insurers, hospitals and drugmakers are united in their opposition to single-payer public health insurance.
Other key takeaways and highlights from Becerra's testimony before the Finance Committee yesterday and the Health, Education, Labor and Pensions Committee on Tuesday:
Senate Republicans in both hearings pressed Becerra on how to preserve Medicare's financing, asking him how the government could expand public insurance programs without compromising coverage for seniors. Becerra said any changes, including the president's push for Medicare-like public options, won't use the Medicare Trust Fund.
Becerra also said he's committed to health equity issues that have come into the fore during the coronavirus pandemic and a nationwide reckoning over structural racism. Becerra vowed to increase diversity in clinical trials and improve dementia diagnoses among Black and Latino people.
Becerra also promised that if confirmed, he would recuse himself from all lawsuits he's been involved in as California attorney general. He is named in several that involve the HHS under President Donald Trump. Becerra led the fight to preserve Obamacare in a lawsuit currently before the Supreme Court.
The questioning of Becerra comes at a crucial point for the nascent Biden administration. The death toll for the Covid-19 pandemic has passed the 500,000 mark, and key HHS agencies are working with acting officials because almost all of their leaders still await Senate confirmation. Read more from Shira Stein, Alex Ruoff, and John Tozzi.
Happening on the Hill
Murthy, Levine Nominations: The Senate Health, Education, Labor, and Pensions Committee scheduled a hearing today to consider the nominations of Vivek Murthy, former U.S. Surgeon General under Barack Obama, to reprise the position under Biden; and Rachel Levine, former Pennsylvania Secretary of Health, to serve as assistant HHS secretary.
House Democrats Unveil Updated Aid Bill: House Democrats released an updated version of their coronavirus aid bill yesterday, adding funds for foreign aid, tribal governments, tribal housing, and other provisions ahead of a vote this week. House Budget Chair John Yarmuth (D-Ky.) filed a manager's amendment that added three sections previously cut out of the committees on Foreign Affairs, Natural Resources, and Science, Space, and Technology.
Appropriators Push Funds for Emergency Health Prep: DeLauro will push to set aside $5 billion for public health emergencies, giving the government funds to tap into for future disease outbreaks, Alex Ruoff reports. DeLauro, chair of the House Appropriations Committee, said yesterday state and federal public health departments have been underfunded and need reserves. Her proposal would place $5 billion into the Public Health Emergency Fund, a pool of funds for the Department of Health and Human Services that current stands empty.
"We have saved airlines, we have saved small businesses: we now need to be in the business of saving lives," DeLauro said.
Rep. Tom Cole (R-Okla.), the top Republican on the House Appropriations panel responsible for health and education funding, said he agreed federal health agencies need added funds for future emergencies. "Sometimes you need to spend billions to save trillions," he said.
Public health departments are asking for at least $4.5 billion for state and local health agencies in the next spending bill to bolster disease-response efforts, Jennifer Kertanis, president of the National Association of County and City Health Officials, told the committee. The hope, she said, is that the U.S. can maintain that level of funding for years to come.
That figure represents a long-time request from health officials, who say the U.S. has long left state and local agencies without adequate funding for staff and technology improvements, she said.
State health agencies rely on both state and federal funding. The Centers for Disease Control and Prevention's Chronic Disease and Health Promotion program, one of the largest programs that gives funds to state and local health departments, was funded at $1.27 billion in fiscal year 2021, up from $1.23 billion the year before.
9/11 Commission-Style Covid-19 Probe Sought: Sens. Bob Menendez (D-N.J.) and Susan Collins (R-Maine) introduced bipartisan legislation "creating an independent, non-partisan commission, closely modeled after the 9/11 Commission" that investigated the Sept. 11 attacks "to assess the nation's pandemic preparedness" and offer recommendations "to improve our country's readiness for future public health crises," according to a statement. They released similar legislation in the 116th Congress.
House Panel Scrutinizes Azar Over Family Separations: The House Energy and Commerce Committee asked former HHS Secretary Alex Azar to provide information on what he knew and when about the Trump administration's family separation policy. They want to know if he attended a May 2018 meeting at the White House "during which potential family separations were discussed," citing an NBC News report. The request is unusual as committees normally don't probe answers from members of a prior administration's Cabinet. Read the letter here.
Lawmakers Target 'X-Waiver' in Addiction Legislation: Sens. Maggie Hassan (D-N.H.) and Lisa Murkowski (R-Alaska), and Reps. Paul Tonko (D-N.Y.) and Michael Turner (R-Ohio), plan to reintroduce today a bipartisan bill to eliminate a "bureaucratic hurdle" known as the "x-waiver," according to a statement. Health-care workers are required to undergo training to obtain the x-waiver before prescribing buprenorphine, an opioid used to treat opioid abuse. The lawmakers sent Biden a letter Feb. 8 seeking his support on the issue.
Democratic Bill Targets Maternal, Infant Mortality: Sens. Dick Durbin (D-Ill.) and Tammy Duckworth (D-Ill.) yesterday unveiled the bicameral "Mothers and Offspring Mortality and Morbidity Awareness (MOMMA) Act," which seeks to cut down America's "rising maternal and infant mortality rate, especially for moms and babies of color," according to the lawmakers in a statement. The measure calls for national obstetrics emergency protocols and standardized data collection. They released similar legislation in the 116th Congress.
Separately, Reps.

Robin Kelly

(D-Ill.) and

Bob Latta

(R-Ohio) unveiled the bipartisan "Supporting Best Practices for Healthy Moms Act," also aimed at reducing maternal deaths in the U.S. Their bill aims to " help improve health outcomes for pregnant women enrolled in Medicaid by establishing best practices for maternal care providers," among other provisions, they said in a statement.
Progressives Raise Abortion Issue Policy Council: A group of progressive Senate Democrats, including Elizabeth Warren (Mass.) urged Biden and Vice President Kamala Harris to support the establishment of what they called an "Office of Sexual and Reproductive Health and Wellbeing" within the White House's Domestic Policy Council that "would develop, establish, and coordinate a federal government effort to secure reproductive justice for all," a statement says. Read the letter here.
The Coronavirus Pandemic
Winter Storm Stymies Vaccinations Across States: More than a week after winter weather upended America's vaccination push, about 1 in 5 states are still trying to regain momentum in the Covid-19 vaccination push. In 10 states, the seven-day average of new vaccines is lower than it was two weeks earlier, according to the Bloomberg Vaccine Tracker. Among the worst, Indiana was off 43% and Mississippi was set back 42%, while Arkansas and Texas were down 41% each. Read more from Jonathan Levin.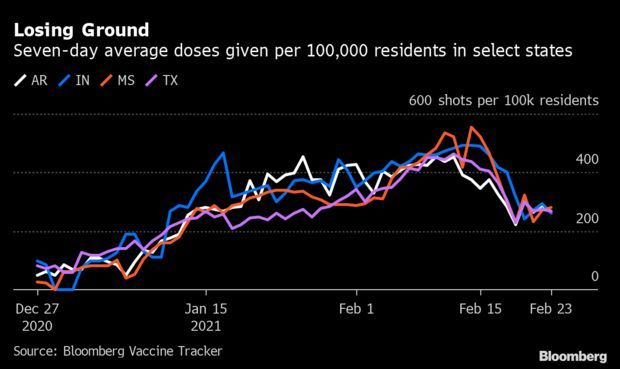 Johnson & Johnson Vaccine Found Effective by FDA: Johnson & Johnson's Covid-19 vaccine is safe and effective, regulators said, a major milestone on the path toward giving Americans access to the first such shot to work in a single dose. The vaccine was 72% effective in the U.S.-based portion of a global trial that enrolled over 43,000 people, Food and Drug Administration staff wrote in a document that summarized the company's results and confirmed findings J&J released earlier this month.
The vaccine was highly effective against severe disease in all regions where it was tested and worked better against mutant coronavirus strains than previously reported, the report shows. There were no coronavirus-related deaths among people who received the vaccine in the trial, the FDA staff wrote in their analysis, and no safety concerns that would preclude emergency-use authorization. However, the FDA lacked data to determine whether the vaccine prevented asymptomatic cases, the report said.
Agency officials prepared the document ahead of a meeting tomorrow where a committee of external advisers will make a nonbinding recommendation as to whether the vaccine should be authorized. The committee is expected to discuss the effect of Covid-19 variants at length. If J&J's shot is quickly authorized after tomorrow's meeting, the drugmaker will initially be able to provide 3 million to 4 million doses next week, a Biden administration official said. Read more from Riley Griffin and Anna Edney.
Johnson & Johnson's Covid-19 shot is set to be a valuable addition to the arsenal of vaccines that could get the country closer to herd immunity. First, it could ensure people can get fully immunized without needing to go back for a second dose. Second, it's been tested against the novel virus mutations. Jacquie Lee has more.
Meanwhile, Moderna is preparing to study multiple approaches to vaccine booster shots that may protect against the emerging coronavirus strains, while gearing up to produce more doses of its shots this year and next. In a statement yesterday, the drugmaker said it had completed manufacturing doses of a new version of its Covid-19 vaccine modified to target the South Africa strain and shipped it to researchers at the NIH for study. Read more from Robert Langreth.
White House to Ship 25 Million Masks: The Biden administration will send 25 million masks to disadvantaged communities that have borne the brunt of the coronavirus pandemic in the U.S. The administration will ship masks to 1,300 community health centers and thousands of food banks and soup kitchens, with the objective of getting them to vulnerable communities. "Many low-income Americans still lack affordable access to this basic protection," Jeff Zients, Biden's Covid-19 chief, said yesterday. Josh Wingrove, Shira Stein, and Jill R. Shah have more.
More Headlines:
Global Headlines:
What Else to Know Today
NIH, FDA Target Barriers to Rare Disease Drugs: Drug companies pursuing gene therapies for rare diseases could have a new financial model that makes developing these cutting-edge, lifesaving treatments more sustainable. Francis S. Collins, director of the National Institutes of Health, said that the agency is looking at expanding an existing partnership with industry and nonprofits to focus on gene therapies for ultra rare diseases that may affect only a few people—and therefore a commercial incentive for treatments is lacking. Jeannie Baumann has more.
HHS Halts Faith Groups' Health Grant Rule: Religious groups won't be able to more easily get federal grant funds after the Health and Human Services Department yesterday delayed the regulation's effective date until Aug. 11. The final rule, published Jan. 12, technically went into effect Feb. 11 and reversed the Obama administration that rule bars recipients of grants for foster care programs from discriminating on the basis of age, disability, sex, race, religion and sexual orientation. Read more from Shira Stein.
Biden Eyes Supply-Chain Review Includes Pharmaceuticals: Biden ordered a government review of U.S. supply chains, seeking to end the country's reliance on China and other foes for crucial goods, including rare earth materials. But the process will take months, offering no immediate solution for a shortfall of semiconductors that's idled auto production at multiple factories. The administration's 100-day review will cover chips, large-capacity batteries, drugs, and key minerals, the White House says. Read more from Jenny Leonard.
More Headlines:
With assistance from Alex Ruoff
To contact the reporter on this story: Brandon Lee in Washington at blee@bgov.com
To contact the editors responsible for this story: Zachary Sherwood at zsherwood@bgov.com; Giuseppe Macri at gmacri@bgov.com; Michaela Ross at mross@bgov.com
Stay informed with more news like this – from the largest team of reporters on Capitol Hill – subscribe to Bloomberg Government today. Learn more.