HEALTH CARE BRIEFING: Astra May Have Given Outdated Vaccine Data
Bloomberg Government subscribers get the stories like this first. Act now and gain unlimited access to everything you need to know. Learn more.
AstraZeneca may have released outdated information about its Covid-19 vaccine trial, giving an "incomplete" view of the efficacy of the shot, said the leading U.S. agency on infectious diseases.
The Data and Safety Monitoring Board, charged with ensuring the safety and accuracy of AstraZeneca's vaccine trial, has expressed concerns to the National Institute for Allergy and Infectious Diseases that the information released about the testing results included outdated information.
This "may have provided an incomplete view of the efficacy data," the agency said in a statement early today, without elaborating.
"We urge the company to work with the DSMB to review the efficacy data and ensure the most accurate, up-to-date efficacy data be made public as quickly as possible," said the group headed by Anthony Fauci, the top U.S. infectious disease official.
AstraZeneca did not immediately respond to a request for comment made outside of office hours.
The DSMB, an independent panel, also raised its concerns to the British drugmaker and to the Biomedical Advanced Research and Development Authority, a U.S. agency that partially funded the shot's development. Read more from Michelle Fay Cortez and Jason Gale.
Happening on the Hill
Murthy Nomination: The Senate this afternoon is slated to vote on whether to invoke cloture on the nomination of Vivek H. Murthy to be surgeon general of the Public Health Service. If cloture is invoked on Murthy, under regular order a final confirmation vote for Murthy is expected two hours later, or at approximately 5:40 p.m.
House GOP Offers Little Infrastructure Support at E&C Hearing: House Republicans offered little support yesterday for a key section of Democrats' infrastructure plan and their proposed investment of $37 billion in public health systems and health centers. Rep. Cathy McMorris Rodgers (R-Wash.), the top Republican on the Energy and Commerce Committee, called the package a "progressive wish list" that included too many regulatory changes at a hearing by the panel. Other Republicans warned that Democrats were trying to spend more federal money on public health projects before billions of dollars made available over the past year were spent.
"Surely we could find those funds in the $6 billion pot of money for core public health infrastructure," Rep. Neal Dunn (R-Fla.) said, referring to the recently passed $1.9 trillion Covid-19 relief package.
Opposition from Republicans won't likely stop the package from advancing in the House but could complicate its passage in the Senate, where Democrats hold only the narrowest-possible majority.
Democrats argue that the nation's public health infrastructure is badly underfunded and their $312 billion package would help modernize hospitals, clinical laboratories and community health centers. "The bill rebuilds our public health system after a year from hell," Rep. Anna Eshoo (D-Calif.) said.
The LIFT Act would invest $37 billion in public health infrastructure, giving $7 billion to state, tribal, and local health departments, $4.5 billion to clinical laboratories, and $10 billion to community health centers.
House Energy and Commerce Chair Frank Pallone (D-N.J.) said he was optimistic the legislation will have Republican input before it moves out of committee, Kellie Lunney reports. "The bill itself has a number of Republican initiatives in it. We look at this as a work in progress," he said.
Biden Team Eyes Economic Plan With Health Programs: The White House is considering as much as $3 trillion worth of measures to include in the long-term economic program that will follow the $1.9 trillion pandemic relief bill signed earlier this month, according to three people familiar with the deliberations. The proposal will be presented to Biden this week, one person said, asking not to be named as the discussions are private. The proposal includes health-care initiatives, one said. Another said there will be money for child care and elder care. Read more from Saleha Mohsin and Jennifer Epstein.
Senate Group Targets High Prescription Drug Costs: A bipartisan Senate group, including Sens. Tammy Baldwin (D-Wis.), Mike Braun (R-Ind.), Tina Smith (D-Minn.), and Lisa Murkowski (R-Alaska), will reintroduce the FAIR Drug Pricing Act that would require "transparency for pharmaceutical corporations that plan to increase drug prices," according to a statement. The legislation was included in the Elijah Cummings Lower Drug Costs Now Act the House passed last year.
The legislation's introduction comes as the Senate Health, Education, Labor, and Pensions Committee's Primary Health and Retirement Security Subcommittee plans today to hold a hearing on drug prices. The hearing is titled, "Why Does the U.S. Pay the Highest Prices in the World for Prescription Drugs?"
Other Hearings Today:
The Senate Foreign Relations Committee plans a hearing on Samantha Power's nomination to be administrator of the U.S. Agency for International Development.
The House Energy and Commerce Health Subcommittee scheduled a hearing on legislation to expand the Affordable Care Act.
The Coronavirus Pandemic
Variants Rise, Adding Urgency to Vaccine Push: U.S. officials and public health experts are again raising alarms about the resurgence of Covid-19 cases in some regions, and especially are concerned about the role that variants are playing in states including Michigan and New Jersey. Those developments could augur a long-feared possibility: That another surge could occur even as states are flinging open vaccine eligibility, seeking to rapidly get shots in arms.
In Michigan and Minnesota, infections are mounting swiftly and new hospital admissions of confirmed or suspected Covid-19 cases are up about 70% and 32%, respectively, from recent lows, according to Health and Human Services Department data. And the pace of daily Covid-19 hospital admissions, meanwhile, has stopped its slide in New York and New Jersey despite the vaccine campaign, and begun to inch higher.
The four states have vaccinated between 19% and 21% of their populations, in line with the U.S. overall, according to Bloomberg's vaccine tracker. Another major outbreak could blunt the benefits of even widespread immunization in the U.S., said Nicholas Reich, an associate professor at the University of Massachusetts, Amherst, who works beside the CDC to better predict the virus's trajectory. Read more from Emma Court and Jonathan Levin.
Earlier yesterday, CDC Director Rochelle Walensky said that Americans must recommit to mask wearing and taking other Covid-19 mitigation measures to avoid a new surge. She added that she's concerned "if we don't take the right actions now, we will have another avoidable surge" as is being seen in Europe. Read more from Josh Wingrove.
Some Nursing Homes See First Covid-19 Cases: Hundreds of nursing homes saw their first confirmed Covid-19 infections in 2021 after having zero the year before, according to a study by a consumer watchdog. The findings show the country's nursing homes have dramatically reduced the incidence of Covid-19 in their facilities, but that they haven't entirely eliminated the problem—even amid a nationwide vaccination campaign. Tony Pugh has more.
Vaccine Recipients Face Injury Payment 'Black Hole': Vaccine recipients who suffer a very rare injury may have a difficult time getting compensated, as their only option right now is a little-known federal government program that critics say is opaque and offers payouts to just a handful of those who apply. Around 20 people have filed Covid-19 vaccine-related petitions with the HHS Countermeasures Injury Compensation Program between January 2020 and Feb. 16, 2021, a Freedom of Information Act document obtained by Bloomberg Law shows.
Attorneys expect that for those who have filed petitions, payouts will be few and far between. In a nearly decade-long period, less than 40 of 446 claims filed for injuries from vaccines used in other emergencies, such as H1N1 and smallpox, were eligible for compensation, according to data revealed through a separate FOIA request. Federal data show 5% of filed claims have been compensated as of March 1. Read more from Jacquie Lee and Ian Lopez.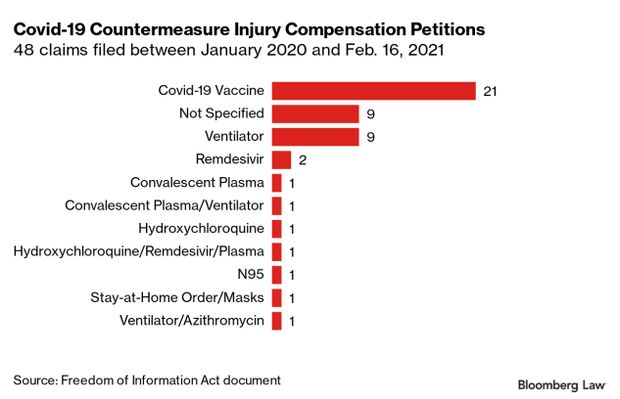 More U.S.Vaccine Headlines:
More U.S. Headlines:
More Global Headlines:
What Else to Know Today
Medical Research Gets Lift with NIH Alum: Fighting undue foreign influence and other legal issues related to medical research could gain more traction under the Biden administration with the appointment of a veteran NIH attorney to a high post in the health department's legal team. The Department of Health and Human Services announced a series of administration posts yesterday, including Barbara McGarey as deputy general counsel.Read more from Jeannie Baumann.
More Headlines:
With assistance from Nancy Ognanovich and Alex Ruoff
To contact the reporter on this story: Brandon Lee in Washington at blee@bgov.com
To contact the editors responsible for this story: Zachary Sherwood at zsherwood@bgov.com; Giuseppe Macri at gmacri@bgov.com; Michaela Ross at mross@bgov.com
Stay informed with more news like this – from the largest team of reporters on Capitol Hill – subscribe to Bloomberg Government today. Learn more.