HEALTH CARE BRIEFING: Abortion Showdown Begins at Supreme Court
Bloomberg Government subscribers get the stories like this first. Act now and gain unlimited access to everything you need to know. Learn more.
The most consequential abortion case in a generation comes before the Supreme Court today, as the justices weigh Mississippi's ban on abortion after 15 weeks of pregnancy and consider gutting the landmark Roe v. Wade ruling.
Even if the court doesn't explicitly overturn Roe v Wade, the 1973 ruling that legalized abortion nationwide, a decision upholding Mississippi's law would have a far-reaching impact. It would give states new license to curb abortion access, guaranteeing tighter restrictions in much of the country. The argument, which starts at 10 a.m., centers on a law that is far harsher than anything the court has previously upheld and all but impossible to square with Roe and other abortion precedents.
With a 6-3 conservative majority on the court, abortion opponents have a chance to achieve their long-sought goal of reversing Roe and putting the issue back under state control.
Mississippi contends that Roe and the 1992 Planned Parenthood v. Casey ruling are "egregiously wrong" decisions that have proven unworkable and only inflamed the debate on abortion. "Nothing in constitutional text, structure, history, or tradition supports a right to abortion," Mississippi Attorney General Lynn Fitch argued in court papers.
The 7-2 Roe decision said abortion protections were covered by the "right to privacy," a doctrine the court established in earlier cases, though the Constitution doesn't expressly use those words. The court re-affirmed Roe in Casey, while modifying the legal test. Casey said states can't impose an "undue burden" on abortion access until fetal viability, a point the court suggested was around 23 or 24 weeks at the time. Read more from Greg Stohr.
In the years since Roe v. Wade, opponents have successfully passed laws limiting abortion access, including barring U.S. funding and restricting on clinics. They convinced the Supreme Court to abandon Roe's trimester framework and limit so-called partial birth abortion. "The idea was that you would introduce more and more restrictions and get the Supreme Court to say that some or all of them were okay," said Mary Ziegler, a professor at Florida State University College of Law. "By the time you actually got around to telling the court to reverse Roe, there would be very little of the abortion right left." Jordan S. Rubin has more.
The Coronavirus Pandemic
The U.S. government's ability to stop the spread of a whole host of infectious diseases in health facilities could be threatened if the reasoning behind a federal court's decision to block President Joe Biden's vaccine rule for health-care workers is adopted by other courts. Legal scholars say the government has long used Medicare and Medicaid funding to set safety standards that health facilities must follow. But a federal judge in Missouri undermined that power when it said the agency needs Congress's permission before it can require Covid-19 vaccines, they say.
"The idea that CMS can't use its authority in this way unless Congress is explicit is really extraordinary and really would unwind just enumerable health and safety measures that regulate health care," said Wendy Parmet, faculty director of the Center for Health Policy and Law at Northeastern University School of Law, noting the safety protocols hospitals must follow to stop the spread of MRSA, a bacterial infection that's hard to treat, as just one example.
Judge Matthew Schelp, on the U.S. District Court for the Eastern District of Missouri, said the nature and breadth of the Centers for Medicare & Medicaid Services mandate requires clear authorization from Congress because it goes beyond the agency's general authority to enact health and safety regulations for program recipients. Schelp's decision temporarily blocks the Biden administration from enforcing its mandate for health-care workers in the 10 states that filed the lawsuit. It is the first victory for challengers to the mandate—one of four lawsuits Republican-led states filed against the CMS rule.
The U.S. District Court for the Western District of Louisiana yesterday afternoon issued a preliminary injunction that prevents the administration from enforcing the mandate nationwide—except for in 10 states already included in the Schelp order. Read more from Lydia Wheeler and Allie Reed.
Defense Secretary Lloyd Austin in a new memo released yesterday ordered members of the U.S. National Guard and Reserve forces to be vaccinated against Covid-19 or face loss of pay and be considered absent from drills and training. The defense chief's order comes after Oklahoma Governor Kevin Stitt (R) asked Austin to rescind the vaccine mandate for his state's National Guard. Austin denied the request to rescind the vaccine mandate and elaborated on the punitive measures. Read more from Roxana Tiron.
The Biden administration is asking a federal appeals court in Cincinnati to allow a three-judge panel to consider the legal challenges to its Covid-19 shot-or-test rule from the Occupational Safety and Health Administration, rather than break with that normal procedure in a way that would likely make the measure harder to defend. The rule requires employers to mandate that their workers get vaccinated against Covid-19 or tested on a regular basis. It applies to employers with at least 100 workers.
The administration yesterday told the U.S. Court of Appeals for the Sixth Circuit this week that it should reject petitions requesting that the court's full complement of active-status judges review the emergency rule. Several states with GOP attorneys general, the Republican National Committee, various companies and other groups have called for an en banc review, which is usually reserved for reconsidering rulings from three-judge panels. Read more from Robert Iafolla.
Anyone who wants to comment on OSHA's Covid-19 vaccination or testing mandate standard now has 45 extra days to submit their thoughts. The U.S. Occupational Safety and Health Administration said today it has extended its deadline from Dec. 6 to Jan. 19. OSHA is asking for comments on any aspect the emergency temporary standard and whether it should become a permanent rule. Read more from Bruce Rolfsen.
The Biden administration plans to tighten travel rules to combat the omicron variant of the coronavirus, by requiring all air travelers to the U.S. to be tested within a day of their departure regardless of vaccination status, according to a person familiar with the matter.
Biden plans to announce the new requirements tomorrow in a speech detailing his plan to contain the pandemic through the winter. Currently, vaccinated travelers must get tested within three days of boarding their flight to the U.S.; under the change, that would be cut to one day. The U.S. last week imposed travel restrictions that bar arrivals from foreign nationals who have been in any of eight southern African nations in the past 14 days. The administration hasn't said how long those measures will be in place. Read more from Josh Wingrove.
The CDC is also expanding surveillance programs at four major airports to test for Covid-19 from specific international arrivals, Director Rochelle Walensky said earlier yesterday on a call with reporters. Read more from Josh Wingrove and Jeannie Baumann.
BioNTech CEO Ugur Sahin said the current generation of Covid-19 vaccines likely will still protect against severe disease in people infected by the omicron variant. The new, highly mutated variant could result in more vaccinated people becoming infected, Sahin told Dow Jones in an interview. But even if the strain is able to elude antibodies in vaccinated people, it will probably still be targeted by immune cells, he said. Read more from Naomi Kresge.
Merck's Covid-19 pill narrowly gained a key recommendation from advisers to U.S. regulators, after a lengthy debate about the safety of the potential game-changing treatment. The Food and Drug Administration's advisory committee voted 13-10 to back Merck's antiviral drug molnupiravir, saying that while there were safety concerns about the pill, its potential benefits outweigh the risks. The pill is intended to treat mild-to-moderate Covid-19 in adults at risk of developing severe illness. Read more from Fiona Rutherford and Riley Griffin.
Merck expects molnupiravir to be active against omicron based on the drug's mechanism of action and currently available genomic information, according to a statement yesterday. However, Merck hasn't yet done specific research studying the antiviral's impact against the omicron variant. The company has previously found that the drug works against the gamma, delta and mu strains, Emma Court reports.
Sen. Bernie Sanders (I-Vt.) yesterday pressed the World Trade Organization and world leaders to undo intellectual property protections for Covid-19 vaccines, arguing "too many of our neighbors around the world still are blocked from accessing life-saving vaccines," and that "the time for debate by the members of the World Trade Organization is over." Sanders said the WTO and leaders should move to make vaccine technologies "available to all, regardless of wealth." Read a statement from his office here.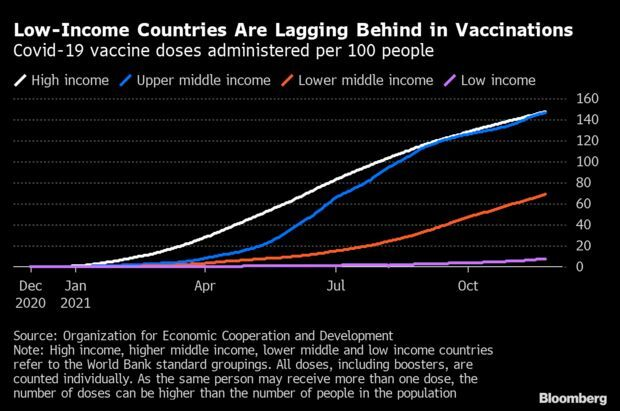 More Headlines:
What Else to Know Today
The government would create a plan and award $400 million in grants to improve data sharing for records of vaccination in a bid to support public health surveillance, under legislation that passed the House yesterday, Alex Ruoff reports. The grants would go to help state and local governments update their immunization information systems and assess gaps among health-care providers in using vaccination data.
The legislation (H.R. 550) passed by a 294 to 130 vote. It was one of four health-related bills to pass the House yesterday including bills authorizing a public education campaign to raise awareness of human papillomavirus (HPV) vaccination in the U.S. (H.R. 1550) and requiring a watchdog report on how the government is addressing social determinants of health (H.R. 4026).
The U.S. Supreme Court wrestled with a healthcare dispute that could end up with courts giving the government less deference on thorny questions across all areas of law. At issue at yesterday's oral arguments in the Medicare case was a technical question regarding drug reimbursement rates the U.S. pays to hospitals caring after underserved communities. The U.S. Court of Appeals for the D.C. Circuit said that the statutory language was unclear and deferred to the Health and Human Services Department's interpretation under the "Chevron deference." Kimberly Strawbridge Robinson has more.
Celebrity physician Mehmet Oz, who hosts the "Dr. Oz" television show, is jumping into next year's Republican primary in Pennsylvania to replace retiring Sen. Pat Toomey (R-Pa.) in a key race for deciding who controls the chamber. Oz made the announcement yesterday in an op-ed posted by the Washington Examiner. "During the pandemic, I learned that when you mix politics and medicine, you get politics instead of solutions," Oz says. "That's why I am running for the U.S. Senate: to help fix the problems and to help us heal." Read more from Mark Niquette.
More Headlines:
With assistance from Alex Ruoff
To contact the reporter on this story: Brandon Lee in Washington at blee@bgov.com
To contact the editors responsible for this story: Zachary Sherwood at zsherwood@bgov.com; Giuseppe Macri at gmacri@bgov.com; Michaela Ross at mross@bgov.com
Stay informed with more news like this – from the largest team of reporters on Capitol Hill – subscribe to Bloomberg Government today. Learn more.