Health-Care Agenda Consensus Eludes Democrats Facing Crunch Time
Proposals emerge to narrow drug price negotiation bill
Democrats seek to persuade holdout Sen. Joe Manchin
Bloomberg Government subscribers get the stories like this first. Act now and gain unlimited access to everything you need to know. Learn more.
Democrats remains at odds over three key elements of their health-care agenda: expanding Medicaid, adding new Medicare benefits, and empowering the government to negotiate with drugmakers.
Party members are weighing those proposals as they seek to narrow their sweeping domestic policy bill, searching for a path that appeases both moderates and progressives. Leaders had planned action on the bill by Oct. 31, but look increasingly unlikely to meet that deadline.
Speaker Nancy Pelosi (D-Calif.) said Democrats "are close to agreement on the priorities and the topline of the legislation," in a letter to colleagues Wednesday.
"Great progress has been made to address the coverage gap in states that have not enacted the Medicaid expansion," Pelosi wrote. "This expansion of the Affordable Care Act takes us to nearly universal coverage, hopefully with expanded benefits for Medicare."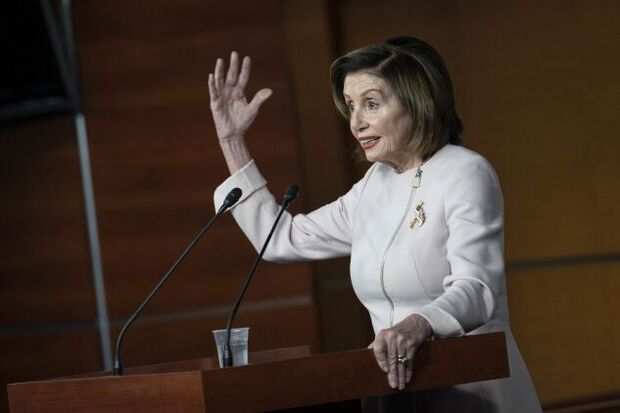 As negotiations sharpen, here's where key health proposals stand.
Drug Prices
Democrats are likely to narrow their once-sweeping proposal to give the government the authority to negotiate with drug companies. They remain at an impasse around what medicines would be subject to negotiations, lawmakers said Wednesday.
Sen. Chris Murphy (D-Conn.) said there's not yet agreement on whether the bill should limit the number of medicines subject to negotiations and what kinds of medicines would be covered. Murphy has been meeting regularly with White House officials and Sen. Kyrsten Sinema (D-Ariz.), a key holdout in drug-pricing talks.
One option is to limit negotiations to just off-patent medicines, Murphy said. Another option is to allow negotiation only for drugs in Medicare's Part B, which covers outpatient service and many pricey cancer drugs.
Even a narrow negotiation bill would open the door for the government to lower the price of medicine in the U.S., Murphy said.
"I think it's pretty clear at this point there's not 50 votes to negotiate every single drug in Part B and Part D, Murphy said. "We're now thinking of creative ways to make a down payment on negotiation."
Sen. Chris Coons (D-Del.) said he has sought to exempt "highly innovative, medically significant drugs" from negotiations but that lawmakers haven't come to an agreement around how to do so.
"There's got to be some narrowing process that says it's a certain percentage of total spend or it's a particular type," Coons said. "I can't tell you what those specific criteria are at this point. It's a moving negotiation."
Democrats have, however, coalesced around the idea of capping drug price increases based on the rate of inflation, and passing those prices on to private insurers.
Private Insurers to Be Covered Under Democrats' Drug Price Caps
Medicare Benefits
Supporters of adding dental, hearing, and vision benefits to Medicare say they're not giving up despite opposition from Sen. Joe Manchin (D-W.Va.).
Sen. Bernie Sanders (I-Vt.) said Wednesday he believes it's a key provision for the package. He is pushing to make dental coverage, the most expensive of the three, available to everyone enrolled in Medicare.
"I have every confidence we can get this done," he said.
Democrats Mull Dropping Expanded Medicare, Medicaid in Unity Bid
Medicaid Expansion
Manchin is also a key opponent of expanding Medicaid in the 12 state that have refused to open their health public insurance programs to lower-income people under the Affordable Care Act.
Georgia Democrats Jon Ossoff and Raphael Warnock were key supporters in the Senate for creating a federal Medicaid-like program in non-expansion states like theirs. The pair have been meeting with holdouts and Senate leadership on a compromise that could mean extending free ACA plans to the millions of Americans in these states.
Medicaid Gap Compromise Sought With Senate Democrat Detractors
Ossoff said Wednesday he and Manchin are "having open discussions and I think we're making progress." Both he and Warnock each said they will support any provisions that give Medicaid-like coverage to people in their state left uncovered by the ACA and Medicaid.
Sen. Jon Tester (D-Mont.) said he has concerns that offering a federal solution to holdout states would mean states that have already expanded, and pay for a portion of their Medicaid costs, would use the new program as a fallback.
"I'm not opposed to this," he said. "I just want to make sure that how it's done doesn't encourage states to get out of Medicaid expansion."
To contact the reporter on this story: Alex Ruoff in Washington at aruoff@bgov.com
To contact the editors responsible for this story: Sarah Babbage at sbabbage@bgov.com; Heather Rothman at hrothman@bgov.com
Stay informed with more news like this – from the largest team of reporters on Capitol Hill – subscribe to Bloomberg Government today. Learn more.