Harris Could Make History as Tie-Breaker in Supreme Court Pick
Vice presidents resolve Senate ties on simple-majority votes
Harris had most tie-breaking votes in a single year in 2021
Bloomberg Government subscribers get the stories like this first. Act now and gain unlimited access to everything you need to know. Learn more.
Stephen Breyer's retirement creates another opportunity for Kamala Harris to enter the Senate record books.
Her 15 tie-breaking votes in 2021 were the most ever by a vice president in a calendar year. Senate Democrats, nominally in control of the 50-50 chamber because of Harris, will need her this year to continue breaking ties to help advance their policy agenda and secure confirmation of the administration's nominees to the executive branch and judicial positions.
That could include becoming the first vice president to seal the confirmation of a Supreme Court nominee.
President Joe Biden said Thursday he'll name his choice to replace Breyer by the end of February. Should that nomination make it to the Senate floor for consideration, Harris' vote would be necessary under the scenario of universal Democratic support with no Republican crossing the aisle.
Biden's promise to nominate the first Black woman to the Supreme Court "emphasizes this theme of inclusivity of the Biden administration," said Joel K. Goldstein, an emeritus professor of law at Saint Louis University and an expert on the vice presidency. "If Vice President Harris casts the tie-breaking vote, I think that would in a sense underscore it. Presidents like to nominate firsts to the Supreme Court."
Even if her vote isn't needed, Harris—the first woman, the first Black American and the first South Asian American to serve as vice president—could still preside over the high-profile vote and announce the confirmation of the first Black woman to the nation's highest court.
Constitutional Power
The tie-breaking power of the vice president—who also serves as president of the Senate—is authorized by Article I, Section 3 of the Constitution: "The Vice President of the United States shall be President of the Senate, but shall have no Vote, unless they be equally divided."
Harris cast her first votes in her third week as vice president, voting twice in February 2021 during a "vote-a-rama" that advanced a fiscal 2021 budget resolution and set up a process to allow the Senate to pass parts of the Biden-Harris administration's $1.9 trillion pandemic response package with a simple majority.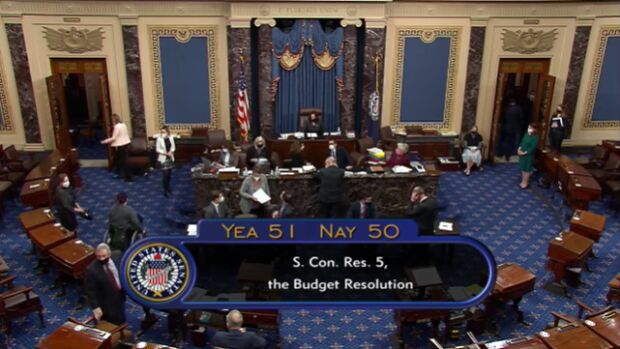 That vote on the budget blueprint came at the end of an overnight sequence of 41 roll call votes spanning 15 hours. About 20 minutes earlier, shortly after 5 a.m. on Feb. 5, 2021, Harris also was on hand to break a tie to ensure the Senate adopted an amendment by Majority Leader Chuck Schumer (D-N.Y.).
After Harris voted in March 2021 to advance the pandemic response package (Public Law 117-2), her next 12 votes all broke ties on presidential nominations. Her most recent votes came in December 2021, when Harris broke a tie to limit debate, and then confirm, Rachael Rollins as U.S. attorney for Massachusetts.
"It's a function of the fact that you have a 50-50 Senate and our politics is very polarized," Goldstein said. "If you went back to earlier times, it was much more common that you had Republican moderates and Democratic conservatives and there were cross-party votes that were typically up for grabs."
He noted that Clarence Thomas in 1991 was a Republican president's Supreme Court nominee confirmed by a Democratic-led Senate. Thomas was confirmed 52-48 with the support of 41 Republicans and 11 Democrats after a contentious confirmation hearing that focused on accusations of sexual harassment by former aide Anita Hill. Thomas denied the charges.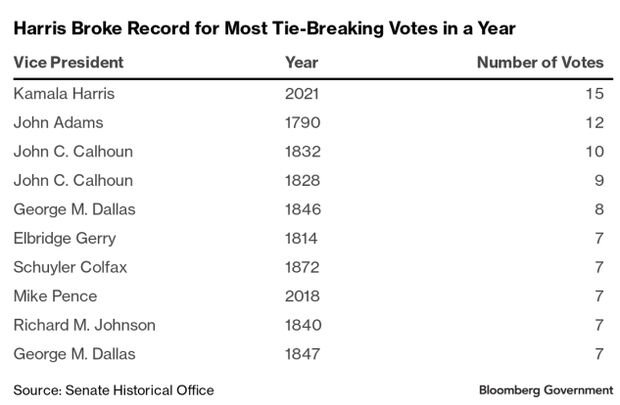 Plans for further budget-related measures—such as a reconciliation bill with the administration's economic agenda—as well as a long list of pending nominees make it likely Harris will have several more opportunities to break ties this year.
Many key procedural votes require 60 votes, reducing the possibility of ties. They're much more likely when the Senate considers items under rules requiring a simple majority, such as cloture votes on nominations, budget resolutions and reconciliation bills, and resolutions overturning regulations under the Congressional Review Act.
Biden didn't cast a single tie-breaking vote during eight years as Barack Obama's vice president.
Harris already has cast the fifth-most votes of any vice president in history and topped the 13 votes Mike Pence cast during four years as Donald Trump's vice president. Pence's first vote, to confirm Betsy DeVos as Education secretary in February 2017, was the first tie-breaker on a Cabinet nomination, according to the Senate Historical Office.
Vice presidents have cast 283 tie-breaking votes since 1789, according to data compiled by Bloomberg and the Senate Historical Office.
"A number of those votes were on important issues, the most critical of which was Senate participation in presidential removals of executive orders," Roy Swanstrom of Seattle Pacific College wrote in a Ph.D. dissertation on the early Senate that was published as a Senate document in 1962.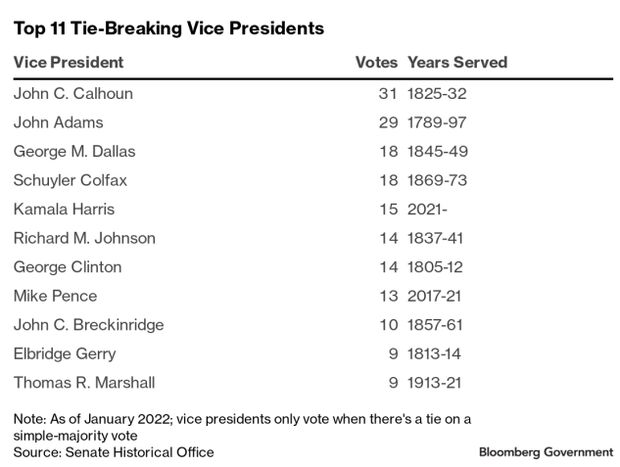 Dick Cheney cast eight votes in eight years as George W. Bush's vice president—the last in March 2008, when he intervened in a procedural vote on the fiscal 2009 budget resolution.
A Cheney vote in May 2003 led to passage of President George W. Bush's $330 billion tax-reduction package. Republicans then controlled the Senate 51-49, but a tie ensued when three Republicans voted no and two Democrats voted yes.
"By the time I took my seat as president of the Senate on May 23, I felt I had earned my keep. And when I cast the tie-breaking vote to ensure the bill's passage, I was sure I had," Cheney wrote in a 2011 memoir, "In My Time."
Two other consequential tie-breaking votes on economic policy came in 1993, when Vice President Al Gore broke deadlocks to advance President Bill Clinton's deficit-reduction package. Though Democrats then controlled the Senate, a few of them joined all Republicans in opposing the plan, which included a combination of tax increases and spending cuts. When the Senate passed its version of the measure in June 1993, Gore broke a 49-49 tie after 3 a.m.
"I want to thank the vice president for his unwavering contribution to the landslide," Clinton said after Gore broke a 50-50 tie on final passage that August.
"Al loved to joke that whenever he voted, we always won," Clinton wrote in a 2004 autobiography, "My Life."
Biden is one of 12 vice presidents to never cast a tie-breaking vote. He's the only one of them who served two full terms.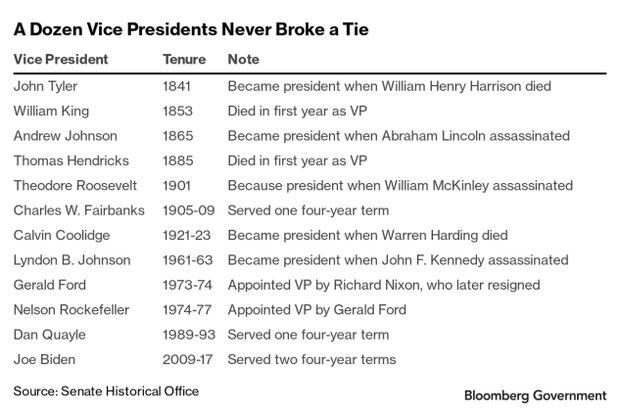 Before the 25th Amendment was ratified, there was no method for replacing a vice president before an election. Any tie votes during those periods couldn't be broken.
To contact the reporter on this story: Greg Giroux in Washington at ggiroux@bgov.com
To contact the editors responsible for this story: Loren Duggan at lduggan@bgov.com; Kyle Trygstad at ktrygstad@bloombergindustry.com; Bennett Roth at broth@bgov.com
Stay informed with more news like this – from the largest team of reporters on Capitol Hill – subscribe to Bloomberg Government today. Learn more.