Harassment of Women Truckers Spurs Drivers, Agency to Seek Fixes
Poll finds 33% of female truckers inappropriately touched
Reporting hotline, safer parking, training changes sought
Bloomberg Government subscribers get the stories like this first. Act now and gain unlimited access to everything you need to know. Learn more.
The Biden administration, seeking to bolster an industry that carries more than two-thirds of US freight, wants to make the trucking career better for women. Trouble is, many of the female truckers now on the roads face a disproportionate amount of sexual harassment.
Women make up a small but growing share of the trucking workforce—about 8% of drivers nationwide. A third of those surveyed in a recent poll said they had experienced inappropriate touching—a number that some say is a significant undercount.
"We need to hold the industry accountable for a safe and appropriate work environment," said Kellylynn McLaughlin, a professional driver.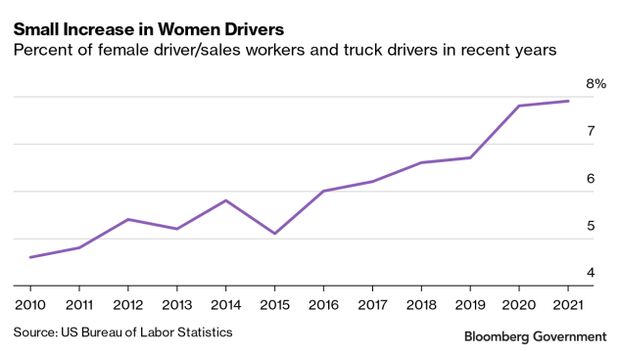 The pandemic and an increased demand for drivers underscored the stakes for the US supply chain. Trucks carry about 70% of US goods, and retaining truckers is difficult. Roughly 300,000 truckers leave the career every year, Transportation Secretary Pete Buttigieg estimates.
The Federal Motor Carrier Safety Administration is gathering truckers, companies and others in industry to come up with solutions to what the agency's head, Robin Hutcheson, calls "the problem of sexual assault and harassment of women in the industry."
A new Woman of Trucking Advisory Board met for the first time last month with a goal of recommending ways to address decades-long safety concerns and to recruit and retain women. McLaughlin is a member and she and other drivers and industry groups hope actions such as a hotline, updated training, and more parking come from it.
The board, mandated by the infrastructure law (Public Law 117-58), must report to Congress on its work.
Training, Reporting Fixes
Female truckers experience more sexual harassment than men and about half of harassment incidents go unreported, according to the survey the administration unveiled last month.
Board members were tasked with weighing the study results at the first meeting and the agency is evaluating recommendations, Hutcheson said in an interview.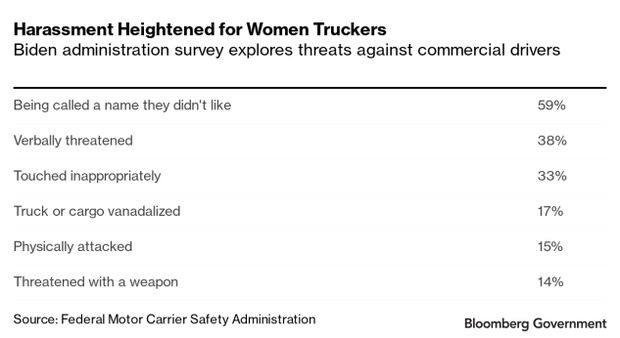 Some criticized the study for speaking to only a limited number of respondents. Anne Balay, a member of the board who seeks to promote queer and transgender trucker perspectives, also said it underplayed the extent of the problem.
"To do a survey in which inappropriate touching is the worst category, that's just offensive," Balay, who wrote the book, "Semi Queer: Inside the World of Gay, Trans, and Black Truck Drivers." Balay said rape is a "very common" problem and "constant fear" in the industry.
McLaughlin suggested a hotline to the board, so truckers could report incidents such as harassment. When she was harassed while on duty, McLaughlin said her company couldn't do anything because it wasn't on their property. McLaughlin said she felt it was overwhelming at first and that she had nowhere to turn but her company when it happened.
"It was a very disappointing experience," she said. "We need somebody we can call to report the incidents, to get advice—unfortunately, it's just really common."
Women say the training environment is also ripe for improvement. McLaughlin said it's common for new drivers to spend extended time on the road with a trainer—and often trainees have to bunk with the trainer in the truck.
"It's an outdated way to train someone and it is ripe with opportunity for harassment and uncomfortable situations," McLaughlin said. "Many carriers could stop the truck at a hotel and let one of those people out of the truck to sleep in the hotel and then the other one sleep in the truck."
Ellen Voie, president and CEO of Women in Trucking Association, said it's an issue industry should be able to address, adding that a hotel gives both male and female drivers a safe space and their own bathroom—a challenge for truckers on the road.
Many surveyed also said they would feel safer if they were allowed to carry protection, including guns, but some companies don't allow that. Pets can also be a means of safety, and animals are increasingly riding with their truckers. Carrier CFI saw a boost in the number of truckers driving with pets, exceeding more than 350 this year.
Facebook Job Ads Illegally Discriminate, Female Truckers Say
Lack of Safe Parking
Survey respondents suggested trucking facilities need to improve safety, such as better lighting and security, in addition to adding more parking. Many crimes against truckers result from limited parking, a majority of those surveyed said.
There is just one parking space for every 11 truckers. Advocates say the shortage leads to truckers parking in unsafe spots. Roughly 98% of truckers have difficulty finding safe parking, studies say.
"These things have been longstanding problems and with the passage of time, they've only gotten worse," Todd Spencer, president of the Owner-Operator Independent Drivers Association, said.
Bryce Mongeon, director of legislative affairs at OOIDA, said if drivers are able to have a designated parking space and they aren't parking there alone, it creates safety for all drivers, especially women.
Lawmakers have introduced bills (H.R. 2187/S. 5169) that would authorize $755 million in competitive grants to boost truck parking capacity. The bipartisan measures have yet to find a path to passage.
Truckers to Get More Parking Under Bill Approved by House Panel
"We are still actively looking for a way to move the bill forward and are trying to use all avenues possible," Rep. Mike Bost (R-Ill.), who sponsored the legislation in the House, said. "Addressing this shortage is a vital component of addressing our supply chain issues."
The infrastructure law didn't include designated money for truck parking, but some programs are eligible for it. The Biden administration issued two grants from infrastructure law money to parking facilities this year, and wants to see more state-controlled money used for that purpose.
"It's a top priority for us," Hutcheson said. "There is not enough truck parking in the United States to support the drivers that are out there, in particular the long haul drivers, and we hear stories over and over again with drivers about what they have to do to get rest."
Who Drives Better?
Beyond harassment and parking, the administration is conducting a driver compensation study and pursuing safety regulations to make roads safer for everyone.
New Trucking Agency Head Confronts Crash Rate, Driver Retention
Traffic fatalities have been rising with an estimated roughly 43,000 people dying in car crashes last year, the most since 2005. Collisions with large trucks also are up, with 2021 data showing deaths jumped 13% from the year before. The American Transportation Research Institute found in a truck crash study in 2018 that gender affected the probability of accidents, with men 20% more likely to be involved in a crash than women.
"If you want to make the road safer, hire more women," Voie said. "We've proven that women make great drivers and are safer."
To contact the reporter on this story: Lillianna Byington in Washington at lbyington@bloombergindustry.com
To contact the editors responsible for this story: Sarah Babbage at sbabbage@bgov.com; Robin Meszoly at rmeszoly@bgov.com
Stay informed with more news like this – from the largest team of reporters on Capitol Hill – subscribe to Bloomberg Government today. Learn more.