Gun-Toting Boebert Escalates Attacks in Colorado Political Duel
Republican has spirited challenge from Democrat Adam Frisch
Boebert has stepped up attacks with signs race has tightened
Democrat Adam Frisch's quest to unseat Rep. Lauren Boebert makes him a target for the curious and the hostile.
At a campaign stop in the Republican incumbent's hometown of Rifle, Colo., a bearded Boebert supporter wearing a souvenir "Let's Go Brandon" shirt from her now-shuttered Shooters Grill documented a Q-and-A session about abortion rights, veterans care, and gun control.
Frisch was also pressed about ethics allegations leveled by Boebert's campaign as the race heats up in this GOP-friendly district that stretches across much of rural western Colorado.
There's "a lot of hard things about running," Frisch said at the Rifle gathering. "It's been getting harder."
Boebert, a conservative firebrand with a devoted following, should be a shoo-in. But in the weeks leading up to the midterm elections where historic trends favor her party gaining seats, she has gone on the offensive against an aggressive Democratic opponent as some polling and fundraising numbers show a tightening race.
Boebert has campaigned in about two dozen places across the district this month, sometimes with a Glock strapped to her hip. She's one of the top fundraisers in the House, raising over $6 million since taking office, according to her latest disclosure with the Federal Election Commission. She reported $1.9 million on hand as of Sept. 30.
Boebert's ads target Frisch, tying him to Speaker Nancy Pelosi (D-Calif.) and labeling him "Aspen Adam" for his residency in the liberal resort town. One of Boebert's ad accuses him of "succumbing to blackmail while he was on the Aspen City Council."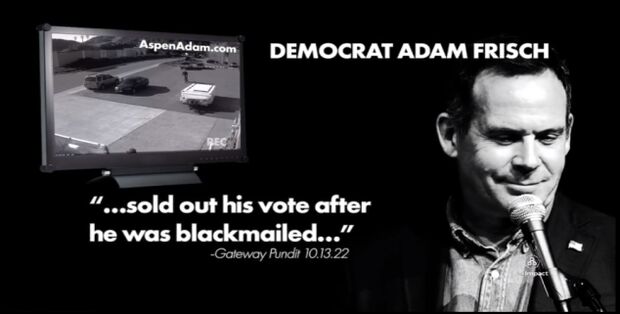 Asked about the allegations at a campaign stop in Glenwood Springs, Frisch told a supporter, "On the one hand you want to respond, on the other hand you don't want to add fuel to the fire."
Five days later, Frisch responded with an ad buy of his own.
His campaign's 30-second commercial brands it "a desperate lie trying to drag us into the sewer" before going on the offensive, saying Boebert "embraces neo Nazis, accuses teachers of teaching children to be gay, and encourages violence."
"It's not fun to be in the middle of that stuff right now," Frisch acknowledged to supporters.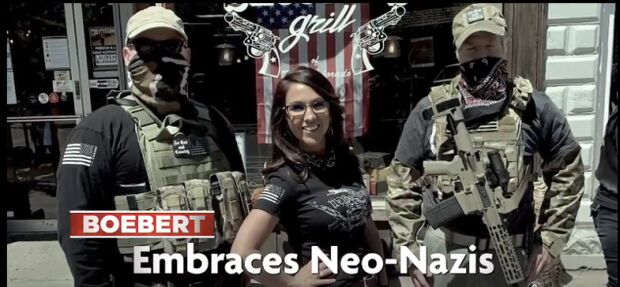 Boebert punched her ticket to Congress when she upset then-Rep. Scott Tipton (R-Colo.) in a 2020 primary.
After taking office, she said she planned to carry a sidearm on Capitol Hill and outraged Democrats when she tweeted that Pelosi "has been removed from the chamber" during the Jan. 6 insurrection. She's compared Rep. Ilhan Omar (D-Minn.), a Muslim, to Islamic terrorists, and endorsed conspiracy theories.
Trump Ally Shocked by Pistol-Toting QAnon Fan in Primary
Following those controversies, polling by Frisch and his allies showed the contest narrowing. A survey by Colorado-based Keating Research for Frisch between Sept. 28-Oct. 2 of 500 likely voters found Boebert besting Frisch by only two points, 47-45%, within the poll's 4.4% margin of error, despite overrepresenting the number of Republicans in the district. The same pollster had found Boebert leading by a wider 49-42% when it was in the field July 21-25. That survey had a 4.2% margin of error.
Floyd Ciruli, director of the University of Denver's Crossley Center for Public Opinion Research, vouched for Keating's "good reputation" but said in an interview he was skeptical of the survey results given the difficulty of polling the district's populist Republicans who eschew pollsters as much they distrust government or media.
"I'm having a hard time seeing that this is going to be an upset," Ciruli said. "If it is, then it is, as I say, mark it down as one of the really big ones in the country."
The Cook Political Report with Amy Walter rates Boebert's seat as "safe Republican," while Sabato's Crystal Ball designates it as a slightly more competitive "likely Republican."
"She should be up 10 or 12 points without even trying," said Jacob Perry, a Republican strategist and co-founder of the Center Street PAC that has endorsed Frisch. "If God forbid Adam loses but he loses by four or five points, that's actually stunning."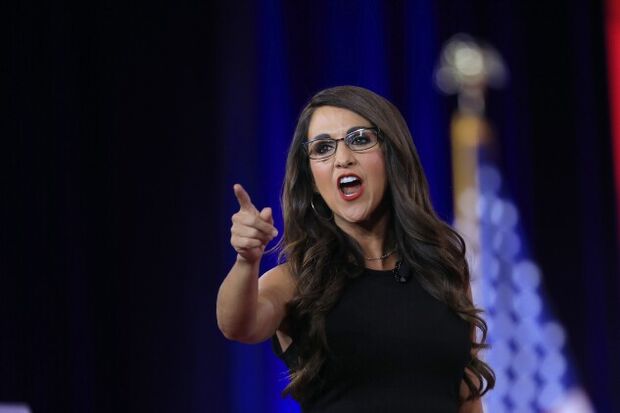 To win, Frisch will need the support of not just Democrats but unaffiliated and Republican voters. He frequently touted the endorsement of state Sen. Don Coram (R), who unsuccessfully challenged Boebert in the primary.
Darrin Smith, a Frisch supporter who previously chaired the Garfield County Republican Party, said that while the district is strongly Republican, "the thing about conservatives, is they have an expectation of producing some results."
Stop the Circus
Frisch has criticized Boebert for engaging in "angertainment." He condemned her votes against certification of the 2020 presidential election, veterans' health care, infrastructure funding, aid to Ukraine, and the entry of Finland and Sweden into NATO.
"People want the circus to stop," Frisch said in an interview in the public library in Meeker, a rural town in the White River Valley. "That resonates."
Frisch disclosed raising $1.7 million last quarter, nearly twice what Boebert raised in the same three-month period. Frisch has spent $1.2 million in the same time frame, in part accusing Boebert of taking "extreme" votes, opposing abortion rights and veterans' health care, and "ranting about the last election."
Boebert's campaign didn't make her available for an interview.
Joe Jackson, executive director of the Colorado Republican Party said Boebert is able to lean on her accomplishments despite her status as a freshman in the minority, including securing $1.74 billion for community health centers. The funding was included in the fiscal 2022 government appropriations package (Public Law 117-103), which Boebert voted against.
"She's been a work horse across the district," Jackson said.
Boebert has outspent her rival, putting $2.4 million into TV, radio, and digital ads since Frisch secured the nomination, according to media tracking firm AdImpact.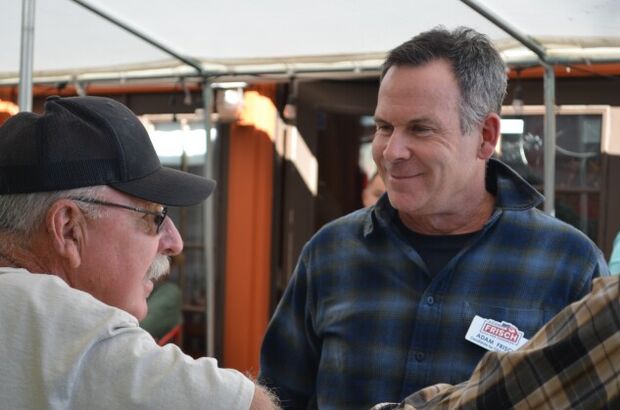 Speaking to supporters at the library, Frisch bemoaned the Democratic Party's desertion of rural America in favor concentration on the coasts and in liberal cities like Denver and Aspen.
That comment rang true with Kathleen Sullivan Kelley, a former cattle rancher and legislator in Denver who unseated a Republican incumbent in 1980 despite President Ronald Reagan's coattails. "I didn't desert the Democratic Party, it left me," she told him.
Asked after the event if Frisch could pull off a similar victory, Kelley replied: "I'm not going to say he can't."
To contact the reporter on this story: Zach C. Cohen in Grand Junction, Colo. at zcohen@bloombergindustry.com
To contact the editors responsible for this story: Bennett Roth at broth@bgov.com; Katherine Rizzo at krizzo@bgov.com