Gun Deal Boosts Cornyn's Senate Role But Riles GOP Supporters
Texas senator was lead GOP negotiator on gun legislation
He faces some backlash at home from Republican activists
Sen. John Cornyn knew he was accepting a task fraught with political risks when he agreed to be the GOP's lead negotiator on a gun control compromise in the aftermath of the Uvalde school shooting in Texas.
The assignment from Minority Leader Mitch McConnell (R-Ky.) had the potential to further inflame Republicans in Texas, where gun rights are sacrosanct among rural conservatives, and encourage primary opponents waiting in the wings for Cornyn to stumble.
But the school shooting tragedy in his home state that left 19 children and two teachers dead, and a desire to cut bipartisan deals and enact meaningful legislation drove Cornyn, a close McConnell ally, to head the Republicans' effort that led to the passage of the first significant gun-violence prevention measure (Public Law 117-159) in years.
"Americans are wondering whether our institutions can still work the way they're supposed to and addressing their best interests and actually trying to get things done," Cornyn told reporters last week. "We demonstrated that that is still possible and it happens, perhaps more than most people realize."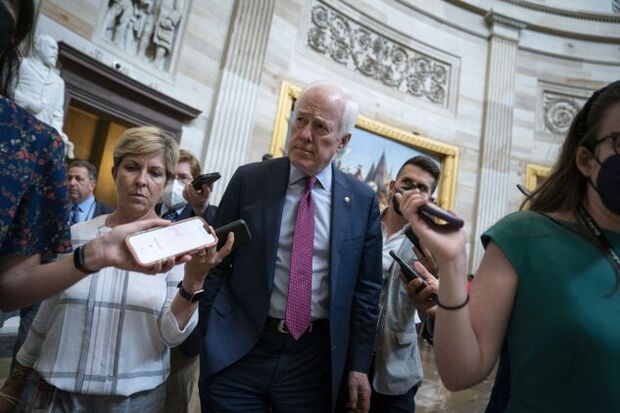 His success at forging the deal could well bolster Cornyn's position on the GOP leadership team and put him in an enviable position as a potential successor to McConnell, 80, if the party takes control of the chamber next year. At the same time, it may also increase the likelihood of a primary challenge when Cornyn, 70, faces re-election in 2026 and cause friction with his more conservative colleagues, including Ted Cruz, the junior senator from Texas who opposed the deal.
While his short-term standing in Texas may suffer as a result of his role in the gun talks, a primary challenger from the right would have an immensely difficult time overcoming the long time lawmaker, say political experts in Texas.
"I suspect that Cornyn, who's always had relatively mediocre job approval ratings in the state, is unlikely to be helped by this and much more likely to suffer in the short run now," said James Henson, director of the Texas Politics Project at the University of Texas. "What this looks like four years from now—I think it's a very different question."
Cornyn's approval rating fell as the gun negotiations were underway, according to a June poll by the Texas Politics Project. Among Republican voters, Cornyn had a 41% approval rating, compared with 53% in April. His overall approval rating was 24%, compared with 32% in April, the survey found.
Booed at Convention
Cornyn mulled whether he should speak to the GOP convention at a time when talks weren't going well among Senate negotiators and there was intense pressure to succeed or fold. Yet he spoke anyway, and amid loud 'boos' from the crowd before returning to Washington to button up the deal.
"Unfortunately, that was an unpleasant experience," Cornyn said during the conference call with reporters. "But I showed up knowing that it might happen the way it did, thinking that maybe some people would actually listen. Unfortunately, the people who wanted to listen could not hear because of those who were shutting down any kind of dialogue or conversation—and that's a shame."
It's not the first time Cornyn's been booed, according to Travis County GOP Chairman Matt Mackowiack in Austin. The most recent response was "more negative and more intense" than he's experienced in the past, but that represents a small minority of voters—and a number that's even smaller among campaign operatives and donors, he said.
"Some of the loudest voices don't always represent the majority of opinion in a state," said PLUS Communications partner Brian Walsh, who also worked as a communications strategist for Cornyn. "When you represent one of the largest states in the country, there's a very diverse set of views, so I don't view the folks booing at the Republican Party convention to be the majority of opinion in the state."
By the time Cornyn's up for re-election, there will be a host of other issues the ultra-conservatives will have a beef with, said Brandon Rottinghaus, a political science professor who specializes in Texas politics at the University of Houston. But four years is plenty of time for Cornyn to pivot in a campaign if needs to, he said.
"The Texas Republican Party is always on the lookout for some issue to be outraged about," Rottinghaus said.
When Cornyn last ran in 2020 he received 76% of the vote in the GOP primary and defeated his Democratic opponent in the general election by almost 10 percentage points.
`Perfect Balance'
Throughout his career. Cornyn has tried to find a "perfect balance" between the right and middle factions of his party, Rottinghaus said. He served as Texas attorney general and a state Supreme Court justice before being elected to the Senate in 2002.
At the time the Texas Republican Party was moving toward a more hard-edged conservatism and away from the pragmatic business oriented posture epitomized by state's former governor and later president George W. Bush.
"It's a challenge for a Republican senator from Texas," Rottinghaus said. "Unless you go the full Ted Cruz route—which is to be a kind of antagonistic force—then it's impossible to avoid that."
On Capitol Hill, Cornyn has sought to navigate the fissures in his party, while trying to work with Democrats on matters such as immigration,where he unsuccessfully tried to help broker a deal on the Deferred Action for Childhood Arrivals program, which allowed undocumented young people brought into the US by their parents to remain here.
Those pushes and pulls informed Cornyn's foray into the gun deal, which generated goodwill from Democrats and praise from some vulnerable Republicans looking for a way address the issue without having to take a too risky vote.
Cornyn said he was heartened by the experience.
"But I'm not discouraged at all, I feel like this is more than worthwhile," Cornyn told reporters. "That's the reason I am in the Senate: to try to get things done."
To contact the reporter on this story: David Hood in Washington at dhood@bloombergindustry.com
To contact the editors responsible for this story: Kyle Trygstad at ktrygstad@bloombergindustry.com; Bennett Roth at broth@bgov.com