GSA to Launch Governmentwide Cloud Computing BPA
Bloomberg Government subscribers get the stories like this first. Act now and gain unlimited access to everything you need to grow your opportunities. Learn more.
The U.S. General Services Administration (GSA) plans to launch a massive, new contract offering access to cloud infrastructure, platforms, software, and other services to all federal agencies.
GSA is preparing to lead the acquisition of a governmentwide cloud solution to help agencies "implement secure, seamlessly integrated, commercial cloud service offerings as a replacement for legacy enterprise IT services and products," according to a May 13 press release.
The move represents a significant opportunity for federal cloud service providers and companies offering cloud-related professional support services. Governmentwide spending on Cloud Services rose to a record $6.9 billion in fiscal 2020, based on Bloomberg Government's market definition. Based on historical spending trends and the Biden administration's aggressive stance on cloud adoption, BGOV estimates a new governmentwide cloud contract could generate $1 billion or more annually.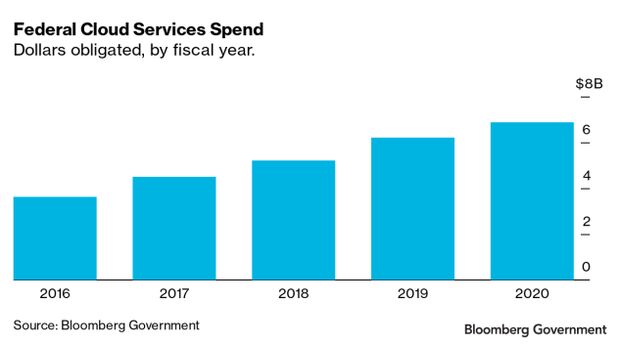 "The IT environments in which the government operates are changing and evolving at a rapid pace," said Keith Nakasone, Deputy Assistant Commissioner of GSA's IT Category. "The number-one thing agencies ask for is an acquisition solution that offers a full set of commercial, secure, soup-to-nuts, cloud products and services. We think now is the right time to make it happen."
GSA is leaning toward issuing a multiple-award blanket purchase agreement (BPA) using the subcategory of the Multiple Award Schedule (MAS), known as special item number (SIN) 518210C. According to an attached market research document, this approach will maximize competition, enable flexibility in scoping requirements, and enhance innovation by enabling companies to continuously on-ramp onto the MAS. Currently, 296 contractors are authorized to provide cloud computing services under SIN 158201C. 220 of these companies are small businesses.
The MAS for IT, formerly Schedule 70, is already one of the federal government's largest cloud contracts. In fiscal 2020, agencies reported spending about $605 million through the MAS. The top recipients of that spending in fiscal 2020 included General Dynamics Corp. ($79 million), Carahsoft Technology Corp. ($67 million), and Dell Technologies Corp. ($32 million). The majority of this spending buys access to cloud infrastructure from providers like Amazon Web Services Inc. and Microsoft Corp., and cloud software providers like Salesforce.com Inc.
The announcement comes less than 24 hours after President Joe Biden issued an executive order on cybersecurity that called on federal agencies to adopt cloud computing as a way to prevent cyber vulnerabilities caused by aging legacy technologies. The order directed agency leaders to "update existing agency plans to prioritize resources for the adoption and use of cloud technology as outlined in relevant OMB guidance."
The timing of the announcement also coincides with speculation that the Defense Department may abandon its flagship $10 billion cloud acquisition known as Joint Enterprise Defense Infrastructure (JEDI) amid the threat of prolonged litigation. Presumably GSA's cloud BPA would be available to Defense Department agencies, with the caveat that cloud providers would need to meet additional cloud security criteria for more sensitive workloads. This contract likely wouldn't replace JEDI, if the DOD opts to cancel the contract. But it could offer defense agencies interim solutions while Pentagon leaders devise an enterprisewide replacement.
Interested parties can submit feedback on the GSA's cloud strategy using an online form attached to the release. The deadline to respond is May 24.
To contact the analyst on this story: Chris Cornillie in Washington at ccornillie@bgov.com
To contact the editor responsible for this story: Daniel Snyder at dsnyderbloombergindustry.com
Stay informed with more news like this – the intel you need to win new federal business – subscribe to Bloomberg Government today. Learn more.