GSA Cancels Alliant 2 SB, Hints At New Approach: This is IT
Bloomberg Government subscribers get the stories like this first. Act now and gain unlimited access to everything you need to grow your opportunities. Learn more.
The General Services Administration is canceling its proposed 10-year, $15 billion Alliant 2 Small Business contract nearly a year after announcing it would accept new proposals and reconsider awardees for the vehicle.
The long-delayed contract was beset by protests that prevented it from getting off the ground. GSA made 81 Alliant 2 SB (A2SB) awards in February 2018, about two years after originally accepting bids. In March of last year, however, the U.S. Court of Federal Claims upheld contract protests and enjoined GSA from proceeding with awards until it resolved inconsistencies with the evaluation of bidders' cost accounting systems and prices. GSA had aimed to restart the selection process, but the plan never materialized.
8(a) STARS III and Other IT Alternative Vehicles
GSA is encouraging agencies to consider migrating their immediate small-business information technology (IT) requirements to other GSA vehicles.
The agency today released the final request for proposal for 8(a) STARS III, which "will include a greater focus on emerging technologies" and have a $50 billion ceiling. GSA also raised the ceiling on the existing second iteration to $22 billion after reaching the original $15 billion ceiling earlier than expected.
Agencies seeking a replacement small-business contract face no shortage of alternatives and can also use the IT portion of the Multiple Award Schedule (formerly IT Schedule 70), 8(a) STARS, and VETS II. Other agencies' IT vehicles, such as HHS's CIO-SP3 Small Business and NASA's SEWP V, are also widely used to fulfill small-business procurement goals.
Bloomberg Government projects that federal agencies will spend about $27.7 billion on IT in the fourth quarter of fiscal 2020. The government has spent, on average, about 39% of its Q4 IT obligations with small businesses over the last five fiscal years. If the trend continues, small businesses should expect to earn about $10.8 billion between now and the end of September.
In FY 2019, approximately one-half of the reported spending on IT Schedule 70, or about $3.7 billion, was made using small businesses.
A New Approach to Small Business IT?
The longer-term impact on the small business IT tech community will depend on what GSA does next. Given the rapidly changing IT market, the move raises questions about the prospect of another expensive, years-long solicitation for small business IT.
In canceling A2SB, GSA announced the agency is "planning a new approach" to its governmentwide acquisition (GWAC) program, but didn't provide any details.
"We are working to expand the number of master contract awards to highly qualified small businesses on our GWACs," said GSA Acting Assistant Commissioner Laura Stanton in a statement, which suggests the new approach will break up IT requirements into contracts focused on targeted technologies and socioeconomic groups.
The new strategy is aimed at developing pools of qualified small businesses such as Women-Owned Businesses, HUBzone companies, Service-Disabled Veteran-Owned Businesses, and 8(a) small businesses, according to the announcement.
Technologies targeted by these new contracts will include cybersecurity, emerging technology, and IT supply chain risk management, GSA states.
Billions in Alliant Recompetes Potentially Up for Grabs
There are currently 176 active task orders on the original Alliant SB contract expiring between now and the third quarter of fiscal 2024. Their combined value to date is $3.2 billion. More than $1 billion in Alliant SB task orders are set to expire by the end of the 2020 fiscal year. Without an A2SB in place, agencies planning to recompete existing work will need to identify a replacement vehicle.
This could put potentially billions of dollars in small business IT recompetes up for grabs in cases where incumbent contractors have either graduated from small-business status or lack a spot on an alternative GWAC.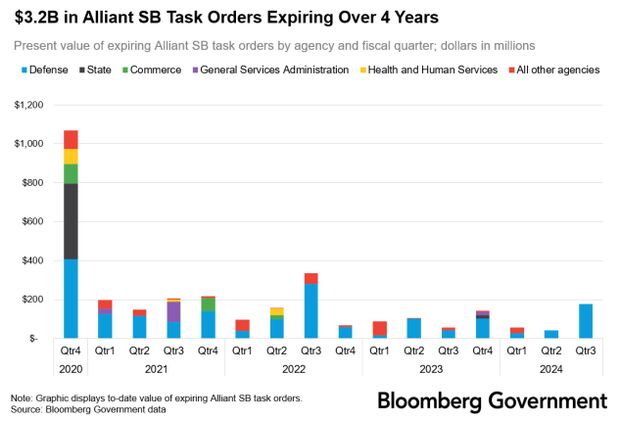 The Defense Department has more active Alliant SB task orders than any other agency — 110 with a combined present value of $1.9 billion. The State Department has three expiring task orders valued at $403 million.
Subscribers can click here to view 89 Alliant SB task orders with attached statements of work obtained by BGOV. Each task order is valued at more than $5 million.
The federal contractor with the most to lose is Reston, Va.-based Agile Defense Inc., which has 16 Alliant SB task orders valued at a combined $395 million expiring. Agile Defense had also secured a spot on A2SB prior to its cancellation. Other small businesses with a significant amount of Alliant business expiring include Alliant SB CTA LLC ($282 million), Digital Management Inc. ($256 million), and SBD Alliant LLC ($239 million).
Note: This Is IT is a weekly column by Bloomberg Government focused on information technology matters affecting government contractors.
To contact the analysts: Paul Murphy in Washington at pmurphy@bgov.com; Chris Cornillie in Washington at ccornillie@bgov.com
To contact the editor responsible: Daniel Snyder at dsnyder@bgov.com
Stay informed with more news like this – the intel you need to win new federal business – subscribe to Bloomberg Government today. Learn more.