GOP Women's Election Gains May Extend to Energy Leadership Spot
Reps. Burgess, Latta, McMorris Rodgers make their case
McMorris Rodgers would be panel's first female ranking member
Bloomberg Government subscribers get the stories like this first. Act now and gain unlimited access to everything you need to know. Learn more.
The three-way race for the top Republican spot on the House Energy and Commerce Committee could make history, following an election that will send a record number of GOP women to the chamber in the 117th Congress.
Reps. Michael Burgess (Texas), Bob Latta (Ohio), and Cathy McMorris Rodgers (Wash.) have been vying for the role for the past year, since current ranking member Rep. Greg Walden (Ore.) announced his retirement in October 2019. If McMorris Rodgers prevails, she'll be the first woman of either party to occupy a full committee leadership role on the Energy and Commerce panel, a powerful House committee with a broad portfolio of issues that includes energy, health care, telecommunications, and consumer protection.
"I describe that as the cherry on top," McMorris Rodgers said in an October interview before a historic number of Republican women were elected to the House on Nov. 3.
McMorris Rodgers, the former House Republican Conference chairman, said she has proven herself as a leader in the House GOP. "I have heard from a number of my colleagues on the steering committee that they believe I have earned it," she said, of her bid for the leadership role on one of the chamber's oldest standing committees.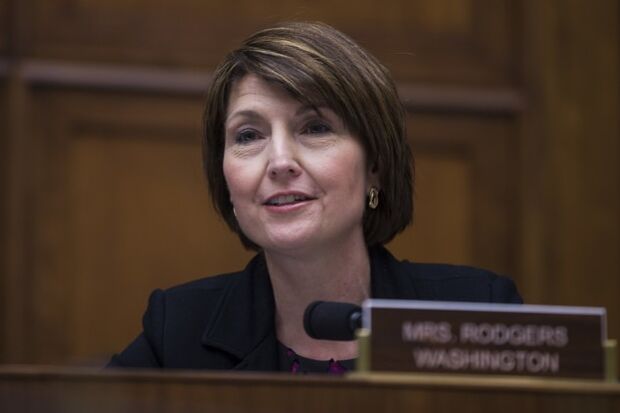 But McMorris Rodgers faces stiff competition from Burgess, a physician, and Latta, whose district is a manufacturing hub and home to Marathon Petroleum Corp.
"We've got three strong, knowledgeable legislators," said Heather Reams, executive director of Citizens for Responsible Energy Solutions. "This is an 'A' committee for a reason."
The incoming Democratic White House will have to grapple witha House that holds a slim Democratic majority, and a Senate likely to remain in Republican control. Democrats must win both January runoffs for Georgia's Senate seats to wrest control of the Senate from the GOP. That means the parties will have to work together on some initiatives if they hope to advance critical health care, energy, and technology legislation to help the country recover from the coronavirus pandemic, the three Republican contenders agreed. But, they added, the top Republican also will have to listen to and advocate for diverse voices within the GOP caucus.
"I would say this for both sides: You've got to keep an open mind, you've got to be aware that there are going to be innovative things that happen that change the equation along the way," Burgess, who has the most seniority on the committee among the three, said in an interview. "To be rigidly riven to an ideology is perhaps the most certain way of delivering the worst legislative product for the country."
House Republicans have not set a specific date for their committee leadership elections but are expected to hold them in the coming weeks. A spokesman for House Minority Leader Kevin McCarthy (R-Calif.) did not immediately respond to a request for comment on the timing.
'Message Job First'
McMorris Rodgers has two attributes that could give her an edge in the contest: her communication skills and her prodigious fundraising for fellow Republicans.
She sent GOP lawmakers and candidates more than $250,000 from her leadership PAC in October. "I've consistently overperformed, been one of the top fundraisers at the NRCC," said McMorris Rodgers, referring to the National Republican Congressional Committee.
As GOP Conference chair for six years — and chosen to deliver the Republican response to the 2014 State of the Union — McMorris Rodgers is adept at articulating the party's message, said J.D. Derderian, founder and managing partner of the Stanton Park Group and a former chief of staff to Energy and Commerce Republicans during the 1990s.
"It's a message job first, policy job second," said Derderian. "I don't mean to say she's all slogan, because she's not," he said of McMorris Rodgers. "She's a serious legislator and cares very deeply about the agenda and the goals. She gets it. If you can't articulate it, you aren't going to get a chance to explain."
Burgess has been on the panel for 15 years and has worked on a broad range of issues, from oversight of the Deepwater Horizon oil spill to implementation of the Affordable Care Act. A practicing obstetrician and gynecologist before he was elected to Congress in 2003, Burgess is "a reliable go-to in terms of getting meaningful health legislation done," said Rep. Kay Granger (Texas), the top Republican on the Appropriations Committee.
"He is not overly partisan and is inclusive," Granger said by email. "He is very serious about his work in the Congress, but he has a great sense of humor, is at ease with all types of people, and is admired because of his sharp mind and his background."
Granger complimented McMorris Rodgers, but said "she doesn't have the experience Dr. Burgess has."
Latta is "big on manufacturing and jobs," said Reams, which could prove valuable, as the committee will be one of the top panels working on post-pandemic economic recovery."
Working with Pallone
The eventual ranking member will work alongside Chairman Frank Pallone (D-N.J.), whom Derderian called "a very reasonable person" and "seasoned legislator."
Burgess, Latta, and McMorris Rodgers all know Pallone well, and expressed hope that they could find opportunities for bipartisanship.
"Where it's possible, I would look to find the common ground and move legislation," said McMorris Rodgers. "Where it's not possible, we are going to fight vigorously."
Pallone so far has led the committee as a moderate Democrat, keeping at bay the more progressive faction that embraces policy ideas like the Green New Deal and Medicare-for-All, which are nonstarters for Republicans.
"He has tried to expand the conversation beyond just those flashpoints, and it's a real tribute to him," Derderian said of Pallone.
Producing successful legislation requires finding common ground, Latta said, although "you never sacrifice your principles."
"You want to produce the best legislation that you can for the country," said Latta, who has served on all six of Energy and Commerce's subcommittees. "But you also want to make sure that you are working with your members and helping your members."
Burgess is working with Rep. Bobby Rush (D-Ill.) on legislation that would temporarily waive impending cuts on payments to radiologists under a proposed administration rule. He's also promoted energy efficiency — the Texas Republican drives a hybrid — and alternative fuel sources alongside traditional ones.
Still, he was lukewarm at the prospect of crafting bipartisan deals with Pallone.
"It's no secret we've had our differences, and I think people on his side of the dais would probably say something similar," Burgess said. "It's one thing to interact with Chairman Pallone, and another thing to be able to convince his staff we're going in the right direction. There's always more than one wrinkle to it."
To contact the reporter on this story: Kellie Lunney in Washington at klunney@bloombergindustry.com
To contact the editors responsible for this story: Zachary Sherwood at zsherwood@bgov.com; Giuseppe Macri at gmacri@bgov.com
Stay informed with more news like this – from the largest team of reporters on Capitol Hill – subscribe to Bloomberg Government today. Learn more.