GOP Women Who Scorn Trump Weigh How to Choose in House Campaigns
Helped Democrats win suburban districts in 2018
Both parties seeking their support down ballot
Bloomberg Government subscribers get the stories like this first. Act now and gain unlimited access to everything you need to know. Learn more.
Katherine Amoukhteh is a registered Republican in Orange County, Calif., but President Donald Trump's election in 2016 was "a huge wake up call" that led her to stop voting straight ticket and start paying more attention to the candidates.
She found him to be unqualified and his comments toward women appalling. In 2018, she spoke at a rally for Democratic congressional candidates in Southern California and voted for Harley Rouda, the Democrat challenging Republican incumbent Dana Rohrabacher. She wasn't alone.
Rouda won in a wave that flipped more than 40 predominantly suburban House districts and gave Democrats control of the chamber, driven in part by women like Amoukhteh who usually voted Republican. Exit polls showed women voted for congressional Democrats by the largest margin in decades — 19 percentage points, compared to 10 points in 2016 and 4 points in 2014.
Their message was clear: We don't like Trump. But both parties are again fighting for the down-ballot votes of conservative-leaning women repulsed by Trump who, with the president back on the ballot, now have an opportunity to directly vote against him.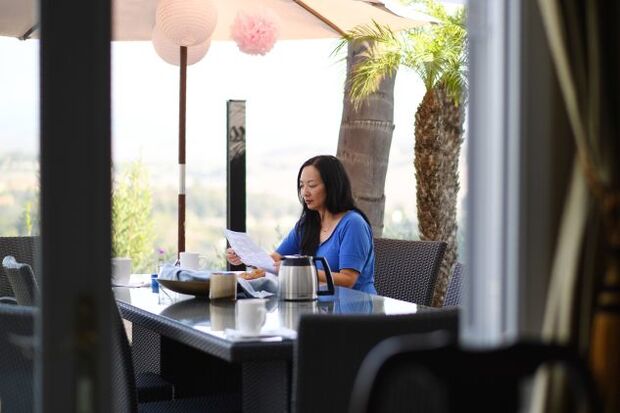 A majority of women overall plan to do just that, according to a late-August Quinnipiac University Poll of registered voters, which found 56% backing Democratic nominee Joe Biden, compared to 39% for Trump.
Sarah Longwell, a Republican strategist and founder of Republican Voters Against Trump, has traveled the country since 2016 speaking with women. She said some, particularly those college-educated and living in suburbs closest to major cities, plan to vote for Democrats down-ballot again because of Republicans' reluctance to stand up to Trump.
Those voters, she said, are "disgusted with the fact no Republican legislators have done anything to stop him, to hold him back."
But Longwell said other conservative women voters who don't like Trump's bullying persona and raging tweets, and were further disappointed by the Trump administration's response to the coronavirus, still feel more at home in the Republican Party, either because of religious or political beliefs. And they could split their tickets and vote for a Republican for Congress.
That could endanger House Democrats in some of the most competitive districts, which Trump won in 2016 by a solid margin, said Celinda Lake, a Democratic pollster.
"There's definitely concern," Lake said. "Because people who voted for these Democrats because they couldn't get at the president, they couldn't express their displeasure with him directly. But now he's on the ballot."
Down for Dems
Valerie Gallagher lives in the Las Vegas suburbs. The self-identified moderate who often voted for Republicans was appalled by Trump's mocking of a reporter with a disability during a 2016 rally and his attitude toward the late Sen. John McCain (R-Ariz), one of her political idols.
Gallagher voted for Rep. Susie Lee (D-Nev.) in 2018 and plans to vote for both her and Biden again this November. Her distaste for Trump extends to the Republican candidates who support him.
"It's who can be the biggest Trump supporter and, just because I don't like him, that's immediately a turnoff to me." she said. "I don't want someone who is going to kiss his ass."
Voters have the impression some Republicans work to be independent from Trump, said Molly Murphy, a Democratic pollster. But it's hard for voters to point to examples. Not a single House Republican voted to impeach Trump, and all but one GOP Senator — Sen. Mitt Romney (R-Utah) — voted to keep him in office. Few have spoken out against his more egregious tweets and comments.
Murphy said voters "maybe believe that behind closed doors, these Republicans don't like it. But they don't speak out, and they're not a check."
It's also increasingly rare for voters to split their tickets, and Murphy said her own polls have shown less of it now than ever before.
"I have not seen any evidence that in 2020 those suburban women who flipped the House largely are going to return to Republicans down ticket," she said.
Splitting for Republicans
Debra Schrag, who lives in Annandale, Va., outside Washington, D.C., describes herself as a born-and-raised Republican. She wasn't a fan of Trump's in 2016, and it's only gotten worse. In addition to his behavior, she said he hasn't done a good job on the economy, he's heightened racial tensions, and his handling of the pandemic "is beyond pathetic."
She plans to vote for Biden in November. But for the rest of the ballot, she's sticking with Republicans.
"I have a strong belief in the Republican Party," she said. "I wish we had a Republican candidate for president that was decent at all, but we don't."
Schrag's loyalty to her party despite her distaste for its leader is something Sarah Chamberlain sees a lot. As the head of Main Street Republicans, she has spoken weekly to hundreds of women across the country.
"Republican suburban women and independents who lean Republican, they still want to be Republicans," she said.
She pointed to Kentucky's 2019 elections, when voters ousted widely disliked Republican Gov. Matt Bevin in favor of Democrat Andy Beshear. But Republicans won other top statewide races, including secretary of state, treasurer and attorney general.
Mary Woodward, a Republican, was impressed with Democrat Amy McGrath from the first time she heard her speak. Woodward worked for McGrath's unsuccessful 2018 campaign against Rep. Andy Barr (R-Ky.) and is currently working for her Senate campaign.
But this year, Woodward will vote for Barr, along with McGrath and Biden. She said Barr has done a good job with constituent services and represents Kentucky well. His Democratic challenger, she said, is too inexperienced.
Candidates matter, Longwell said, but moderate and conservative-leaning voters also aren't fans of policies touted by the Democrats' progressive wing, such as the Green New Deal or Medicare-for-All.
"If Democrats are able to hold their coalition together and not be pulled to extremes," Longwell said, "they have a real opportunity to create a sustained political realignment that includes many of these swing suburban voters."
To contact the reporter on this story: Emily Wilkins in Washington at ewilkins@bgov.com
To contact the editors responsible for this story: Kyle Trygstad at ktrygstad@bgov.com; Heather Rothman at hrothman@bgov.com
Stay informed with more news like this – from the largest team of reporters on Capitol Hill – subscribe to Bloomberg Government today. Learn more.