GOP Women Break Party Record for Number of New House Members (1)
At least a dozen non-incumbent GOP women were elected
Republican women won GOP districts, unseated incumbents
(Updates list of winners with additional result; a previous version corrected McCarthy's title in second paragraph.)
More women will join the House Republican ranks in the next Congress for the first time than ever have before in a single election.
At least a dozen non-incumbent Republican women had won elections as of Wednesday afternoon, and House Minority Leader Kevin McCarthy (R-Calif.) said at a news conference he could see as many as 19 prevailing once all the races are called.
It came on a good night overall for House Republicans, who are likely to cut into the Democratic majority despite being projected to lose seats. It's an additional win for McCarthy and other GOP leaders, who were under pressure to recruit more women to help address the growing gender gap between the parties.
"Last night was truly the night of Republican women," said Rep. Elise Stefanik (R-N.Y.), whose E-PAC helped recruit and support many of the candidates.
The surge of non-incumbent female winners tops the previous record of nine, set in 2010, according to the Center for American Women and Politics at Rutgers University. And with races still being called, the GOP is on pace to surpass the record 25 women overall — incumbents and non-incumbents — elected in 2006, said Kelly Dittmar, a CAWP political scientist.
Dittmar said it's welcome news for Republicans, who accounted for only 13 of the 102 women elected in 2018 and will be well behind the Democrats again in female representation in the 117th Congress. It helps them push back against the Democratic argument "that the Republican party is bad for women," she said. "But they still won't be equally or fairly represented."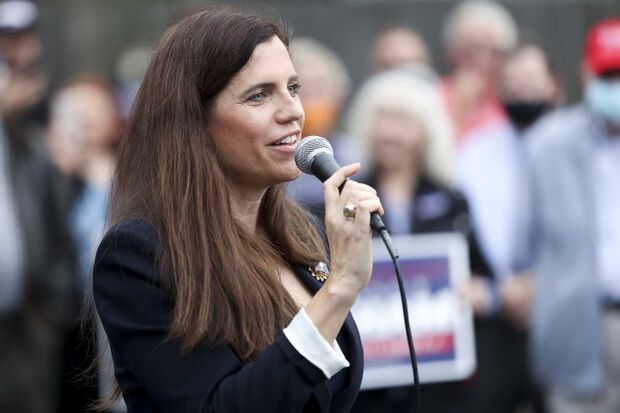 Defeating Incumbents
Republican women were expected to win at least six Republican-held open seats. They also unseated a number of Democratic incumbents, most notably former Minnesota Lt. Gov. Michelle Fischbach's defeat of Agriculture Committee Chairman Collin Peterson(D) in Minnesota's 7th District, and in Florida's 27th District, Maria Elvira Salazar's win over Rep. Donna Shalala (D-Fla.), one of a few female incumbents to lose to a GOP woman.
The rest of the winners, as of Wednesday afternoon:
Yvette Herrell — New Mexico's 2nd District
Nancy Mace — South Carolina's 1st District
Stephanie Bice — Oklahoma's 5th District
Marjorie Taylor Greene — Georgia's 14th District
Lauren Boebert — Colorado's 3rd District
Lisa McClain — Michigan's 10th District
Mary Miller — Illinois' 15th District
Diana Harshbarger — Tennessee's 1st District
Kat Cammack — Florida's 3rd District
Ashley Hinson — Iowa's 1st District
Victoria Spartz — Indiana's 5th District
CAWP said the election also brought several firsts: Mace will be the first female Republican to represent South Carolina in Congress and Hinson will be the first to represent Iowa in the House.
To contact the reporter on this story: Nancy Ognanovich in Washington at nognanov@bgov.com
To contact the editors responsible for this story: Bennett Roth at broth@bgov.com; Kyle Trygstad at ktrygstad@bgov.com