GOP Senators Hitch Fortunes to Trump Even as His Popularity Sags
First-term senators in pivotal states embrace the president
Candidates draw distinctions on some issues key to their state
President Donald Trump gave Sen. Thom Tillis a shout-out earlier this month at a Winston-Salem, N.C., rally that drew thousands.
"He has been by my side," Trump said, pointing to Tillis, as he urged the crowd to send the senator back to Capitol Hill for a second term.
It wasn't the vulnerable Republican's first appearance with Trump in the battleground state this year, and it's unlikely to be his last. The president is headed back there again Saturday for a rally in Fayetteville.
North Carolina is one of several states where the presidential and Senate competitive maps overlap, and it provides one example of how an endangered incumbent is handling his ties to a president who may not win his state. Trump's fate hangs in part on how he fares there and in other purple states, including Iowa, Georgia, and Arizona. So do the careers of the first-term senators who represent them and the Republican majority they helped build.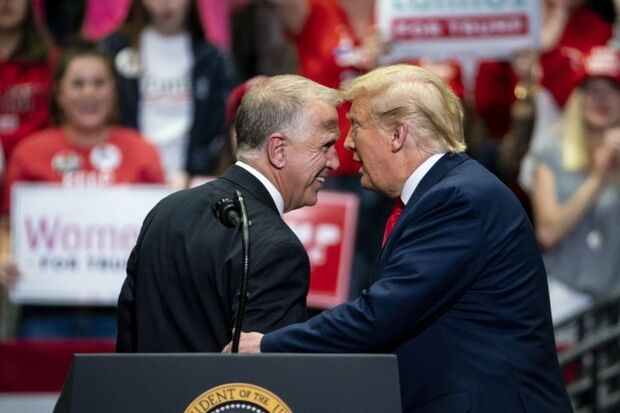 Although he won North Carolina in 2016, polls show Trump in a close race there this year with Democratic nominee Joe Biden and Tillis slightly trailing Cal Cunningham (D).
Michael Whatley, chairman of the North Carolina Republican Party, said that while swing voters' support is critical, Tillis has no plans to distance himself from the often-polarizing president.
"He does support the president 100%, and when you have 15,000 people getting together at the airport, you want to be a part of it," Whatley said in an interview after the Winston-Salem rally.
Disloyalty Punished
Political strategists said Trump isn't the first president who has created a dilemma for Senate candidates of the same party who need to draw core supporters while courting swing voters less enamored with the incumbent in the White House. President Barack Obama wasn't wanted by some Democrats during tough races, and Republicans kept their distance from President George W. Bush amid the Iraq War, said Brian Walsh, a GOP strategist and a partner with PLUS Communications.
"The difference is when President Bush was experiencing low poll numbers, the White House was smart enough to acknowledge that and allow members of Congress to run their own races and give them room to separate themselves," Walsh said in an interview.
"President Trump does not allow that," Walsh said. "He goes out of his way to punish Republicans who in his view are disloyal even if it means harming the electoral process back home."
Norm Ornstein of the American Enterprise Institute said lawmakers in tough races have been told by Republican leaders that they should distance themselves from Trump as necessary.
"But they are facing a choice between alienating some part of the base that is cult-like loyal to Trump and would see you as an apostate if you break from him at all, or sticking with him and alienating the suburban voters," Ornstein said.
The two Republicans in states Trump lost in 2016 and is unlikely to compete for this fall have done just that at times. Sen. Cory Gardner (R-Colo.) emphasizes bipartisan wins such as a public lands package enacted earlier this year. Sen. Susan Collins (R-Maine) remained in Washington when the president came to Maine earlier this year and has yet to declare her support for either Trump or Biden.
But Republicans in swing states — ones Trump won that both presidential campaigns are competing for — are largely hitching their fates to the president while selectively distancing themselves on some issues critical to their constituents.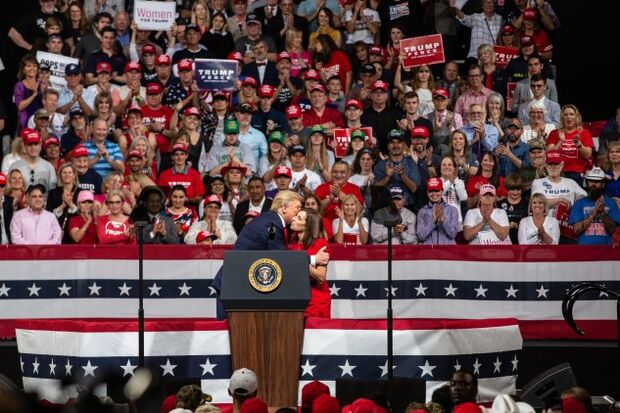 Among the most endangered Republicans is Sen. Martha McSally (Ariz.), who trails Mark Kelly (D). She joined the president at high-profile events, including two in Yuma this summer where the president commemorated milestones in building the border wall.
She has also reiterated the president's contention that China is to blame for the spread of the coronavirus in the United States.
Splits on Issues
McSally has split with Trump on some issues, such as the naming of military installations and tariffs that could hurt cross-border commerce with Mexico, her campaign spokeswoman Caroline Anderegg said.
"When you have that kind of relationship you are able to disagree," she said.
Sen. Joni Ernst (R-Iowa), who is in a tight race with Theresa Greenfield (D), praised Trump in a speech at the Republican National Convention, saying he provided a path to "freedom, prosperity, and economic growth," in contrast to the "Biden-Harris path, paved by liberal coastal elites and radical environmentalists."
Yet the president's trade and agricultural policies haven't always been popular in farm country. Ernst has lobbied Trump to deny renewable fuel standard exemptions that biofuel producers in her state oppose.
"Ernst basically walks that tightrope of trying to stay with Trump but not be too close in case people are so turned off by Trump that they're just moving away from the Republican Party en masse," said Christopher Larimer, a political scientist at the University of Northern Iowa.
Ernst's ties to Trump are the subject of a new campaign ad in which Democrats charge that her "blind loyalty" made Iowa vulnerable to a large spike in coronavirus cases. Her campaign declined comment.
Sen. David Perdue (R-Ga.), who is in a toss-up race with Jon Ossoff (D), is trying to appeal to swing voters with ads on virus aid, prescription drugs and a policing overhaul, said his campaign spokesman John Burke.
Perdue, who calls himself "the original outsider," also touts his close ties to Trump, whom he visits often at the White House and has appeared with at several events, including at an Atlanta airport hub in July to discuss infrastructure projects.
"As a business guy, President Trump knows that to compete in the global economy, America has to have a world-class infrastructure," Perdue said in a July 15 interview on Bloomberg TV.
To contact the reporter on this story: Nancy Ognanovich in Washington at nognanov@bgov.com
To contact the editors responsible for this story: Bennett Roth at broth@bgov.com; Kyle Trygstad at ktrygstad@bgov.com