GOP Senate Primary Cracks Door Open for Democrats in Missouri
Former Gov. Eric Greitens (R) carries scandal baggage
Democrats last won a Senate election there in 2012
A former governor burdened by scandal is leading a crowded Republican pack in Missouri's Senate race, giving Democrats an outside chance to flip what should be a safe GOP seat and improve their chances of holding the majority.
Eric Greitens, who was forced to resign as governor in 2018 amid allegations of sexual misconduct and campaign finance violations, is the one Republican most likely to make the fall election competitive. He faces state Attorney General Eric Schmitt, Reps. Vicky Hartzler and Billy Long, and the leader of the state Senate, Dave Schatz, in the Aug. 2 primary to replace retiring GOP Sen. Roy Blunt.
Lucas Kunce, the leading Democrat in the race, is "very, very much of a long shot to win the seat unless Eric Greitens emerges as the GOP nominee," said veteran St. Louis consultant John Hancock, who formerly chaired the state Republican Party. "You could see both sides putting real money in, and I suppose it could potentially make it competitive."
With control of the closely divided Senate at stake, both parties are paying heed to developments in Missouri, a former swing state that's become reliably red in presidential elections. In an election cycle that's likely to favor the GOP nationwide, any Republican nominee without serious problems should be able to hold onto the seat.
A former Navy SEAL with degrees from Duke and Oxford, Greitens, 47, frequently compares himself to former President Donald Trump. He's been angling for Trump's endorsement by holding fundraisers at the Mar-a-Lago Club and saying he won't support Minority Leader Mitch McConnell to lead the GOP conference in the next Congress. Other Republicans are courting Trump as well.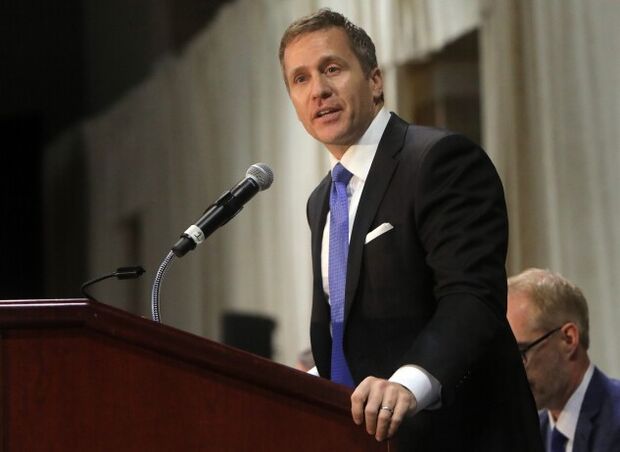 No Democrat has won a Senate race in Missouri since Claire McCaskill beat former Rep. Todd Akin in 2012 in a race dominated by Akin's controversial remark that women victims of "legitimate rape" rarely become pregnant. In her memoir published a few years later, McCaskill detailed her campaign's strategy to help Akin win the crowded primary, improving her re-election chances in the general election.
Both Republican and Democratic Senate campaign committees have said they don't plan to intervene in the primary.
McCaskill lost her 2018 re-election bid to Sen. Josh Hawley (R) after a campaign in which national Democrats attempted to tie Hawley to Greitens amid the scandal's fallout. Hawley, then Missouri's attorney general, investigated Greitens' campaign financing and called on Greitens to resign.
Hawley and Blunt have said little publicly about Greitens' Senate run. "I have no public opinion about it," Blunt, a member of McConnell's leadership team, said last week when asked if he was concerned about the race.
Hawley endorsed Hartzler last month. He said in an interview in the Capitol last week that it wasn't an endorsement "against anybody," but "it's vital that we hold the seat, and I think she's the best person to do it."
"There's basically no math that I'm aware of that would allow us to lose that seat in Missouri and retake the Senate," Hawley said.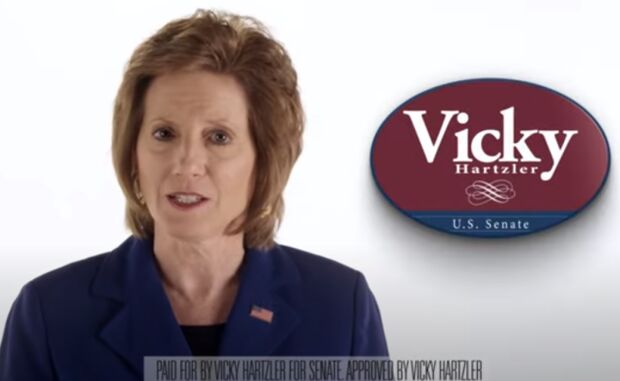 Greitens Leading
Greitens, Hartzler, and Schmitt have led a large pack of Republicans in recent polls, with Greitens consistently coming out on top. A Trafalgar Group poll in February put Greitens' support at 31%, Schmitt at 23%, Hartzler at 17%, and others in single digits, including Long, Schatz, and Mark McCloskey, an attorney and gun rights activist.
Hancock said the polls simply reflect name recognition in a race that's seen little campaign advertising, so far. Hancock, who said he previously did consulting work for Hartzler, said he was "a little surprised that we haven't seen engagement from McConnell's PAC."
Spokespeople for McConnell and the McConnell-aligned super PAC Senate Leadership Fund declined to comment or didn't respond to requests for comment. Greitens also didn't respond to a request for comment.
Political scientists in the state agree Greitens as the nominee gives Kunce a shot, but otherwise the seat's likely out of reach for Democrats.
"Republicans have yet to solidify their support behind an alternative" to Greitens, said Beth Vonnahme, a political science professor at the University of Missouri-Kansas City. "If Greitens wins the nomination, then Kunce has a legitimate chance of winning," she said.
"If Republicans settle in on someone like Hartzler or Schmitt, then I do not see a realistic chance for Kunce," said Peverill Squire, a political scientist at the University of Missouri in Columbia, pointing to the big vote margins run up by both Trump and Gov. Mike Parsons (R) in 2020.
Possible Independent Bid
There's another potential wrinkle to the race.
Former Sen. John Danforth (R), who's criticized the Republicans seeking the seat, said in a phone interview he's involved in recruiting and helping fund an unnamed Republican to run as an independent in the general election. Danforth, a moderate who retired from the Senate in 1995, declined to reveal the identity of the prospective candidate, except to say it's a "person with excellent credentials." The general election candidate filing deadline for independents is in August.
A legitimate third contender could splinter the GOP vote, providing an advantage to Democrats, but Danforth is dubious a Democrat can win in the red state.
"The real question is whether it's this kind of angry, hard-right approach to politics or whether it's somebody who thinks, 'Let's hold the country together, and make the system work, and work across the aisle," he said.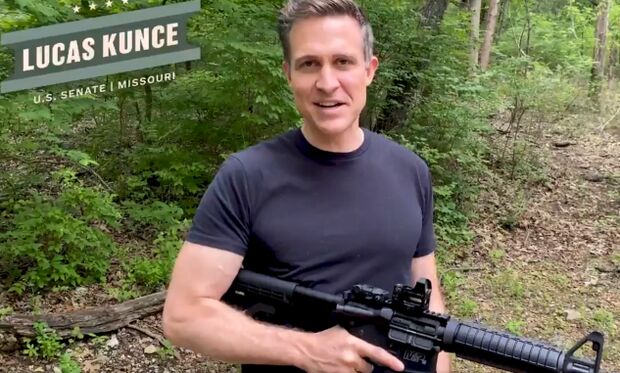 The Democrat
For his part, Kunce, a 39-year-old Marine Corps veteran and progressive activist who's never held elected office, led all candidates in fundraising last year. He collected $2.5 million mostly from small-dollar donors. He's likely to prevail in the Democratic primary over former state Sen. Scott Sifton.
Kunce says he's ready to compete against Greitens or any other Republican.
"I think that any of them are beatable, in the same way that really Blunt almost lost to Jason Kander in 2016," Kunce said in an interview.
Kander, another Democrat and a veteran with a similar background, came within 3 percentage points of beating Blunt as Trump won the presidential race in Missouri by nearly 20 points.
A big moment in Kander's campaign came when he sponsored a TV ad answering Blunt's criticism on gun rights by assembling a rifle blindfolded and daring Blunt to match him. In his own viral video, Kunce talked about carrying a rifle in Iraq and Afghanistan, and offered a weapons training lesson to GOP candidate McCloskey, who brandished a gun to demonstrators in a Black Lives Matter protest after the killing of George Floyd.
In the interview, Kunce criticized leaders of his own party for the problems he sees in Missouri. "They sold out to Wall Street, big tech, and others a while ago in order to keep up on campaign contributions or whatever else, and so people don't trust them anymore," he said.
He traces the decline of Democrats' fortunes in his state to "a sense of betrayal" in the aftermath of the 2008 financial crisis, when both parties supported bailing out banks but didn't do enough to help working people. A Yale- and University of Missouri-educated lawyer, Kunce at that time was trying to advise fellow marines who were losing their homes to foreclosure. His own father was forced to sell the house where Kunce grew up in Jefferson City for a price far lower than the mortgage balance.
"National Democrats were raving about how they'd saved the economy and the housing market," he said. "That's not what it looked like for a lot of people."
To contact the reporter on this story: Kenneth P. Doyle in Washington at kdoyle@bgov.com