GOP Seeks to Take Spotlight Off Jan. 6 Ahead of Holiday Recess
35 Republicans voted with Democrats to create Jan. 6 commission
Follows party's ouster of Liz Cheney from leadership last week
The Memorial Day break gives Republicans an opportunity to leave behind internally divisive issues like the Jan. 6 insurrection and focus on opposing the Biden agenda.
Republican leaders pushed their conference to stay unified against this week's bills tied to the attack on the Capitol. Votes to create a commission to examine it, and to fund security needs identified since then, were the last in-person business for three weeks.
After weeks of disputes about the 2020 election and its aftermath, the party wants its sights set on highlighting what they see as Democrats' disastrous legislative priorities ahead of the 2022 midterms and, more immediately, as members head home for the holiday.
It worked on the final roll call vote until mid-June, as no GOP member supported a $1.9 billion emergency supplemental to fortify the Capitol. But 35 backed the forming of a commission Wednesday after a floor debate that featured Republicans criticizing a plan negotiated by one of their own.
Still, Republicans on both sides of that vote said they don't expect to be talking much about it in their districts, as they return home following a tumultuous two weeks for the conference on Capitol Hill.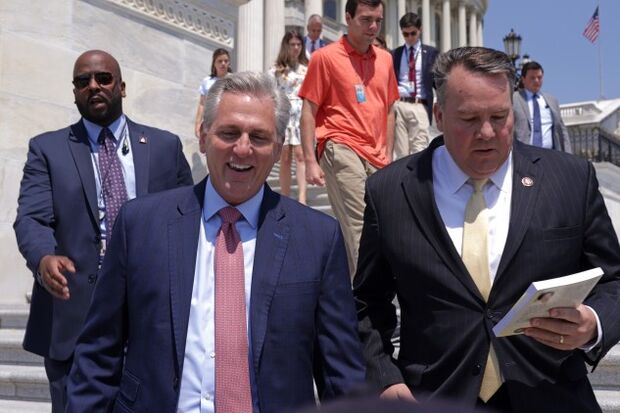 Rep. Thomas Massie (R-Ky.), who voted against the commission, said it won't be part of the message he delivers back home, saying "the people of Kentucky's 4th District couldn't care less about this, this commission."
"They just feel like this is like the third impeachment of President Trump, this commission, and people are just ready to move on," he added.
Rep. Dusty Johnson (R-S.D.), whose at-large district voted strongly for Donald Trump last year, said he received some constituent calls in the hours after he voted in favor of creating the commission, and that they've been split between positive and negative reactions.
"This is not the kind of thing that comes up very often in South Dakota," he said. "I mean, they're really more interested in Covid and the economy, and frankly even China."
Issue Will Linger
Still, the issue is unlikely to disappear, even as Republicans have sought to downplay what happened on Jan. 6 and Trump's alleged role in it.
The last two weeks for the conference were punctuated by the ousting of Rep. Liz Cheney (R-Wyo.) from the No. 3 spot in leadership due to her continued criticism of Trump for his baseless allegations that the election was stolen and for his actions on and around Jan. 6. Cheney showed on last weekend's Sunday talk shows that while the move placated Trump, who publicly supported Cheney being replaced, it didn't silence her.
Meanwhile, the proposed commission will remain a headline as the Senate debates its merits and details. Even if it fails to receive the necessary 60 votes, there's an FBI and multiple congressional committee investigations into Jan. 6.
Rep. Ken Buck (R-Colo.) voted against removing Cheney and has previously insisted 2022 voters are unlikely to forget his party's unwillingness to stand up to Trump's rhetoric on the 2020 election. Buck said in an interview he expects Democrats and Trump to keep the issue front and center.
"The other side is going to continue to talk about it, try to link it with white supremacy and the conservative movement. President Trump, when he talks about some of the alleged election fraud issues, it raises Jan. 6," he said. "So I think it's going to be with us for a while."
Arguments
In remarks on the floor, Speaker Nancy Pelosi (D-Calif.) said the commission was designed to be bipartisan and to uncover the truth about what happened on Jan. 6. She said it's "about our democracy, about ensuring that the Capitol dome remains a symbol of freedom, about preserving America's role as the emblem of resilience, determination and hope to the world."
Republicans often cited details about the commission's makeup and skepticism of its bipartisan nature in their reasoning for opposing it.
Rep. Marjorie Taylor Greene (R-Ga.) argued on the floor that the media would use it "to smear Trump supporters and President Trump for the next few years and cover up the real damage that is happening to the people of this country, which is tearing down our economy, ripping our borders wide open, and hurting this country."
Regardless of what happens with either piece of legislation, Republicans said they don't see what happened on Jan. 6 and the GOP's actions since having much of an effect on the midterms. Republicans are well-positioned to win the majority based on historical precedent, redistricting, and the few number of seats they need to pick up.
"I don't think it's going to be decisive in the election next year," Rep. Tom Cole (R-Okla.) said in an interview. "I doubt we're going to re-litigate 2020 in 2022."
To contact the reporter on this story: Emily Wilkins in Washington at ewilkins@bgov.com
To contact the editors responsible for this story: Kyle Trygstad at ktrygstad@bgov.com; Bennett Roth at broth@bgov.com