GOP Maps Out Next Agenda With Aid of Quiet Lawmaker From Alabama
Gary Palmer leads House Republican Policy Committee
Proposals touch on economic, conservative cultural issues
House Republicans are leaning on a policy wonk who often operates in the background as they hash out an agenda to appeal to voters during this crucial election year—and beyond.
Rep. Gary Palmer (R-Ala.), chairman of the House Republican Policy Committee, is rarely in front of a camera or leading a press conference, and his committee is meant to act as an advisory panel to the chamber's Republicans.
Yet Palmer's role has become more critical as the seven task forces House Minority Leader Kevin McCarthy (R-Calif.) established last year are preparing to put forward the agenda Republicans will both run on in the midterms and seek to implement next year if they win the majority. That policy road map may help them counter Democratic claims that the party lacks an agenda and gives them a running start next January.
House Minority Whip Steve Scalise (R-La.) said the task force's work will culminate in a comprehensive policy plan that Palmer will help draft.
"That's going to be an important document we'll roll out later this summer, and Gary's laid a lot of that groundwork," Scalise said.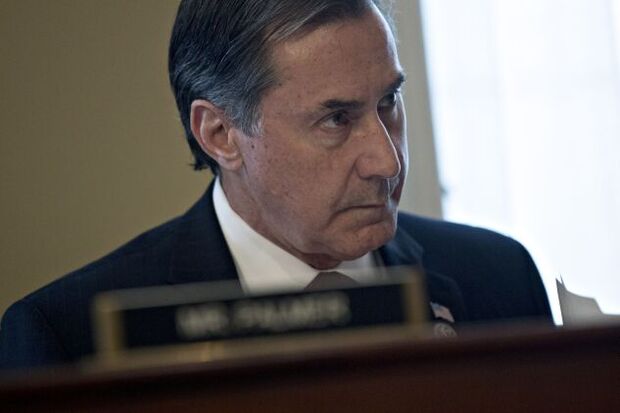 In an interview with Bloomberg Government, Palmer said one of the issues lawmakers struggle with is understanding policy areas outside the committees to which they're assigned. Palmer said he wants to ensure "every member can talk intelligently about the work that's being done in the various committees."
To do that, he uses the House Republican Policy Committee as "a think tank within the conference, the intellectual center."
The 20-member committee includes lawmakers from across the country to highlight different issues various regions are facing. Policy committee members also act as liaisons to standing committees and the seven task forces.
Palmer wrote the book—or more specifically, a binder—on current GOP policy: a 200-plus page "Guide to the Issues," sent to every House Republican. Its proposals include standard GOP policy such as overhauling tax deductions for education, as well as recent hot button issues that have animated the party base such as banning teaching critical race theory in government agencies or schools and barring transgender athletes from competing in female sports.
The guide also refers to weakening labor unions and requiring disclosure of state abortion data.
Palmer can often be found handing out pocket-sized cards to members at votes, with details and facts on specific topics and a QR code if they want to learn more. One such pamphlet proposed boosting energy production to bring down heating costs.
"We're going to make sure when our folks go home and talk to the American people, they can talk to them about how we're going to fix these things and do it in an honest way," Palmer said.
'Ultimate Policy Guy'
Palmer, co-founder of the conservative Alabama Policy Institute, is bringing his wealth of knowledge and data to each task force as they craft policy proposals, said Rep. Brett Guthrie (R-Ky.), chair of the "Healthy Future" task force. He's "the ultimate policy guy," Guthrie said.
"No matter what the task force is, Gary seems to have done research on what is going on," Guthrie said. "I'm a policy guy, but I've got to focus on my committees. But since he's policy chair, he has to focus on everything. And he's really good at it."
In a statement to Bloomberg Government, McCarthy called Palmer a "quintessential policy leader." McCarthy said Palmer's "energy and consensus-driven approach make him ideal as we develop conservative solutions from our Republican-led task forces."
The House Republican Policy Committee was first established in 1949 to advise the conference on policy and allow members to debate ideas. Former Vice President Dick Cheney (R-Wyo.) chaired it for several years in the 1980s.
It's not necessarily an easy job, said former Rep. Luke Messer (R-Ind.), Palmer's predecessor. Top party leaders have control of the legislative agenda, and committee chairs are often territorial about their own issues.
"There's a lot of finesse required when dealing with all the different constituencies who want to drive policy for the conference," he said.
Palmer has been able to strike that balance, working with leadership and committee heads to identify and advance priorities, said Rep. Cathy McMorris Rodgers (R-Wash.), who chairs the "Big Tech Censorship and Data" task force.
"Gary has respect among so many different colleagues that he's able to be that bridge between leadership and the committee chairmen," she said.
Proactive Agenda
Democrats have criticized Republicans for a lack of a policy agenda. In 2020, the Republican National Committee voted against adopting a new platform. Biden slammed Republicans during a January press conference, saying the party was only interested in blocking his agenda rather than advancing bipartisan priorities.
Palmer, who has one of the more conservative voting records in Congress, emphasized the need to put forward a more proactive rather than combative policy agenda.
"It's not that I want to throw stuff out there to make Biden look bad or the Democrats look bad," Palmer said. "I want to put things out there that if we can get this done, it will measurably make people's lives better."
Palmer pledged during his first election in 2014 that this year's race would be his last. But he said he made that promise without anticipating the turnover in Alabama's delegation or his ascension to leadership.
"As tired as I might be, war-weary as I might be, to take away from Alabama one of only three members who has senior status and the only member that's part of leadership might not be in the best interest of the state," Palmer said.
Even if he runs again in 2024, Palmer said he doesn't aspire to higher leadership positions.
"I had somebody ask me, 'Do you want to be speaker or majority leader?' No," Palmer said. "I want to be the best that I can be where I am. I don't elevate myself. And if I get elevated, that's different. You get promoted."
To contact the reporters on this story: Emily Wilkins in Washington at ewilkins@bgov.com; Zach C. Cohen in Washington at mailto:zcohen@bloombergindustry.com
To contact the editors responsible for this story: Bennett Roth at broth@bgov.com; Kyle Trygstad at ktrygstad@bloombergindustry.com