GOP Line-Drawers Slammed by Ohio Court: Ballots & Boundaries

Say goodbye to Ohio's very helpful-to-Republicans congressional district lines. The state Supreme Court says they're too gerrymanderedto be constitutional.
"We hold that the congressional-district plan is invalid in its entirety because it unduly favors the Republican Party and disfavors the Democratic Party in violation of Article XIX, Section 1(C)(3)(a)," according to the ruling released today.
"We also hold that the plan unduly splits Hamilton, Cuyahoga, and Summit Counties." (That's roughly Cincinnati, Cleveland, and Akron.)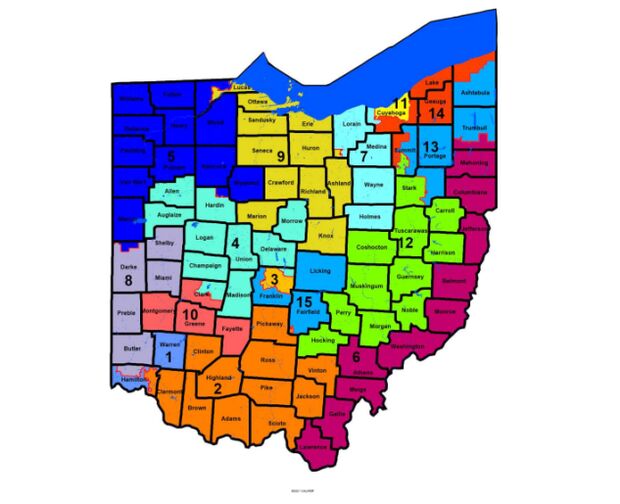 The General Assembly was ordered to try again. Had it been allowed to stand, it would have been a two-cycle map because no Democrats voted for it in the legislature. State law requires bipartisan approval of 10-year maps. — Kenneth P. Doyle
CONNECTICUT: MAP NEXT WEEK
The law professor supervising Connecticut's congressional redistricting will release his preferred map and a report by Tuesday.
Special Master Nathaniel Persily is under orders to make only essential population-related changes to the current map, which he drew a decade ago. That map includes three strongly Democratic districts and two more mildly Democratic districts—the eastern 2nd, held by Joe Courtney, and the northwestern 5th, represented by Jahana Hayes. — Greg Giroux
(Was this newsletter forwarded to you? It's free. SUBSCRIBE )
LOUISIANA: FEB. 1 START
Louisiana lawmakers will tackle redistricting in a special legislative session starting Feb. 1. They'll have until Feb. 20 to draw maps for the state's congressional and legislative seats, according to a proclamation from House and Senate leaders. Gov. John Bel Edwards (D) has said he wants the Republican-led Legislature to create a second majority-Black congressional district. — Jennifer Kay
TENNESSEE: AIMING AT COOPER
Rep. Jim Cooper (D), one of the most senior House members in the 117th Congress, is targeted for defeat under a Republican map that would fracture the Nashville area.
The GOP map approved Jan. 12 by the state House redistricting committee includes a three-way split of populous Davidson County in and around the state capital, which Cooper has represented for 19 of his 31 years in Congress. The proposed lines could make Rep. Steve Cohen of Memphis the lone Democrat in Tennessee's nine-member U.S. House delegation after the November election. — Greg Giroux
MISSISSIPPI: ALL BUT DONE
Mississippi's only majority-Black congressional district would stretch almost the length of the state under a map awaiting approval from Gov. Tate Reeves (R).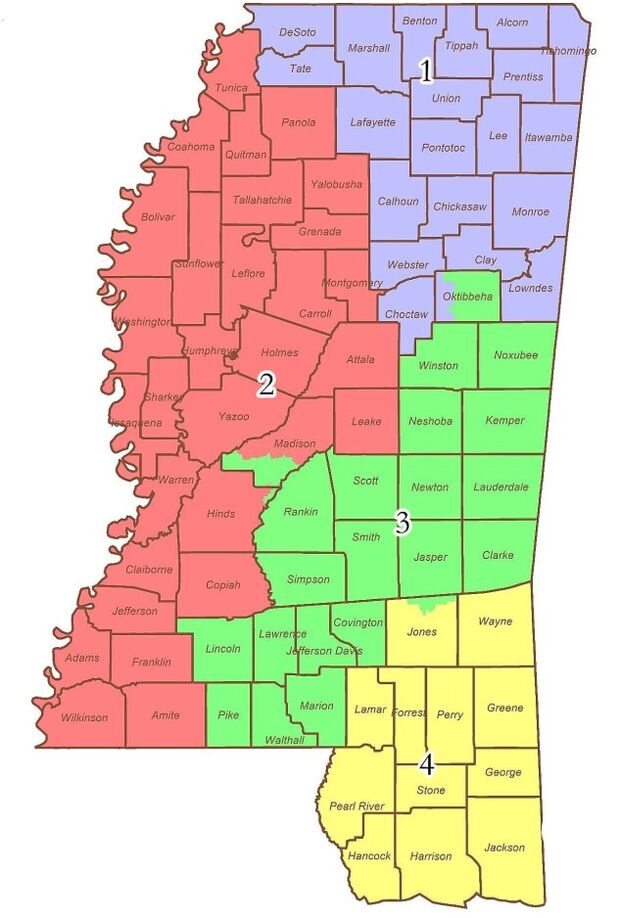 The configuration (H.B. 384) gives every member of the delegation a strong probability of keeping their seats. — Jennifer Kay
NORTH CAROLINA: MAPS UPHELD
A three-judge panel in North Carolina upheld the state's newly adopted legislative and congressional maps, rejecting claims of voters and advocacy groups who challenged them as partisan gerrymanders that undermine Black voting power.
The Republican-drawn maps would strengthen the party's advantage both in the state legislature and North Carolina's congressional delegation. The ruling is subject to appeal to the state Supreme Court. — Chris Marr
NEW YORK: TRYING AGAIN
New York's independent redistricting commission has a second chance to draft state legislative and congressional district lines, after lawmakers rejected its initial maps.
If the 10-person panel, which has been bogged down in partisanship, fails to reach an agreement, or lawmakers vote down the revised set of maps, the legislature and governor can draw their own lines. — Keshia Clukey
PENNSYLVANIA: MAP PLAN ADVANCES
House Speaker Bryan Cutler (R) says he looks forward to working with the Pennsylvania Senate and Gov. Tom Wolf (D) to finalize a congressional map (H.B. 2146) that his chamber advanced this week.
But the process still seems destined to end up in court, as Wolf has criticized the proposal. Lawsuits have sought to speed things up, but the Pennsylvania Supreme Court isn't changing a Jan. 30 deadline set by a lower court. — Jennifer Kay
SOUTH CAROLINA: MACE BOOSTED
South Carolina's Republican-majority state legislature advanced a congressional map that would boost first-term House Republican Nancy Mace. That map would increase the GOP tilt in Mace's Charleston-area 1st District, now the most politically competitive of South Carolina's seven districts. Mace in 2020 unseated Democrat Joe Cunningham, who's now running for governor.
Democrats said the proposal packed Black voters in the 6th District of Majority Whip James Clyburn, the only Democrat in South Carolina's congressional delegation. The next stop for the map is the state Senate, which is considering two other proposals. — Greg Giroux
RHODE ISLAND: STATUS QUO
Rhode Island's advisory redistricting commission is recommending the state legislature adopt a congressional map that would make minor adjustments to the districts Democratic Reps. David Cicilline and Jim Langevin have dominated. The commission voted 15 to 2 to forward the map to the Democratic-led legislature. — Greg Giroux
Caught Our Eye
Hundreds of mail-in ballot applications are being rejected under Texas' new voting rules. (Texas Tribune)
The candidacy of Rep.

Madison Cawthorn

(R-N.C.) is being challenged with the state elections board over his support for the Jan. 6, 2021, insurrection at the U.S. Capitol. (The Associated Press)
Resources
Add Us to Your Inbox
Click HERE to sign up for Ballots & Boundaries, your check-in on redistricting and state voting laws.
To contact the reporters on this story: Kenneth P. Doyle in Washington at kdoyle@bgov.com; Jennifer Kay in Miami at jkay@bloomberglaw.com; Greg Giroux in Washington at ggiroux@bgov.com; Chris Marr in Atlanta at cmarr@bloomberglaw.com; Keshia Clukey in Albany, N.Y. at kclukey@bloomberglaw.com
To contact the editors responsible for this story: Tina May at tmay@bloomberglaw.com; Katherine Rizzo at krizzo@bgov.com