GOP-Led Senate Challenges Trump on Confederacy in Defense Bill
Bloomberg Government subscribers get the stories like this first. Act now and gain unlimited access to everything you need to know. Learn more.
Defying President Donald Trump's threats to preserve vestiges of the Confederacy, the Republican-led Senate backed a $740.5 billion defense measure that would force changes to U.S. military bases bearing the names of Confederate generals and to other symbols of the old South.
The Senate on Thursday passed the fiscal 2021 defense authorization bill, which contains a provision, written by Elizabeth Warren (D-Mass.) creating a commission that would have to submit a plan to the Defense Department within three years to remove all names, symbols, displays, monuments and paraphernalia that honor or commemorate the Confederacy. The vote was 86-14.
Passage of the measure sets up a clash with President Donald Trump, who has dug in to retain the current military base names and the Confederate flag. Trump has lamented congressional efforts in the House and Senate to force changes to the names of bases even as lawmakers echo a U.S. society shaken by unrest over racial inequities. Trump has threatened to veto the House version of the annual defense bill over a provision requiring changes within a year. Top Pentagon leaders say the changes should be considered.
The Senate's backing also raises the specter of controversial negotiations over the final version of the bill that would head to the president's desk after Oklahoma Republican Jim Inhofe, the chairman of the Senate Armed Services Committee, said he backed Trump's veto threat and indicated he would push for changes during negotiations.
"That stuff isn't going to get close to any kind of consideration in conference," Inhofe told reporters this week. The Senate and House must iron out their differences on the defense bill before Congress can send the final version to the president's desk.
The annual defense policy bill would authorize pay raises and hazard pay for U.S. troops in harm's way, elevating it to must-pass legislation and raising the stakes for Trump's and his supporters' resistance. The measure has become law 59 years in a row.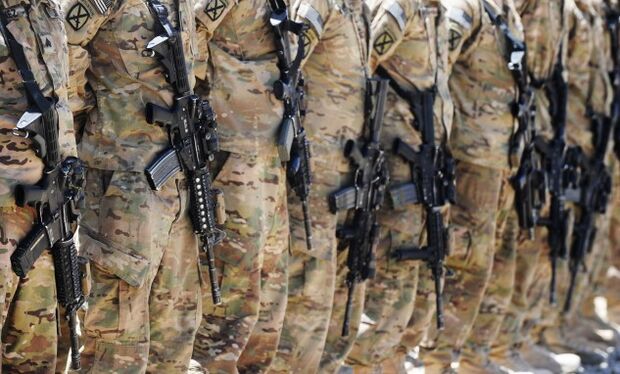 The Senate measure (S. 4049) would authorize $636.4 billion for the regular Pentagon budget and $69 billion for the overseas contingency operations account. The bill also covers national security programs at the Energy Department. It would boost the F-35 Joint Strike Fighter program, set up a Pacific deterrence fund and set some limits on a Pentagon program that transfers excess military equipment to police departments as nationwide protests have brought attention how police can use this equipment against U.S. citizens.
Pentagon Directed to Combat Racism in $741 Billion Defense Bill
Amendments to H.R. 6395, Fiscal 2021 NDAA: BGOV Closer Look
BGOV Bill Summary: H.R. 6395, Fiscal 2021 NDAA
BGOV Bill Summary: S. 4049, Fiscal 2021 NDAA
BGOV Bill Summary: Overview of S. 4049, Fiscal 2021 NDAA
Aircraft
The bill would authorize $9.1 billion for 95 Lockheed Martin Corp. F-35 Joint Strike Fighters. The Pentagon requested 79 aircraft. The bill also proposes the Air Force modify and operate the six Turkish F-35 Joint Strike Fighter aircraft, made by Lockheed, that was accepted by Turkey but never delivered because that country bought Russia's S-400 missile defense system.
The measure also would prohibit retirement of A-10 Warthog airplanes and would delay divestment of KC-10 and KC135 tanker aircraft until Boeing Co.'s remote visual refueling system for the new KC-46 tanker is fixed.
Ships
The defense measure would authorize $21.3 billion for shipbuilding, or $1.4 billion more than the Pentagon requested. The bill would boost by $472 million advance procurement of materials for the Virginia-class submarine to preserve the option to procure 10 Virginia-class subs, made by General Dynamics Corp. and Huntington Ingalls Industries Inc. The bill would also back multi-ship contract authority for as many as two Columbia-class submarines, made by General Dynamics.
China Threat
The Senate legislation would authorize $1.4 billion for a Pacific deterrence fund in fiscal 2021 and $5.5 billion for fiscal year 2022 and directs Secretary of Defense to create a spending plan for the funding. A provision sponsored by Mitt Romney (R-Utah) would make cooperation with Indo-Pacific allies a statement of U.S. policy.
Included in that are efforts to promote the values of democracy and human rights, such as efforts to respond to the Chinese Communist Party crackdown in Hong Kong; countering disinformation with respect to the Chinese government's response to the coronavirus pandemic, and ending the repression by China of political dissidents and Uighurs and other ethnic Muslim minorities, Tibetan Buddhists, and Christians.
The Pentagon would be required to take steps to sever Chinese government access to sensitive defense data that it can glean through telecommunications networks, the materials used in weapons, and pharmaceuticals. The bill would include a mandate that the defense secretary report on the risk to personnel, equipment, and operations posed by China's Huawei Technologies Co.'s 5G systems used by countries that host U.S. military. The defense chief would also have to report ways to reduce that risk.
Networks
The Pentagon would be prohibited from spending defense money to comply with Federal Communications Commission's approval of Ligado Networks LLC's plan for a mobile broadband network until the defense secretary submits an estimate of the costs associated with the resulting GPS interference.
The measure would direct the defense chief to contract with the National Academies of Science and Engineering for an independent technical review of the order to provide additional technical evaluation to review Ligado's and the Defense Department's approaches to testing.
Diversity
Another adopted provision by Virginia Democrat Mark Warner, would require the comptroller general to submit a report on issues related to diversity and inclusion within the civilian workforce of the Department of Defense. The report would have to assess any differences in promotion outcomes among demographic groups of the civilian workforce and show the extent to which the Department of Defense has identified barriers to diversity in its civilian workforce.
Police
The Pentagon would be banned from transferring bayonets, grenades, weaponized tracked combat vehicles and armed drones to police departments. The legislation, written by Inhofe, would require law enforcement agencies receiving Pentagon equipment under the so-called 1033 program to undergo additional training including understanding and respect "for the rights of citizens under the Constitution of the United States and de-escalation of force."
The provision was offered as an alternative to a bipartisan bill that sought to restrict and condition the transfer of military equipment to law enforcement.
The Pentagon initiative that has transferred more than $7 billion in excess military equipment to U.S. police departments gained renewed attention in part prompted by police tactics and images of mine-resistant vehicles and police in riot gear using rubber bullets, flash-bang devices and pepper spray to disperse recent nationwide protests over the death of an unarmed black man in Minneapolis police custody.
With assistance from Nancy Ognanovich
To contact the reporter on this story: Roxana Tiron in Washington at rtiron@bgov.com
To contact the editors responsible for this story: Robin Meszoly at rmeszoly@bgov.com; Heather Rothman at hrothman@bgov.com
Stay informed with more news like this – from the largest team of reporters on Capitol Hill – subscribe to Bloomberg Government today. Learn more.