GOP Donors Urged to Put Money Behind 2020 Women House Candidates
Bloomberg Government subscribers get the stories like this first. Act now and gain unlimited access to everything you need to know. Learn more.
Republicans need to ramp up their financial support of the record number of GOP women seeking House seats, often against better-funded Democrats, according to the lawmaker who led the party's candidate recruitment.
"We've got to get our women donors, on their own, to be giving more money to women candidates. We've got to get the male donors, on their own, to be giving Republican women more funding. And that's something I've been saying, I'm going to keep saying it," Rep. Susan Brooks (R- Ind.) said Wednesday at an event on Republican women in the 2020 election that was sponsored by the nonpartisan Women & Politics Institute at American University in Washington.
Republican women are looking to replenish their depleted ranks in Congress after a 2018 election in which the partisan composition of women in the House widened to 89 Democrats and 13 Republicans from 64 Democrats and 23 Republicans before the election. The successes of Democratic women helped propel their party to the majority.
"This last election was pretty devastating for the Republican women in particular. We lost a number of our sisters," said Brooks, who is not running for re-election this year.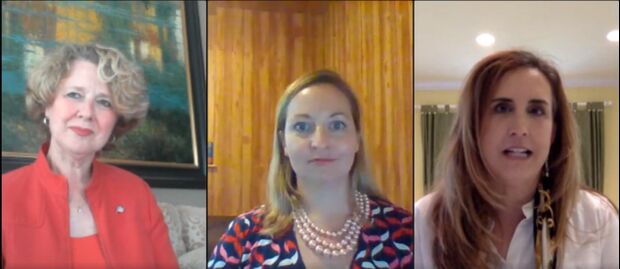 A record 557 women, including 340 Democrats and 217 Republicans, filed to run for House seats thus far, according to data compiled by the Center for American Women and Politics at Rutgers University.
The Republican total far exceeds the party's previous record of 133 women who sought House seats in 2010. Democrats are close to their high watermark of 356 women candidates in 2018. The center's tallies will tick up a bit after a few more states complete the formal primary candidate filing process.
Parker Poling, the executive director of the National Republican Congressional Committee, said the success of Democratic women in the 2018 election "inspired" more Republican women to run for Congress this year.
"The sight of them on swearing-in day on the House floor was really, really powerful. A lot of Republican women looked at that and said, 'I support women in office, I think that's admirable, but those women don't represent my political beliefs,'" Poling said.
Brooks said Republican members and organizations are doing more to help Republican women win their primaries in an effort to better compete with Democrats and groups like EMILY's List, which often intervenes in contested primaries to boost Democratic women.
"We are now seeing, I would say, more of our leadership and more of our rank-and-file members getting behind Republican women in primaries, because often our women have had a difficult time fundraising and making it through primaries," Brooks said.
Democrats still have a large advantage over Republicans in the number of women who have advanced to the November election. More than twice as many Democratic women than Republican women, 91 to 38, have won nominations for House seats thus far this year, CAWP data shows.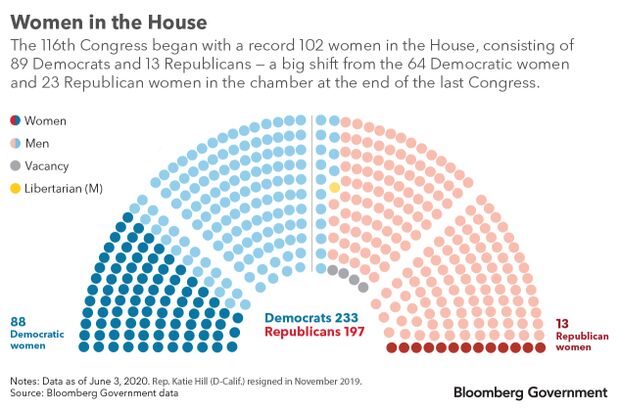 In a discussion moderated by Betsy Fischer Martin, the executive director of the Women & Politics Institute, Brooks and Poling discussed some of the Republican women running in key House races:
Karen Handel (Georgia's 6th District): Handel is seeking to reclaim the suburban Atlanta district she lost in 2018 to Lucy McBath (D). Handel, who faces four lesser-known rivals in a June 9 primary, had $958,000 in cash on hand on May 20 compared with $2.9 million for McBath.
Mary Miller (Illinois' 15th District): Miller, a farmer and educator, is a shoo-in to succeed retiring Rep. John Shimkus (R) after winning the Republican primary in March. Miller has said she would join the House Freedom Caucus, a bloc of some of the House's most conservative members.
Victoria Spartz (Indiana's 5th District): Spartz, a state senator, won a 15-candidate primary this week in the metropolitan Indianapolis district held by Brooks. The district has a decided Republican lean but the Democrats have a serious candidate in former state Rep. Christina Hale.
Brooks praised Spartz, who primarily self-funded her primary campaign and was backed by the conservative Club for Growth. She added that Spartz will need to "pivot and really put together a significant fundraising effort" for the general election.
Ashley Hinson (Iowa's 1st District): Hinson, a state representative and former local television anchor, is "absolutely one of our best candidates," Poling said. Hinson is opposing first-term Rep. Abby Finkenauer (D) in a competitive district that includes Cedar Rapids, Dubuque and Waterloo.
Brooks noted Hinson had more than $1 million on hand May 13, one of the highest totals for a Republican challenging a Democratic incumbent. Finkenauer had $2.2 million.
Mariannette Miller-Meeks (Iowa's 2nd District): A state senator and physician making her fourth bid for the House, Miller-Meeks is running against former state Sen. Rita Hart (D) in a southeastern Iowa district where Rep. Dave Loebsack (D) isn't seeking re-election.
Yvette Herrell (New Mexico's 2nd District): Herrell, a former state representative, is facing first-term Rep. Xochitl Torres Small (D) in a rematch of a 2018 race that Torres Small won 51%-49% in a mostly rural and Republican-leaning district.
Brooks said Torres Small is "a very tough incumbent, someone who has worked very hard" but Herrell "can get it done." Herrell, who won a contested primary this week with a plurality of the vote, had $70,000 on hand May 13 compared with $3.1 million for Torres Small.
Nancy Mace (South Carolina's 1st District): Mace, a state representative and the first woman to graduate from The Citadel, is the front-runner in a four-candidate Republican primary on June 9. Rep. Joe Cunningham (D) is seeking a second term in the Republican-leaning coastal district.
Mace's opponents include Kathy Landing, a financial planner backed by the political arm of the House Freedom Caucus.
Beth Van Duyne (Texas' 24th District): Van Duyne is a former mayor of Irving who won the March primary in a metropolitan Dallas-Fort Worth district Rep. Kenny Marchant (R) is leaving open to retire. Two Democratic women, Kim Olson and Candace Valenzuela, are competing in a July 14 runoff.
Other Republican women in competitive races include Nicole Malliotakis, a New York assemblywoman opposing freshman Rep. Max Rose in the 11th District on Staten Island and Brooklyn; Claudia Tenney, a former House member seeking a rematch with Rep. Anthony Brindisi (D) in New York's 22nd District; Stephanie Bice, an Oklahoma state senator seeking to oppose first-term Rep. Kendra Horn in the 5th District in Oklahoma City; and Michelle Fischbach, a former Minnesota lieutenant governor who's seeking to unseat Agriculture Committee Chairman Collin Peterson in the state's 7th District.
For more about women running for Congress in 2020, listen to the May 18 episode of Bloomberg Government's "Downballot Counts" podcast with Kelly Dittmar, a political scientist and CAWP scholar.
To contact the reporter on this story: Greg Giroux in Washington at ggiroux@bgov.com
To contact the editors responsible for this story: Bennett Roth at broth@bgov.com; Kyle Trygstad at ktrygstad@bgov.com
Stay informed with more news like this – from the largest team of reporters on Capitol Hill – subscribe to Bloomberg Government today. Learn more.