GOP Doctors in the House Push for Vaccine, Dismiss Single Payer
Coronavirus forces pivot on setting health-care priorities
Doctors are key constituency in surprise billing debate
Republican doctors in Congress are playing a larger role in their party's health-care agenda and plan to use their backgrounds to promote a coronavirus vaccine while opposing efforts to expand public insurance programs.
The GOP Doctors Caucus, made up of 18 lawmakers with various medical backgrounds, faces a tough challenge in the months to come. Multiple failed Republican votes to repeal Obamacare after President Donald Trump took office helped Democrats win back the House two years ago. Democratic presidential nominee Joe Biden said fighting the coronavirus would be his top priority if he defeats Trump in November.
Now the GOP doctor-lawmakers, in the face of shuttered businesses and millions of job losses, want to make promoting a Covid-19 vaccine a priority.
"People understand that the physician in Congress, they know what's going on and would be best to gauge the safety of this," Rep. Andy Harris (R-Md.), one of the caucus leaders and an anesthesiologist, said. "If they're rolling up their sleeves to get the vaccines, then maybe it's safe for me, too."
The caucus membership has swelled in recent years, and in January could be larger than ever: more than 20 candidates with medical backgrounds are seeking House seats this November, about half of them Republicans.
The group has been operating in the minority for almost two years as House Democrats, who have health care-focused caucuses but none that operate like the GOP Doctors Caucus, have promoted their health agenda, passing bills to expand Obamacare and direct the government to negotiate drug prices.
Candidates Tout Benefits of Having More Doctors in the House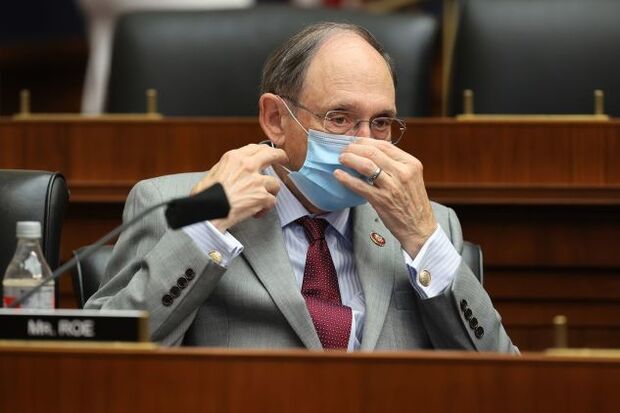 The Republican doctors caucus is also at a crossroads. Long-time leader Rep. Phil Roe (R-Tenn.) is retiring and the group is weighing how to replace him. Harris is expected to take over as one of the two chairmen of the caucus.
Surprise Billing
The GOP Doctors Caucus was a largely informal group when then-congressmen Phil Gingrey and Tim Murphy formed it more than 10 years ago, Roe said. Over the years their numbers have grown and Roe has held regular meetings and coordinated work between their staff.
Harris, a member of the House Freedom Caucus—famous for meeting on Monday nights when Republicans held a majority in the House to decide if they would as a group oppose legislation coming to the floor—said the GOP Doctors Caucus is now the most active group he's a member of.
Roe and other members of the GOP Doctors Caucus have worked with Reps. Raul Ruiz (Calif.) and Ami Bera (Calif.), two of the three Democratic doctors in Congress, on matters where they agree, such as curbing surprise medical bills that insured patients receive for out-of-network care.
The bipartisan group has steered discussions around surprise medical billing in both the House and Senate toward giving health-care providers more power to argue for higher pay for their services.
They see the caucus as a key constituency in passing a surprise billing package this year, a Republican staffer for the Energy and Commerce Committee said. The panel's leaders have made concessions to Congress's doctors, for example creating a path for physicians to take billing disputes with insurers to arbitration.
"A lot of people come to us on the House floor and they ask, 'What does the doc caucus think of this?'" Rep. Larry Bucshon (R-Ind.) said. "We help our colleagues and we also do a lot of off-the-cuff consultations with our leadership team."
Changing Congress
Caucus leaders such as Harris and Rep. Michael Burgess (R-Texas) adamantly oppose Obamacare, abortion, and expanding the government's role in health insurance. However, physicians as a profession are less conservative and many health-care groups embrace Obamacare and even the single-payer Medicare for All.
Only 15% of primary care doctors wanted to repeal the ACA, while about half said they like the law, a national survey in 2017 published in the New England Journal of Medicine found.
More than half of physicians surveyed by Medscape after the 2016 election said they voted for Hillary Clinton, compared with 26% who said they voted for Trump.
"The doctors in Congress don't represent the body of American medicine very well at all," Adam Gaffney, president of Physicians for a National Health Program, said. His group represents doctors that advocate for single-payer health insurance.
Harris said the caucus represents an interest in the "doctor-patient relationship" and generally pushes for policies that let people select which medical professionals they want to see.
Growing Influence
Caucus members have been central to passing several health policy changes in recent years. Bucshon and Burgess, both physicians, were prominent in passing a "right to try" bill (Public Law 115-176) in 2017.
They also successfully advocated to end the ACA's individual mandate, which required all Americans to have health insurance. It was scrapped as part of the 2017 tax overhaul (Public Law 115-97).
Roe jokes he's been a "dictator" within the caucus, gathering the group to discuss wonky health policies ranging from Medicare reimbursement policies to surprise medical billing and coordinating the work of their health policy staff.
Even so, the caucus takes a back seat to House leaders on the big disputes. Back in 2017, fresh off their sweep of both chambers of Congress and the White House, Republicans had President Barack Obama's signature health care plan in their sights.
Rep. Brian Babin (R-Texas), a member of the medical professionals' caucus, wanted to play a key role in designing a conservative alternative to the health-care law. Instead, Babin, a dentist, said he and many other lawmaker-doctors found they weren't central to leadership's plans for designing and selling a repeal bill, and Obamacare remains law today.
"Had the doc caucus had more of a prominent role, there would've been a lot less rocky road than was experienced," Babin said.
To contact the reporter on this story: Alex Ruoff in Washington at aruoff@bgov.com
To contact the editors responsible for this story: Sarah Babbage at sbabbage@bgov.com; Robin Meszoly at rmeszoly@bgov.com