GOP Changes Stir Fears About the Future of House Ethics Office
House-passed rules includes changes to the OCE
Lawmakers confused about rule implementation
Bloomberg Government subscribers get the stories like this first. Act now and gain unlimited access to everything you need to know. Learn more.
Republican-instigated changes to an office created to probe House ethics complaints have prompted fear the panel's work could be stymied.
The Office of Congressional Ethics could play a role in investigating members who were involved with the Jan. 6 riots and Rep. George Santos (R-N.Y.) who extensively lied about his background.
But Democrats and advocacy groups are worried that House rules (H. Res. 5) crafted by the new GOP majority will essentially gut the office by getting rid of current board members and putting limits on when staff can be hired. Republicans have pushed back saying the rules have been misinterpreted and they still want the office to function.
"There's still the same ethics process that's been in place," Majority Leader Steve Scalise (R-La.) told Bloomberg Government. "If someone wants to bring a complaint process, they can."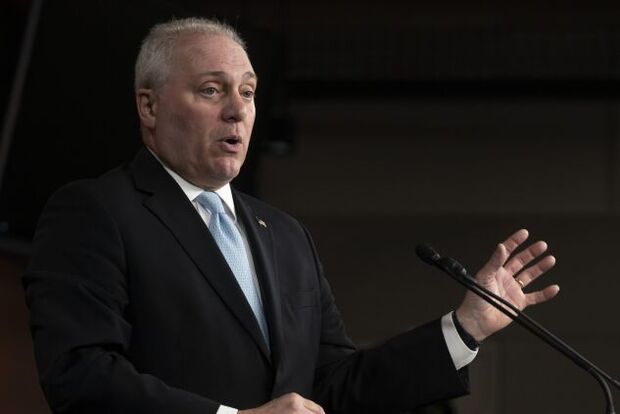 But Rep. Susan Wild (D-Pa.), the top Democrat on the House Ethics Committee, said she's still working to figure out what the changes will mean.
"I'm worried about the integrity of that office," Wild said. "We need OCE as our investigative arm."
OCE is a non-partisan entity that Congress established in 2008 to review allegations of misconduct against House members, officers, and staff and, if it deems appropriate, refer those findings to the House Ethics Committee for further investigation. It's led by an eight-member board of directors, six who can vote and two alternates. The speaker and minority leader each choose three board members and one alternate. There are slots for up to 10 staffers.
For the new Congress, OCE has so far maintained its current staffers and plans to hire new staff once a board is nominated by Speaker Kevin McCarthy (R-Calif.) and Minority Leader Hakeem Jeffries (D-N.Y.) according to a person familiar with the House ethics process who was not authorized to speak with the press. Board members are reappointed at the beginning of each Congress by the speaker and the minority leader. The House doesn't need to vote on the appointments.
But the changes included in the House rule pose a number of potential impediments. The rule reimposed limits of two, four-year terms that will result in the removal of three of the four Democratic-nominated members from the board. Jeffries will need to find new candidates, a process those familiar with the office say could take months.
Kedric Payne, who previously served as deputy chief counsel at OCE, said finding people with the experience and willingness to be on the board is no easy task even though they are paid.
"There's not a line of people who want to volunteer be on the OCE," he said in an interview. "You make no friends on that board."
Wild said she has urged Jeffries to get the appointments done "as quickly as possible."
There's also confusion about a second rule change which "requires the board to, within 30 calendar days, appoint OCE staff and set their compensation.
More than two dozen governance groups raised concerns in a letter that the hiring period was too short to properly vet candidates and that the office would be short staffed if someone left their role after 30 days.
But Rep. Michael Guest (R-Miss.), the top Republican on the House Ethics Committee for the past several months, said in a statement that the package "does not prevent the OCE from hiring new staff after 30 days."
Another Republican source familiar with the Rules package said the change is meant to put OCE staff on par with Congressional staff and have the board decide at the start of each Congress whether to keep current staffers or hire new ones.
Contentious History
The third change is that the House Ethics Committee can now receive complaints directly from the public. Previously, public complaints about members had to go through the OCE.
Daniel Schuman, policy director at Demand Progress, a progressive advocacy group, said organizations like his have concerns about how members of the Ethics Committee handle cases involving their fellow lawmakers.
"It's like having your brother-in-law be the judge," he said.
Watchdog groups say they have reason to worry that Republicans are seeking to gut the office. Republicans have long been opposed to the office since it was first created. Lawmakers have accused the office of treating members unfairly and falsely accusing lawmakers.
"I'm not a huge fan of it quite frankly," said Rep. Tom Cole (R-Okla.), chair of the House Rules Committee. "We have an Ethics Committee and I'd rather expand their power and budget than an outside group that I've seen used inappropriately before."
Still, Cole, like Scalise and Guest, downplayed the idea OCE would be prevented from doing its work based on the rule changes.
When asked why the changes were made, Cole said he thought term limits were a good idea.
Scalise, however, said there were worries with a high-level OCE staffer that "a lot of people had concerns about and it was being swept under the rug."
"Surely not the ethical environment you want to see where someone is not living under the rules that everyone else is expected to follow," he said in a brief interview.
Scalise did not name the staffer, but last October Guest, Cole and former House Administration Committee Ranking Member Rodney Davis (R-Ill.) raised concerns about OCE's Staff Director and Chief Counsel Omar Ashmawy.
In an October 19 letter, obtained by Bloomberg Government, the lawmakers said Ashmawy had been arrested and charged with a DUI and other violations, according to Yahoo! News, which first reported the incident. They also referenced a 2015 incident, in which Ashmawy was accused of "drunken and harassing behavior towards women."
Ashmawy declined to comment, citing rules against OCE staff talking to the press.
OCE Chair Michael D. Barnes, a Democratic nominee and Co-Chair Paul Vinovich, a Republican nominee explained in a letter responding to the lawmakers, that the 2015 incident was reviewed by an independent counsel in 2018 and the board concluded that Ashmawy "was the victim of an unprovoked attack in the incident."
Regarding DUI charges, Barnes and Vinovich said in a November 30 letter that Ashmawy qualified for an accelerated rehabilitation program. Once he completes the program, any pending charges against him would be dismissed.
"In light of this, the Board has directed Mr. Ashmawy to return to his prior position," the two board members say in the letter.
Schuman said Ashmawy's employment was for the board to decide, not lawmakers.
"The reason the Office of Congressional Ethics has an independent board is so member of Congress can not interfere with its operations," he said, "including that of its staff."
To contact the reporter on this story: Emily Wilkins in Washington at ewilkins@bgov.com
To contact the editors responsible for this story: Bennett Roth at broth@bgov.com; George Cahlink at gcahlink@bloombergindustry.com
Stay informed with more news like this – from the largest team of reporters on Capitol Hill – subscribe to Bloomberg Government today. Learn more.