GOP Challengers Lag Most-Vulnerable House Democrats in Cash
Republican challengers seeking to unseat House Democrats in the most competitive districts are at a substantial fundraising disadvantage.
The 34 most-vulnerable Democrats had an average of $1.8 million in cash on hand as 2020 began, according to a Bloomberg Government analysis of Federal Election Commission reports, which were due Jan. 31. Most of these Democrats, who are in contests the nonpartisan Cook Political Report rates in the competitive categories of "toss up" and "lean Democratic," are freshmen representing districts that voted Republican for president in 2016.
The collective cash hauls were a continuation of the party's stunning 2018 fundraising. And the general disparity with their Republican opponents has Democrats sounding confident in their chances to hold the House majority in November.
"House Democrats' earth-shattering fundraising shows our grassroots supporters know what is on the line in this election," Rep. Cheri Bustos (Ill.), the chairwoman of the Democratic Congressional Campaign Committee, said in a statement.
Thirty of the 34 Democrats in the toughest re-election fights had at least $1 million on hand, and 12 of those had more than $2 million. The group was led by Rep. Elissa Slotkin (Mich.) with $2.9 million, as she seeks a second term. Her best-funded Republican opponent, Paul Junge, a former Trump administration official, began the year with $235,000.
In other examples of gaping spreads, Rep. Haley Stevens, also a first-term Michigan Democrat, led her best-funded Republican opponent in cash, $2.1 million to $164,000. The best-funded Republicans opposing Reps. Angie Craig (Minn.) and Antonio Delgado (N.Y.) reported $72,000 and $5,300 on hand, respectively. No Republican opposing Rep. Chris Pappas (N.H.) reported raising campaign funds in 2019. The best-funded Republican opposing Rep. Ben McAdams (Utah) ended his campaign in December.
They are all among the 29 Democrats seeking re-election in districts that President Donald Trump carried in 2016 — the heart of the Republican path back to the majority.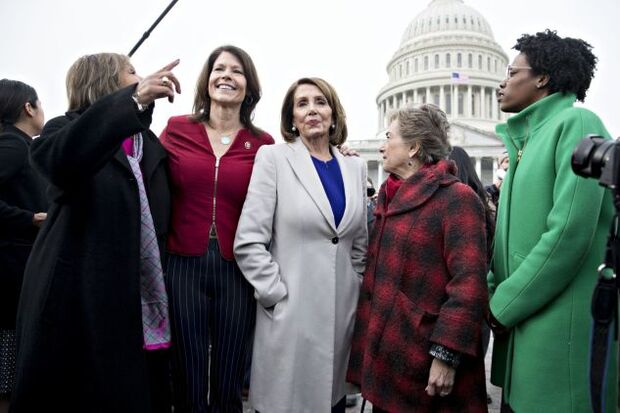 There was also a disparity among the two parties' official House campaign arms. The DCCC had $57 million in the bank as 2020 began compared with $31.7 million for the National Republican Congressional Committee, FEC data show. At the end of 2017, a comparable point in the 2018 midterm elections, the NRCC led the DCCC in cash on hand by $43.6 million to $38.9 million.
Minority Whip Steve Scalise (R-La.) said before the filing deadline that there is plenty of time for Republican candidates to raise more money and for races to jell.
"You've seen some races that haven't fully developed yet, but there are a lot of races where we have multiple, really good candidates and someone is going to emerge as a very strong Republican who will win the seat back for us," Scalise said. "We're still at the beginning of this year. By the summer those races will have developed."
Still, there is an urgency for the fundraising to pick up. NRCC Chairman Tom Emmer (Minn.) told a Republican gathering last month he was optimistic about the November election but that "members need to get their act together and raise more money," and "the individual campaigns need to raise more money."
The House currently has 232 Democrats, 197 Republicans, one independent and five vacancies. It takes 218 seats for a majority.
Some Republican challengers did stay competitive with Democratic incumbents in fundraising as the off-year closed.
Caliornia Republican Michelle Steel, a member of the Orange County Board of Supervisors who is taking on freshman Rep. Harley Rouda (D), had $1.4 million on hand compared with $1.7 million for the incumbent. Ex-Rep. David Valadao (R-Calif.), who's seeking to avenge his 2018 loss to Democrat TJ Cox, led the incumbent in cash, $1 million to $887,000, in a district that leans Democratic. California Republican Young Kim, a former state Assemblywoman in a rematch of a 2018 open-seat race she lost to Democrat Gil Cisneros, had $889,000 to Cisneros' $850,000, which was the lowest total among the 34 House Democrats in the most competitive races.
Rep. John Katko (R-N.Y.), one of three House Republicans representing a district Hillary Clinton carried in 2016, said the party's biggest issue is more "that Democrats are raising an astounding amount," not that Republicans are inept.
"We're good enough to fight them, though," he said. "We have plenty enough to fight."
Emily Wilkins in Washington also contributed to this story.
To contact the reporter on this story: Greg Giroux in Washington at ggiroux@bgov.com
To contact the editors responsible for this story: Kyle Trygstad at ktrygstad@bgov.com; Bennett Roth at broth@bgov.com