GOP Chairs in Safe Seats Rake in Campaign Cash They Don't Need
Republicans with new House gavels see influx of donations
Companies, lobbying groups look to influence must-pass bills
Bloomberg Government subscribers get the stories like this first. Act now and gain unlimited access to everything you need to know. Learn more.
Rep. Jason Smith shattered his political fundraising records this year, hauling in almost 2,900% more to his leadership political action committee with donations from JP Morgan Chase, Verizon and Lockheed Martin.
Smith's seat in a ruby-red, rural district is just as safe as it was in the last election, but the increase in donations followed one major change: Smith (R-Mo.) became chairman of the Ways and Means Committee, which oversees tax, health and trade policy.
Smith and other Republicans who took the top spots on House committees this year have, all combined, raised 86% more in campaign donations in the first six months of 2023 than they did in the same period two years ago, according to a Bloomberg Government analysis of federal campaign disclosures.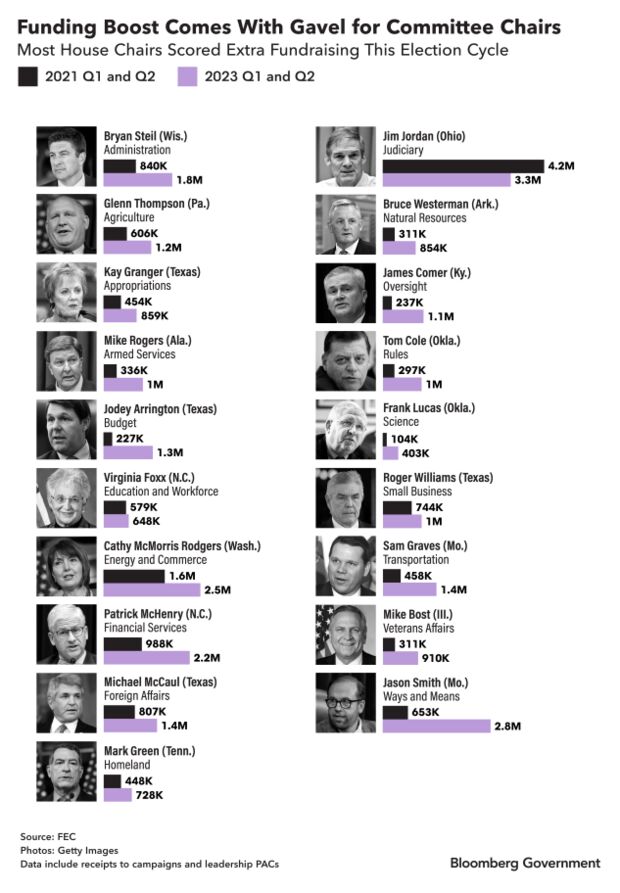 The boost in political money, to their leadership PACs and campaign committees, followed their increased roles in shaping legislation. Their political coffers this year are chock full of donations from a cross-section of lobbying groups and corporations, including the American Medical Association and Amazon.com, that have a stake in tax, agriculture and other bills.
These committee chairs largely represent firmly red districts, but the power they have over their respective committees draws big money from corporations and interest groups looking for access to influence policy.
Their gavels come with high expectations to raise piles of money to boost the national party committees and to give directly to their most politically vulnerable colleagues. Donations to their colleagues offer committee chairs prized influence over their fellow members, though any chair seen as not raising enough or not spreading their political money around sufficiently can face intraparty discontent.
"The pressure is even greater today because campaigns cost a lot more money," said former Rep. Fred Upton (R-Mich.), who previously chaired the House Energy and Commerce panel. "You're just expected to help. You've got to do events."
Ski trips, fishing getaways to Florida, beer and wine tastings on the West coast, lunches and dinners in D.C., he said, are all part of the mix.
Unprecedented Cycle
Chairmen actively writing legislation, like the GOP tax bill and the farm bill that's up for reauthorization this year, saw some of the most significant fundraising boosts in 2023 compared to 2021, when they were in the House minority. Financial interests like banks poured money into campaigns for chairmen whose committees influence fiscal policy.
All the new chairmen boosted their fundraising except for Rep. Jim Jordan (R-Ohio), who remains the group's top fundraiser. Jordan raised almost $900,000 less in the first six months of this year compared to same period in 2021, when he raised almost $4.2 million.
Jordan's case could deviate from the norm for a number of reasons. He saw much more press attention following Jan. 6, 2021, when he voted against certifying some state's electoral returns. While this motivated some donors allied with former President Donald Trump, it also soured Jordan's relationship with certain corporate interests.
Smith was also temporarily affected by the post-insurrection drop-off in funds, which since rebounded as corporate interests restarted their donations. "It's because of a thing called Jan. 6," Smith said of his brief campaign cash drop. "And all the lobbyists refused to donate to anyone who contested the election, including the speaker."
Must-Pass Bills
This is a critical year for both transportation and agriculture policy. Both the farm bill and the Federal Aviation Administration reauthorization, which come up for renewal every five years, expire at the end of 2023.
The timely passage of the farm bill and FAA are at risk with Congress' packed fall schedule, but a variety of transportation and agriculture interests are looking to influence the legislation. The chairmen of the committees designated to write this legislation have already benefited from the high-profile issues with a flood of new campaign funds.
Rep. Sam Graves (R-Mo.), who helms the Transportation and Infrastructure Committee, has raked in more than $1,00,000 so far in 2023. That's more than a 200% increase from what he had at this point in 2021, before picking up the gavel.
JetBlue Airways Corp., Boeing Co., and Amazon.com Inc. were among Graves's top donors. The House passed the FAA on a bipartisan vote earlier this summer, with provisions aimed at growing the workforce for air travel, testing new technologies like drones, and more.
For Rep. Glenn "GT" Thompson (R-Pa.), the Agriculture Committee chair who sits in a similarly conservative rural district, campaign and PAC receipts are over $1.2 million this year, more than twice what they were when he was ranking member in 2021.
Along with rural electric, ethanol, and crop insurance companies, Thompson's campaign received support this year from food interests like Sheetz Inc., Kroger Co., and the National Cattlemen's Beef Association — the largest trade association for the beef industry. Corporate interests are affected by the farm bill's commodity subsidies and its nutrition aid, which makes up the bulk of the legislation.
"It's a lot easier to raise money now than it was 15 years ago as a freshman," Thompson said, since donors get to know what lawmakers "stand for" once their profiles are elevated.
The farm bill boost of campaign funds is far from unusual, said Ferd Hoefner, an agriculture policy consultant. The biggest donors tend to be the same year-to-year with few new players, he said, and they show up en masse when agriculture policy is up for reauthorization every five years.
"You can pretty much set your watch to it," Hoefner said.
Historical View
Rep. Patrick McHenry (R-N.C.), the new chairman of the House Financial Services Committee, brought in 125% more to his campaign and leadership coffers this year, disclosing donations from numerous banking interests including the PACs of the Consumer Bankers Association, State Street Bank and Trust Co., and S&P Global.
The trend is not unique to Republicans. When longtime Rep. Maxine Waters (D-Calif.) took the gavel of the Financial Services committee in 2019, her campaign and leadership PAC cash jumped more than 150%, compared to two years before. Waters, like many of the current Republican chairmen, occupies a safe seat and has represented her California district since 1991.
Rep. Richard Neal (D-Mass.) saw a more modest 58% increase in political fundraising when he picked up the House Ways and Means gavel in 2019. Neal has represented his district for over three decades.
"This is one of those practices that is truly bipartisan," said Adav Noti, senior vice president and legal director of the Campaign Legal Center. "One of the most obvious instances of campaign contributions buying access to powerful lawmakers is the disproportionate spike in contributions that all of their fundraising entities receive when they get the gavel."
Former lawmakers and aides who have worked for committee chairs said the pressure to raise money is intense.
"Especially if you're a chairman, you're expected to help your more vulnerable members to keep your chairmanship," said ex-Rep. Rodney Davis (R-Ill.), noting that if a party loses its majority then chairs lose their gavels. "There's a big difference between being chair and ranking member." Davis was ranking member of the House Administration Committee and lost in a primary in 2022.
Mark Williams, a partner at the lobbying firm Ferox Strategies, was an aide to then-Rep. Mike Conaway when the Texas lawmaker chaired the Agriculture panel.
"Having formerly worked for a chairman, it's difficult making the jump, especially when it comes to the NRCC dues," said Williams, referring to the National Republican Congressional Committee.
Donating money offers companies, associations and business executives access to lawmakers.
"They want to be able to have the ability to come in and discuss an issue. … It's also a chance to help because the hardest part of being a member of Congress is knowing you have a second profession to keep your job," said Davis, now a lobbyist with Cozen O'Connor Public Strategies.
A lawmaker's stature on a committee is a key metric for corporations and lobbying groups to determine their donations, according to a new Corporate PAC Benchmarking Report from the Public Affairs Council. It found that membership on key legislative committees was the top criteria for 70% of respondents.
Veteran lobbyists say there's an advantage to donating to lawmakers before they rise to the top of a committee.
"Part of being good at this is to have those relationships form before they become chairmen," said Kathryn Lehman, a partner at Holland & Knight and a one-time House GOP leadership aide.
Nicole Sadek in Washington, Chris Cioffi and Alexander Cohen in Washington also contributed to this story.
To contact the reporters on this story: Kate Ackley at kackley@bloombergindustry.com; Maeve Sheehey in Washington at msheehey@bloombergindustry.com
To contact the editors responsible for this story: George Cahlink at gcahlink@bloombergindustry.com; Bennett Roth at broth@bgov.com; Alexander Cohen at acohen@bloombergindustry.com
Stay informed with more news like this – from the largest team of reporters on Capitol Hill – subscribe to Bloomberg Government today. Learn more.