GOP Businesswoman Kelly Loeffler Appointed to Senate in Georgia
Georgia Gov. Brian Kemp (R) on Wednesday formally introduced Kelly Loeffler, a financial executive and professional women's basketball team owner, as his choice to fill the state's forthcoming Senate vacancy.
Speaking at a news conference in Atlanta, Kemp and Loeffler sought to tamp down concerns about her loyalty to President Donald Trump as he faces a possible impeachment. Picking Loeffler over Rep. Doug Collins (R), a key Trump defender in the House, to succeed Sen. Johnny Isakson (R) put the governor at odds with Trump and sparked pushback from the president's allies. Isakson is resigning Dec. 31.
"I'm a lifelong conservative — pro-Second Amendment, pro-Trump, pro-military, and pro-wall." Loeffler said. "I make no apologies for my conservative values, and I look forward to supporting President Trump's conservative judges."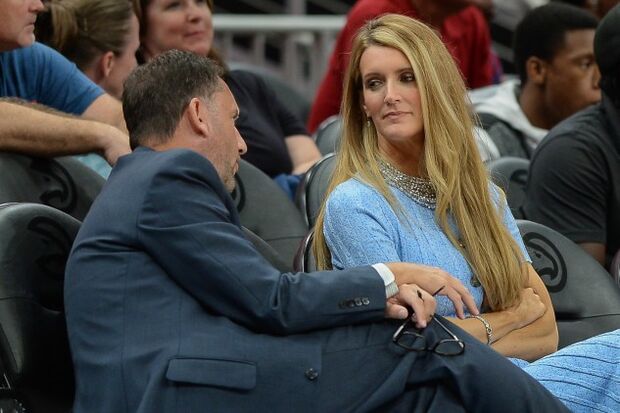 "Like our president, Kelly is ready to take on the status quo, the politically correct, and the special interests," Kemp said.
Loeffler (pronounced "leffler") will run in a November 2020 special election to fill the remainder of the six-year term Isakson won in 2016. Under Georgia law, all candidates will run on a single ballot. If no candidate wins a majority of the vote needed for outright victory, a runoff election between the top two finishers would be held in January 2021.
But the appointment won't necessarily clear the field of fellow Republicans. Loeffler could face Collins, who represents an overwhelmingly conservative district in northern Georgia and gained a higher public profile as the top Republican on the Democratic-led Judiciary Committee that would prepare articles of impeachment against Trump. The most prominent Democrat in the race so far is Matt Lieberman, a businessman and son of former Sen. Joe Lieberman (I-Conn.).
The race adds an opportunity for Democrats in their quest for the Senate majority and creates a relatively rare instance in which a state hosts two Senate races concurrently. Democrats are also targeting first-term Sen. David Perdue (R), though Republicans are favored in both contests at this point. Trump carried Georgia by 5.1 percentage points in 2016, the smallest margin of victory for a Republican presidential nominee in Georgia since 1996. Republicans control 53 Senate seats.
Loeffler will become the second woman ever to represent Georgia in the Senate and the first since Rebecca Latimer Felton (D), who became the nation's first female senator as an appointee in 1922. With Loeffler, the 100-member Senate will have 26 women, an all-time high that includes 17 Democrats and nine Republicans.
"Contrary to what you might see in the media, not every strong American woman is a liberal," Loeffler said. "Many of us are conservatives, and proud of it."
She described herself as a "devout Christian" and "strongly pro-life" and said she she looked forward to supporting legislation by Sen. Lindsey Graham (R-S.C.) that would ban most abortions at 20 weeks. Loeffler bemoaned an "impeachment circus" led by a Democratic Party she said had been taken over by a "socialist gang," including Sens. Elizabeth Warren (D-Mass.) and Bernie Sanders (I-Vt.), who are running for president.
Loeffler has never run for political office. She considered but declined a campaign in 2014 for the seat of retiring Sen. Saxby Chambliss (R), who was succeeded by Perdue.
"I'm not a career politician or even someone who's run for office," Loeffler said. "I've spent the last 25 years building businesses, taking risks, and creating jobs. I haven't spent my life trying to get to Washington."
She played basketball in high school and became co-owner of the WNBA's Atlanta Dream in 2011. Loeffler joined the board of directors of Georgia Power in October, with the company's chairman, Paul Bowers, citing in a press release her "insight into the global energy market and her unique digital experience," which he said would "provide an extremely valuable perspective as we evolve as an energy industry and as a business to build a sustainable energy future for our customers and state."
Early Years
Loeffler, 49, says she's lived the American Dream after being reared on an Illinois farm and rising to become a prominent Atlanta financial executive.
"That I, a waitress from a farm, was able to dream about a career in international finance and have that dream come true, is a tremendous platform for me to encourage others to talk about their stories," Loeffler told a gathering of Georgia Republican women in 2013.
She grew up on a farm in Stanford, Ill., southeast of Peoria and just west of Bloomington. She and her brother worked in the soybean fields, took care of the cattle, and even filled out timecards at the request of her parents, Loeffler said in 2013.
"I was particularly inspired to watch my mom work alongside my dad to run the business," she said. "And whether it was dispatching truck drivers early in the morning, watching the commodity market, or balancing the books, what I saw my mom doing made me realize I wanted my own career."
Loeffler was active in 4-H and waited tables in high school and college. She still recalls a sense of accomplishment counting her tips in the kitchen late at night in front of her father.
A Career in Business
Loeffler stayed in Illinois for her education, earning an undergraduate degree at the University of Illinois at Urbana-Champaign, which is about 60 miles southeast of her family's farm, and a graduate business degree at DePaul University in Chicago. In between, she worked for Toyota for four years and was based out of Los Angeles, Kansas City, and Chicago.
"My starting salary was $28,500 per year. I moved to L.A. with a futon and a Camaro and shared an apartment with four other trainees," Loeffler told Atlanta Trend in 2013.
After receiving her MBA, Loeffler worked at Citibank Global Asset Management in Stamford, Conn.; William Blair, a Chicago-based financial firm; and The Crossroads Group, a Dallas-based private equity fund manager.
In 2002, she began a long association with Intercontinental Exchange Inc. (ICE), serving as the chief communications and marketing officer and as head of investor relations for a firm that operates global commodity and financial products marketplaces. Loeffler was on the floor of the New York Stock Exchange in 2005 for ICE's initial public offering; in 2013, ICE bought the NYSE.
In 2018, Loeffler became chief executive officer of Bakkt, an ICE unit that trades Bitcoin futures. Her husband, Jeffrey Sprecher, is ICE's chief executive officer, and they've given millions of dollars to Republican candidates and super political action committees. Loeffler told Atlanta Magazine in 2013 that she's "more conservative" than her husband.
To contact the reporter on this story: Greg Giroux in Washington at ggiroux@bgov.com
To contact the editors responsible for this story: Kyle Trygstad at ktrygstad@bgov.com; Bennett Roth at broth@bgov.com