GOP Budget Plan Alarms Democrats; Durbin Lays Out Nov. Schedule
Top congressional Democrats are warning that House Republicans are risking an economic catastrophe by planning to use next year's debt-limit deadline to extract fiscally conservative concessions — potentially including entitlement eligibility changes and other measures, Jack Fitzpatrick reports.
House Republicans interested in becoming Budget Committee chairman in the next Congress said in interviews that the GOP will use an upcoming deadline to raise or suspend the debt limit to push for fiscally conservative priorities. The Bipartisan Policy Center has estimated the deadline will fall in the third quarter of calendar year 2023.
Earlier: Entitlement, Spending Cap Plans Linked by GOP to Debt-Limit Deal
"In terms of Social Security and Medicare, they have said they would use the debt ceiling," Speaker Nancy Pelosi (D-Calif.) said at a New York roundtable on health care issues, according to a transcript by her office. "So you have to raise the debt ceiling, they would use that as leverage to make President Biden agree to slashing Social Security and Medicare. We simply cannot let that happen."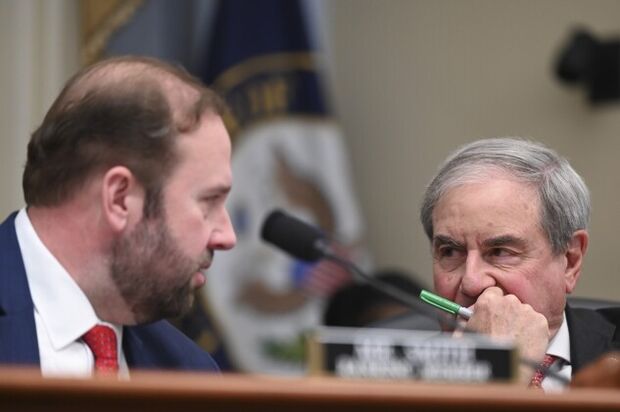 House Budget Chair John Yarmuth (D-Ky.) said Republicans are risking the stability of the US economy by planning to use the debt limit as leverage. "Congressional Republicans are so hellbent on gutting Social Security and ending Medicare as we know it that they are willing to risk economic catastrophe to get it done," Yarmuth said in a statement.
Rep. Don Beyer (D-Va.), chair of the Joint Economic Committee, also said in a statement that Republicans' plan is "a political game that would be economically catastrophic for seniors, families and our entire economy."
Durbin Lays Out Senate Plans for November
The Senate will likely spend its first week back after the midterm election pursuing a dual-track strategy of confirming more of President Joe Biden's judicial nominees and advancing this year's National Defense Authorization Act, Majority Whip Dick Durbin (D-Ill.) told reporters today.
The chamber is scheduled to return Nov. 14 and immediately vote on whether to advance a nominee to serve as a district court judge in Puerto Rico. Durbin said he expects consideration of nominee Maria del R. Antongiorgi-Jordan to be quickly followed by votes on other judges.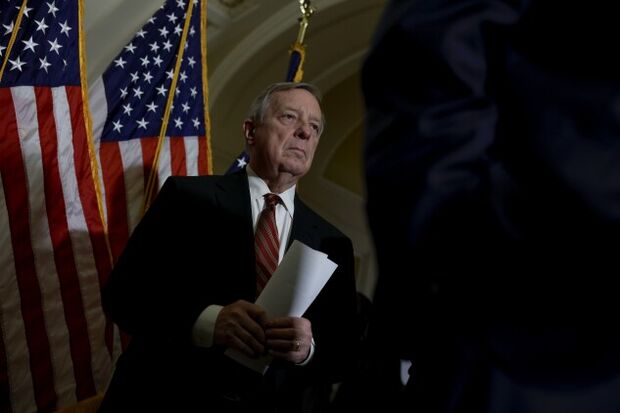 But he said the Senate at the same time will work on the NDAA (H.R. 7900), must-pass legislation governing Pentagon and other national security programs. The Senate on Tuesday formally took up the measure, making it the chamber's pending business when lawmakers return.
"We can do it in parallel under the Senate rules, and I'm hoping that the judicial nominees will fit in with the other agenda because they're critical," Durbin said after holding a Judiciary Committee hearing on several more of Biden's picks.
Also Happening on the Hill
Senator Elizabeth Warren (D-Mass.) is leading a group of Democratic lawmakers pressing Texas officials for details on how crypto currency miners may be straining the state's power grid, impacting climate change and profiting from programs to ensure the lights stay on.
Republican Senator Marco Rubio (R-Fla.) seeks $33 billion in supplemental spending to help Florida, its residents and local governments following Hurricane Ian.
Around the Administration
The Biden administration cited inflation — Democrats' biggest political liability — as a national and global security threat, less than a month before midterm elections that will decide control of Congress.
Minority farmers who sought to take advantage of a US debt-assistance program claim in a lawsuit that the government failed to provide any of the promised relief and reneged on a deal to resolve their discrimination claims.
The Biden administration is considering a humanitarian parole program for Venezuelans fleeing their country, with the aim of curbing the number seeking to cross into the US illegally at the southern border.
Covid vaccine makers Pfizer and Moderna received US regulatory clearances for their omicron-targeted boosters for children as young as five.
Biden called the US Supreme Court "more of an advocacy group" while speaking at an online fundraiser Tuesday night.
The underwriting industry and its pipeline of marijuana stocks eager to go public on a major US exchange are looking at a potential boon from Biden's order to have the federal government review the drug's legal status.
A copyright clash over Andy Warhol's celebrity images drew the US Supreme Court into a spirited and at times laugh-inducing debate involving Steven Spielberg, "Lord of the Rings" and Justice Clarence Thomas' years as a Prince fan.
Foreign Affairs
The Biden administration is considering a complete ban on Russian aluminum — long shielded from sanctions due to its importance in everything from automobiles and skyscrapers to iPhones — in response to Russia's military escalation in Ukraine.
Former US energy secretaries who served under the previous two presidents have criticized the proposed price cap on Russian oil, which the Biden administration is supporting as a way to punish Moscow while maintaining markety stability.
Russia's President Vladimir Putin said any energy infrastructure in the world is at risk after the explosions on the Nord Stream gas pipelines.
China is the US's sole competitor with the "capability to reshape the international order," while Russia remains a danger to be constrained, the Biden administration said Wednesday in its long-delayed national security blueprint.
Elections, Politics & Probes
A US Supreme Court order involving the counting of undated mail ballots in Pennsylvania risks a chaotic post-election in a state with a tight race that could determine which party controls the Senate.
Republican candidates for the typically sleepy office of secretary of state are being hit by a $46 million barrage of ads highlighting their support for conspiracy theories, claims of demonic possession and attempts to overturn the 2020 election.
Voters in Arizona and Arkansas will decide in November whether to weaken their own power.
The race between incumbent Democratic Senator Raphael Warnock and Republican Herschel Walker remained tight as polls suggest Walker's bid hasn't suffered significant damage from a scandal over an alleged abortion and ongoing family drama.
Johnson's Lead Widens in Wisconsin Senate Race: Marquette Poll
Republican Senator Ron Johnson leads Democrat challenger Mandela Barnes 52%-46% for the Wisconsin Senate race, according to a Marquette University poll.
Former President Donald Trump lost his bid to delay a defamation suit by a woman who claims he raped her in the 1990s, all but assuring that he will be deposed by his accuser's lawyers next week.
Voters in a handful of states have the chance to clip their own electoral wings through ballot questions, Ohio creates an election integrity division, and the latest razor's edge midterm race to watch are all in the latest Ballots & Boundaries newsletter.
Join Our Oct. 19 Election Webinar : Bloomberg Government's election guru, Greg Giroux, will be providing a high-level update on the midterm elections and will take your questions on our Oct. 19 webinar. Register here .
To contact the reporters on this story: Jack Fitzpatrick in Washington at jfitzpatrick@bgov.com; Nancy Ognanovich in Washington at nognanov@bgov.com; Andrew Small at asmall@bgov.com
To contact the editor responsible for this story: Michaela Ross at mross@bgov.com