GOP Amplifies Trump Law-and-Order Pitch in Bid to Retain Senate
Swing state spots tie Democrats to protests, defunding police
Recent poll gives Biden edge on maintaining law and order
Republicans have picked up President Donald Trump's law-and-order messaging in races that will decide which party controls the Senate.
Amid protests against police killings of Blacks, about half of all pro-Trump ads aired since June focused on crime and law enforcement, according to Advertising Analytics, which tracks campaign advertising. Similar spots have popped up in congressional ads in competitive states and districts, particularly in recent weeks.
Senate Majority Leader Mitch McConnell (R-Ky.) and Republicans in at least four other key Senate races — in Arizona, Iowa, Michigan and Montana — have featured ads accusing Democrats of minimizing violent protests and failing to support police. They've also aired in House races in Iowa, Michigan, Nebraska, New York, Pennsylvania and Virginia.
"In Kentucky, we don't send senators to Washington who lack the judgment to stand up to violent mobs," McConnell said in one recent TV spot. The ad focused on Portland, Ore., and showed pictures of fires, vandalism and toppled statues, and it criticized McConnell's challenger, Amy McGrath (D), for calling Portland a "peaceful protest."
McConnell campaign spokeswoman Katharine Cooksey said in an email that the senator supports the First Amendment, including the right to peacefully protest, but differentiates "peaceful protesters from the violent riots in places like Portland."
Whether McConnell remains majority leader in the next Congress will depend in part on several other races where the GOP incumbent or challenger has used similar messaging and visuals.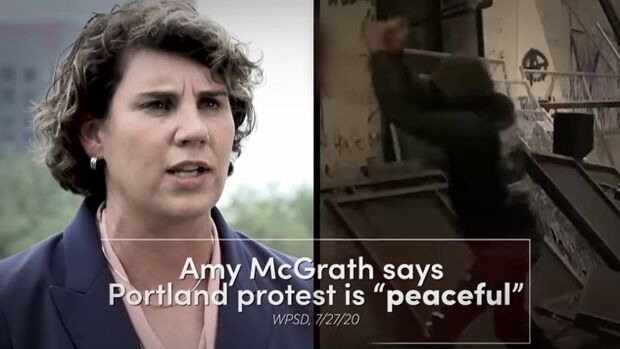 Around the Map
The National Republican Senatorial Committee released a video and a tweet stating what it sees as the result of the Senate coming under Democratic control: "The Republican Senate Majority is the last of defense against the Democrats' liberal mob that wants to burn this country down. #HoldTheLine"
The NRSC video hasn't been used in paid ads. NRSC spokesman Jesse Hunt didn't respond to an email asking if it would be.
A TV spot that began airing Friday in Montana features Fox News commentator and former Navy Seal Rob O'Neill criticizing the "far left" and Democrats over flag-burning, looting and "the assault of our police officers." Gov. Steve Bullock (D) is shown, along with pictures of rioters, while O'Neill says he supports Sen. Steve Daines (R).
A similar new ad in Arizona has another former Navy Seal, identified as Eli, criticizing Sen. Martha McSally's (R) challenger, Mark Kelly (D), for "going along with the mob and destroying our country." The ad shows Kelly, a retired astronaut and Navy officer, with the caption, "bankrolled by the liberal mob."
An ad sponsored by Sen. Joni Ernst (R-Iowa) accused Theresa Greenfield (D) of being backed by "liberal extremists who will defund police," while an ad backing John James' (R) challenge to Sen. Gary Peters (D-Mich.) said James would "take the country back from radicals."
Democrats Respond
Democrats said the ads won't work to persuade undecided voters to support endangered Republican senators.
"Voters aren't buying the desperate attempts by Senate Republicans to rewrite history on their disastrous handling of the coronavirus response or change the subject from their refusal to hold the president accountable for inciting chaos and division," Democratic Senatorial Campaign Committee spokesman Stewart Boss said in an email.
Democrats cite public polling that shows voters have more trust in Biden than Trump on public safety and that the pandemic, not crime, remained voters' top concern throughout the tumultuous summer. A Fox News poll released Sunday gave Biden a 2-percentage-point edge on whom voters trust more to maintain law and order and a 7-point advantage on handling policing and criminal justice.
But some Democrats have felt compelled to respond.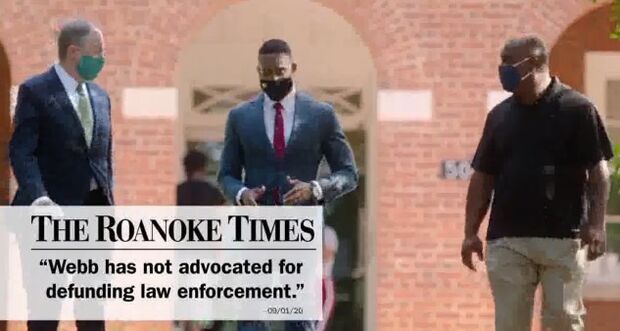 In Montana, Bullock sponsored an ad saying he's worked "to keep Montanans safe" and stood up to "Washington Democrats to oppose defunding the police."
Others have sponsored messages promoting the racial justice themes of this year's protests. Ads by Black Senate challengers Mike Espy (D) in Mississippi and Raphael Warnock (D) in Georgia asked voters to help break down barriers of discrimination.
"I didn't understand how much the system works against those without power and money and that the rules were different for some of us," Warnock said in a TV ad recounting his childhood experience of being profiled and unfairly thrown out of a store. "It's time for that to change."
One of the most pointed ads ran in a House race in Virginia sponsored by Bob Good (R), who unseated Rep. Denver Riggleman (R) in a party convention in June. It showed his opponent Cameron Webb (D), who is Black, along with images of burning buildings. "Look past the smooth presentation," the ad said of Webb, a physician who works at the University of Virginia. His real agenda is "radical ideas."
Webb pushed back with a pair of ads, including one with testimonials from law enforcement officers saying he "wants to keep us safe."
To contact the reporter on this story: Kenneth P. Doyle in Washington at kdoyle@bgov.com
To contact the editors responsible for this story: Kyle Trygstad at ktrygstad@bgov.com; Bennett Roth at broth@bgov.com