GOP Aims to Revamp Environment Messaging by Embracing Renewables
War in Ukraine has put spotlight on energy, high gas prices
Party has history of skepticism on environmental issues
Republicans are attempting to address concerns over the environment and climate change as they compile plans for what to pitch to voters this fall and tackle next year should they win the House majority.
It's not an issue the party's known for — its 2016 platform stated it's an "illusion" that there's an environmental crisis, and Donald Trump announced less than five months after being sworn in as president that the US would exit the Paris Climate Accord. It's also not something GOP voters say they're all that concerned about — only 16% said recently that climate change is "a very big problem," according to Pew Research.
But as concerns grow over energy security as a result of the Russian invasion of Ukraine, as gas prices continue to climb, and as the party pushes to win as many seats as possible in November, Republicans intend to put forward proposals in a broad "Commitment to America" legislative plan that support renewable energy and environmental protections as part of their overall approach.
Rep. Garret Graves (R-La.), who's leading the plan's Energy, Climate, and Conservation task force, said finding agreement within the conference on basic energy and environmental policies might be the easy part. The real hurdle, Graves said, is telling voters about it.
"That's one of the greatest challenges," Graves said in an interview. "We've got to do a better job messaging."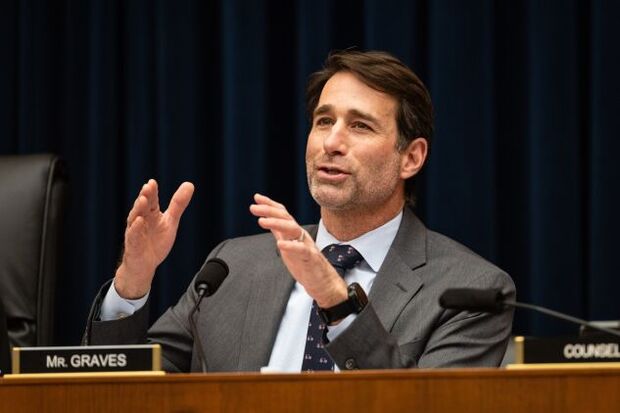 Rep. John Curtis (R-Utah), the head of the Conservative Climate Caucus, said Republicans "have been extremely good at saying what we don't like, and we've been terrible at telling people what we like."
"To the extent we can change that dynamic and start talking more about our ideas, I think people will see we've got really valuable ideas," he said during a Bloomberg Government webinar on energy security and policy.
A number of Republicans facing re-election in swing districts agree. They said in interviews that the party needs to hone and amplify where it stands on protecting the environment and reducing carbon emissions.
"We haven't made it part of our language," said Rep. Don Bacon (R-Nebraska), who said the party needs a unified message.
"It's an issue that we really lacked communication on," said Rep. Nancy Mace (R-S.C.). "We don't do an effective job of communicating where we are as a conference on the issue."
While climate likely won't be at the top of voters' concerns this November, it's an issue that a number of key groups care about, said Quill Robinson, Vice President of Government Affairs for the American Conservation Coalition, a nonprofit that's backed Republican candidates and focuses on closing the ideological gap in the environmental movement.
"This is not going to be the issue that suddenly wins a landslide election," Robinson said. "But this is another reason young people, or suburban voters, or women, or minorities will not vote Republican."
All-of-the-Above
It wasn't that long ago that Republicans saw climate change as a "third rail issue they didn't want to touch," Robinson said. But he's seen some major changes in recent years.
Last year, House Republican Leader Kevin McCarthy (R-Calif.) rolled out an "energy innovation agenda." As part of the initiative, numerous GOP lawmakers released videos discussing topics including carbon capture, expanding the export of American gas, and restoring coastal ecosystems.
Also last year, Curtis launched the Conservative Climate Caucus, which now boasts a membership of 75 lawmakers, with others coming to the meetings.
"They're realizing it's been a mistake for us not to talk. They're tired of going to town hall meetings and not having answers," Curtis said. "And the bottom line is we do have answers, we just need to be better about vocalizing those answers."
The war in Ukraine is giving GOP lawmakers a chance to message an all-of-the-above strategy on energy that includes both renewables and fossil fuels, and one that doesn't interfere with the economy or national security, Curtis said.
"The reality of it is inflation and particularly the rising cost of energy is all connected to this energy policy," he said. "What's happening in Europe is going to force that discussion."
Graves said the party won't abandon oil and gas, but it needs to also focus on reducing emissions.
"We have got to improve the—what I refer to as—the uptake of solar and wind and nuclear and geothermal and wave and hydro and other technologies," Graves said. "All of them are going to play a role."
There's still skepticism as to how much Republicans' stances on energy and the environment have changed.
Rep. Jared Huffman (D-Calif.), who sits on several committees focused on environmental issues, including the Select Committee on the Climate Crisis, said Republicans are making "a halting attempt to change their messaging because I think they know how out-of-step it is."
"Definitely you will see an effort to temper some of their extremism," Huffman said. "But at the end of the day, there's no substantive change at all."
'Winning Message'
The result of Republican efforts to address the environment as part of a broad range of issues is a "winning message," said Heather Reams, president of Citizens for Responsible Energy Solutions, a right-of-center nonprofit.
"You'll always hear Republicans talk about energy, the economy, and the environment together, and not separating those," which is distinct from Democrats' messaging, Reams said.
A poll conducted for her organization in February by a top GOP firm found an increase across the political spectrum in voters who said their lives have been affected by climate change. It also found 73% of independents say they support the federal government taking action to accelerate the development and use of clean energy.
In 2020, all 24 House candidates backed by American Conservation Coalition were successful, including some who flipped swing seats. Robinson advised Republicans who want similar results to not call climate change a "hoax" and to instead "acknowledge the concerns and fears people have about their future and offer some real substantive, effective policy solutions."
Still, there are limits on how far Republicans say they can go on the issue. Mace said she's found using the phrase "climate change" is a turnoff for some voters, and instead emphasizes a clean or healthy environment.
"In my conversations with Republicans, it's sort of a dirty word," she said.
Kellie Lunney in Washington also contributed to this story.
To contact the reporter on this story: Emily Wilkins in Washington at ewilkins@bgov.com
To contact the editors responsible for this story: Kyle Trygstad at ktrygstad@bloombergindustry.com; Bennett Roth at broth@bgov.com