Good Riddance, Lawmakers Say in Last Deal to Avoid Sequestration
Spending caps bill marks end of discretionary caps votes
Appropriators call 2011 caps deal ill-conceived, arbitrary
Senators are set to vote as early as Wednesday on a budget caps bill that would avoid billions in spending cuts, but to many lawmakers, that's not the most important part of the deal.
The bill (H.R. 3877) would indefinitely end the threat of sequestration by raising spending caps through fiscal 2021, the final year they're in effect. That's welcome news for most lawmakers, as both Republicans and Democrats have described the spending levels set in the Budget Control Act (Public Law 112-25) as arbitrary, damaging, and a blunt ax hanging over the budget and appropriations process.
"It's a burden off our shoulders," Senate Appropriations Chairman Richard Shelby (R-Ala.) told reporters last week. "The uncertainty was dooming us to drastic cuts to defense among other things. In a troubled world, I think that was the wrong message."
Democrats and military-focused Republicans describe sequestration as a bad idea from the start, while the most fiscally conservative lawmakers describe it as a fine idea that ultimately didn't work.
Sen. Jack Reed (D-R.I.) last week called it "an arbitrary device designed in 2011." In 2013, when the law triggered across-the-board spending cuts, then-House Minority Leader Nancy Pelosi (D-Calif.) wrote on Twitter, "Let me define sequestration for you: Job losses in your state."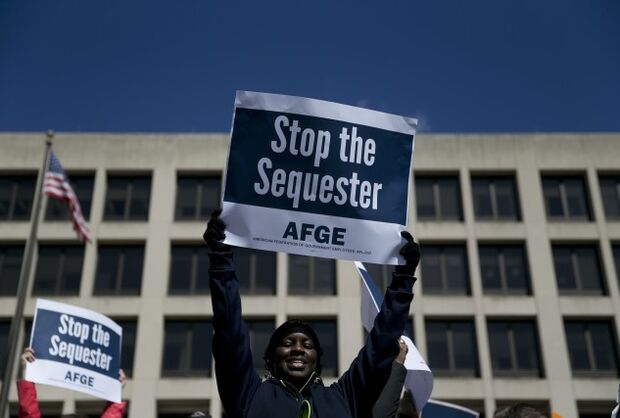 "Sequestration made us weaker militarily, it put our nation at risk, it was not fair to our troops, it was ill-conceived, it didn't do a damn thing to help the debt," Sen. Lindsey Graham (R-S.C.), chairman of the Senate Appropriations State-Foreign Operations Subcommittee, said last week.
Even Rep. Jim Jordan (R-Ohio), a co-founder of the House Freedom Caucus, offered a muted response to the end of the spending limits, saying they didn't actually force lawmakers to take a more disciplined approach to appropriations.
"The bigger concern and the bigger issue is we have to be able to control spending," Jordan said last week. "And if we can't hold the line on discretionary, how are we going to tackle the really long-term drivers of the debt, which are making sure Social Security and Medicare are solvent long term?"
What Created the Caps?
The Budget Control Act was the product of negotiations between a Republican House and a Democratic administration and Senate. Like the most recent deal, it was tied to a debate on the debt ceiling.
It formed a "supercommittee"—the Joint Select Committee on Deficit Reduction—in 2011 to produce a plan to cut the deficit by $1.5 trillion over 10 years, and used the threat of reduced spending levels as an incentive to reach a deal.
When the supercommittee, split evenly between Republicans and Democrats in both chambers, couldn't agree on a recommendation, lawmakers were stuck with spending levels many of them never intended to take effect.
The law used across-the-board cuts, known as sequestration, as an enforcement mechanism. The Budget Control Act caused sequestration for discretionary programs in 2013, but since then, Congress has consistently avoided the law's punishment. Congress and the administration boosted the spending limits three times — in 2013, 2015 and 2018 — before this final budget caps deal.
If Congress were to pass appropriations bills that surpassed the caps, the law would trigger the across-the-board cuts known as sequestration. In 2013, the Office of Management and Budget used separate percentages when reducing defense and non-defense accounts.
Most mandatory spending is exempt from sequestration, but Medicare benefit payments are subject to a 2% cut under sequestration.
The End of Discretionary Caps
As long as it becomes law, the two-year budget caps bill is the last one necessary for discretionary spending, because the discretionary caps expire at the end of fiscal 2021.
The mandatory cuts aren't gone yet, though. They're currently set to expire at the end of fiscal 2027, and the budget caps deal would extend that date to the end of fiscal 2029. The two-year extension was part of a $77.3 billion package of offsets meant to mitigate the cost of the discretionary budget cap increase.
Striking a two-year deal was important to Democrats, who said for months they wanted to do away with the discretionary budget cap standoffs. Congress could set new caps in the future, but there appears to be little interest in doing so.
"The sequestration's gone," House Budget Chairman John Yarmuth (D-Ky.) said in April of a potential two-year deal. "You'd have to reenact it, which I don't think anybody in any party's going to do."
What the BCA Accomplished
While Democrats never expressed high hopes for the Budget Control Act, Republicans have pointed out two primary shortcomings. First, the focus on capping discretionary spending does little good, because mandatory spending is a much greater driver of the debt. Second, Congress can raise caps, which means they don't serve much of a point.
Discretionary spending adjusted for inflation is lower than it was in the early days of the Obama administration, while mandatory spending has increased. As measured by 2012 dollars, federal discretionary outlays totaled slightly more than $1.4 trillion in fiscal 2010, and less than $1.2 trillion in fiscal 2018, according to the White House Office of Management and Budget. During that time, mandatory outlays increased from $2.2 trillion to $2.6 trillion in 2012 dollars.
"This is not an appropriations problem," said Rep. Tom Cole (R-Okla.), chairman of the House Appropriations Labor-HHS-Education Subcommittee. "We've basically held discretionary spending flat for a decade and in the process probably did some significant damage to our military and probably did to some domestic things as well."
Aside from the fact that discretionary spending is only around 30% of federal outlays, the Budget Control Act created spending caps that lawmakers never intended to honor. Lawmakers and the president either have the will to slash spending or they'll increase the caps, and nothing short of a Constitutional amendment can change that.
For conservatives, that means the discretionary caps were a fine idea that Congress didn't execute.
The silver lining for conservatives is that it requires a change in law to raise the spending caps, meaning lawmakers have to cast a tough vote, said Jason Pye, vice president for legislative affairs for the conservative advocacy group FreedomWorks. The February 2018 vote to raise budget caps (Public Law 115-123) in particular "taught us who our friends were," Pye said, because Republican leadership in the House and Senate backed the deal.
The 67 Republican votes against that measure "showed us who actually was a believer," Pye said.
Aside from forcing lawmakers to jump through an additional hoop to increase spending, however, the Budget Control Act served little purpose, Pye said.
"BCA would've been a great tool if only a Republican Congress had let it work," Pye said. "For a crowd of people who complained about Obama's budget deficits, this was the most significant victory for a generation, and they wouldn't let it work."
To contact the reporter on this story: Jack Fitzpatrick in Washington at jfitzpatrick@bgov.com
To contact the editors responsible for this story: Zachary Sherwood at zsherwood@bgov.com; Loren Duggan at lduggan@bgov.com