Gerrymandered District? Move Next Door: Ballots & Boundaries

New York's legislature is just a day or two away from final passage of congressional district maps that are built to partially offset pro-Republican configurations in other states.
Under the proposed map, Democrats would have an edge in as many of 22 of the 26 new districts.
At least two Republicans now plan to run in districts where they don't live, which is perfectly OK, since being domiciled within the boundaries isn't required.
Rep. Claudia Tenney announced that she'll run in the revised 23rd District, which largely overlaps with the current seat of retiring Rep. Tom Reed. And Rep. Chris Jacobssaid he'll choose the 24th district. No incumbent resides there and he now represents about 55% of the residents.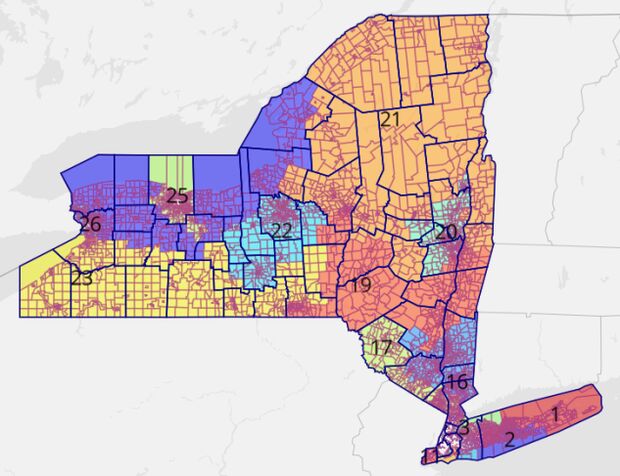 Some other incumbents who've talked about calling in redistricting-motivated moving vans include Young Kim and Michelle Steel (R-Calif.); Lucy McBath (D-Ga.); Mariannette Miller-Meeks (R-Iowa); Debbie Dingell and Rashida Tlaib (D-Mich.); Madison Cawthorn (R-N.C.); Lloyd Doggett (D-Texas); and Abigail Spanberger (D-Va.).
Gov. Kathy Hochul (D) could have the New York legislation on her desk as soon as tomorrow. —Greg Giroux and Keshia Clukey
See also:
(Was this newsletter forwarded to you? It's free. SUBSCRIBE)
THIS WEEK IN NORTH CAROLINA, LOUISIANA, FLORIDA
The state Supreme Court will hear arguments tomorrow challenging North Carolina's new congressional and legislative maps as political and racial gerrymanders. The court aims to fast-track the case after already delaying the state's primary to May 17.
North Carolina is gaining a 14th seat in the U.S. House, and lawmakers approved a map estimated to increase Republicans' majority in the state's congressional delegation. A panel of judges in Wake County Superior Court declined last month to order new maps, saying they aren't unconstitutional because redistricting is inherently political. The hearing will be livestreamed, starting at 9:30 a.m.
In Louisiana, lawmakers will begin their redistricting session this afternoon. They have until Feb. 20 to draw a new congressional map, and the state's Democrats hope to add a second majority-Black district.
Legislation (S.B. 524) to create an "Office of Election Crimes and Security" to investigate allegations of election fraud in Florida gets its first committee hearing this afternoon in the Florida Senate. It also would require county elections officials to update their voter rolls every year and ban ranked-choice voting in local elections. — Chris Marr and Jennifer Kay
KANSAS: OVERRIDE PREP
Kansas Republican leaders are scrambling to corral the votes they need to enact a congressional map over an expected veto from Democratic Gov. Laura Kelly.
The GOP majority has little room for error. They sent the map to Kelly after final action that was five votes short of the 84 that would be needed in the House to override a veto. Six Republicans missed that vote. In the state Senate, the final vote was just one short of the 27 they'd need to overcome a veto. Two Republicans missed that vote and one other voted with Democrats in opposition.
Even if Republicans override Kelly's veto, the map could face a legal challenge for how it cleaved minority-majority Wyandotte County (Kansas City) and moved most of that Democratic bastion out of the district of the delegation's only incumbent Democrat, Rep. Sharice Davids. — Greg Giroux
FLORIDA: LAW ON TRIAL
A federal judge in Florida expects testimony to continue over the next two or three weeks into whether elderly, disabled, and other voters are improperly burdened by a new state voting law.
The trial began yesterday with the president of the League of Women Voters of Florida testifying that restricting the hours that ballot drop boxes are available and requiring them to be monitored in person instead of by video creates a "gatekeeper" that will intimidate and deter voters. READ MORE — Jennifer Kay
SOUTH CAROLINA: MACE BENEFITS
Rep. Nancy Mace, who unseated an incumbent in a close 2020 election, is a beneficiary of new district lines designed to prolong a 6–1 Republican advantage in South Carolina's delegation.
The Republican-drawn map signed by Gov. Henry McMaster (R) reconfigured Mace's coastal 1st District such that Donald Trump would have defeated President Joe Biden there by nine percentage points in the 2020 election, up from a six-point Trump margin in the current 1st District.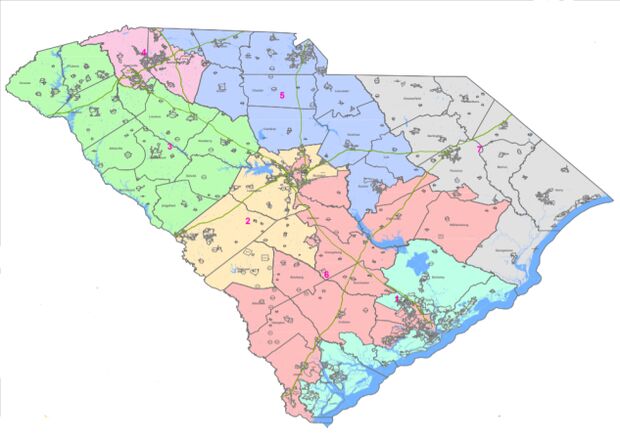 Mace (R) beat one-term Democratic Rep. Joe Cunningham in the 2020 election. Democrats opposed the map, alleging Republican mapmakers concentrated too many Black voters in the heavily Democratic 6th District of House Majority Whip Jim Clyburn. — Greg Giroux
OHIO: DEADLINE LOOMS
Ohio officials are scrambling to adjust candidate filing requirements and possibly deadlines as congressional and state legislative districts remain undefined. The state Supreme Court found the initial maps unfairly favored Republicans and ordered them redrawn.
Emergency legislation (H.B. 93) would let candidates meet tomorrow's primary election filing deadline by waiving requirements that petitions say what district candidates are running in and include signatures from that district. The bill also would give Ohio Secretary of State Frank LaRose (R) the power to adjust deadlines. — Kenneth P. Doyle
TENNESSEE: POST-COOPER
The retirement of Rep. Jim Cooper (D-Tenn.) and the prospect of a newly drawn 5th District that includes all or parts of five conservative counties is likely to lead to a competitive, robust Republican primary.
Gov. Bill Lee (R) has hinted that he'll sign the state's Republican-drawn redistricting plan, which would split Davidson County three ways. Cooper has represented Nashville since 2003 and with his announcement, there will be no incumbent running in the revised 5th District. — The Tennessean
PENNSYLVANIA: REDISTRICTING LIMBO
Pennsylvania's map-picking process is on hold while the state Supreme Court considers a request for it to take over the process from a lower court.
A state appeals court ruled that Pennsylvania's no-excuse vote-by-mail law is unconstitutional. The law was enacted with bipartisan support in 2019 to make voting more convenient. The judges ruled that the state Constitution should first have been amended to end a requirement to vote in person. — Jennifer Kay
Resources
Add Us to Your Inbox
Click HERE to sign up for Ballots & Boundaries, your check-in on redistricting and state voting laws.
To contact the reporters on this story: Greg Giroux in Washington at ggiroux@bgov.com; Keshia Clukey in Albany, N.Y. at kclukey@bloomberglaw.com; Jennifer Kay in Miami at jkay@bloomberglaw.com; Chris Marr in Atlanta at cmarr@bloomberglaw.com; Kenneth P. Doyle in Washington at kdoyle@bgov.com
To contact the editors responsible for this story: Tina May at tmay@bloomberglaw.com; Katherine Rizzo at krizzo@bgov.com