Gerrymander Power on the Line in Narrowly Divided Legislatures
Democrats in Congress could revive nonpartisan remap proposal
Texas 'the crown jewel' and both major parties target Midwest
Bloomberg Government subscribers get the stories like this first. Act now and gain unlimited access to everything you need to know. Learn more.
A shift toward independent redistricting commissions helped spur national political parties to spend record cash in the hope of controlling the next congressional redistricting.
"The outcomes in just a few races in a few states will determine the Republican Party's chances of winning congressional majorities for the next decade. And we're fighting like hell to win," Republican State Leadership Committee President Austin Chambers said in an email. His group raised $23 million in the third quarter and is targeting 115 districts that could hold the keys to a 136-seat swing in the U.S. House.
Democrats are fighting money with money. The Democratic Legislative Campaign Committee has pledged to spend $50 million in state races this cycle—more than six times what it spent in 2010. Forward Majority, another Democratic group, has raised $32 million for races in the sunbelt, and the Eric Holder-led National Democratic Redistricting Committee is sending at least $2 million into state races key to redistricting.
"The next decade of American democracy is on the line," Democratic Legislative Campaign Committee President Jessica Post said in an email. "By flipping 48 seats from red to blue we can build 10 new Democratic majorities that will put our democracy first."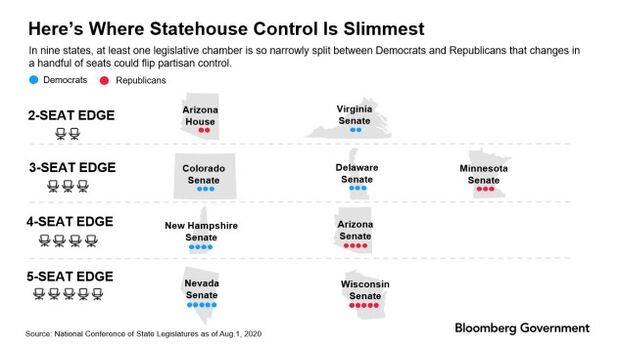 Both parties show a sense of urgency because new district lines for Congress and state legislatures will be drawn in 2021, locking in partisan advantages for the next decade. There's also an underlying threat that i a change in federal law could make it harder for states to gerrymander U.S. House districts.
If Democrats win the presidency plus majorities in the U.S. House and Senate, they could enact federal voting laws requiring that maps be drawn by independent congressional redistricting commissions — as was proposed in legislation (H.R. 1) that died in the Senate during the current Congress.
"That would really wipe out any partisan gerrymanders that might be possible," said University of Florida Professor Michael McDonald.
Even without a nudge from Washington, there's been a trend toward commission-drawn maps: 109 congressional districts in eight states were drawn by independent boards; 93 additional districts were drawn by eight states with bipartisan or nonpartisan political processes, according to the National Conference of State Legislators.
'Whatever It Takes'
In Texas, Republicans have the governor's mansion, Senate and House, but Democrats think they can flip nine out of 150 state House seats to get a seat at the redistricting table. A Princeton University analysis found national political donors looking to block gerrymandering would get the most bang for their buck by contributing to Texas House races.
"When it comes to redistricting, Texas is the crown jewel. It's the largest state with no mechanism to ensure bipartisan fairness other than having both Democrats and Republicans have a say in the legislative process," Sam Wang, director of the Princeton Gerrymandering Project, said in an email. "The Texas House will help draw nearly one out of ten Congressional seats—an expected 39 out of 435 House seats after reapportionment."
Chambers said Republicans will spend "whatever it takes" and the campaign of Gov. Greg Abbott (R) told the Texas Tribune it will end up spending a "mid-seven figure" amount on GOP state candidates.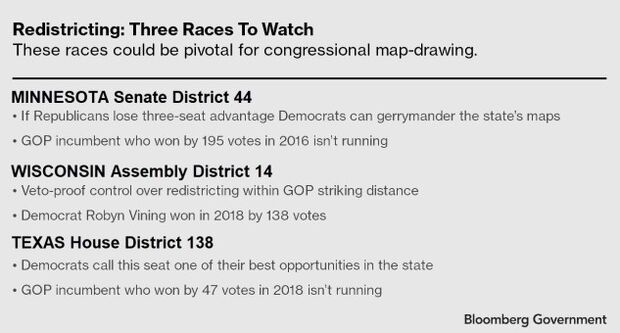 Forward Majority is leading the national Democratic charge in 18 suburban Texas state House districts, said Vicky Hausman, the group's founder and Co-CEO of Forward Majority. The group also focused on GOP strongholds in Florida, North Carolina and Arizona. Combined, the four states account for 82 congressional seats.
In Arizona, control could change with two flips in the state House or three in the Senate. In North Carolina, it would take a shift of six House seats or five Senate seats. Florida is more of a long-shot: 14 switches to gain control of either the state House or Senate.
"Democrats have had a math problem" in prior cycles where national resources didn't trickle down to state legislative candidates, Hausman said. This year the party is thinking differently. "The future of the Democratic Party lies in the balance of power in these states in this election through the ability to build power in these state legislatures."
Midwest Political Machines
Minnesota and Wisconsin are poster-children for redistricting battles across five Midwest states that collectively control map-drawing for 27 Congressional districts.
Roughly half of the Republican State Legislative Committee's 115 target districts for redistricting lie in Minnesota, Wisconsin, Kansas, Nebraska, and Iowa as the GOP works to maintain its edge in the region.
If the GOP can flip three seats each in the Wisconsin Assembly and Senate the party can control redistricting again. That party fears a mirror outcome in Minnesota: two Democratic Farmer Labor Party flips in the state Senate would give that party a congressional advantage by determining the contours of three swing seats.
"It's going to be volatile control of Congress in the near term," said University of Wisconsin Professor Barry Burden. To keep or gain an edge, partisans "want states like Wisconsin where one party seems to have really baked in its power in the legislature, but it's still a purple state."
To contact the reporter on this story: Alex Ebert in Columbus, Ohio at aebert@bloomberglaw.com
To contact the editors responsible for this story: Katherine Rizzo at krizzo@bgov.com; Bennett Roth at broth@bgov.com
Stay informed with more news like this – from the largest team of reporters on Capitol Hill – subscribe to Bloomberg Government today. Learn more.