Georgia Tops Busy Primary Day With Several Races to Watch
Bloomberg Government subscribers get the stories like this first. Act now and gain unlimited access to everything you need to know. Learn more.
Georgia tops five states holding congressional primaries Tuesday, less than five months before it could be highly competitive in races for the White House and Congress.
It's the only state hosting two Senate races this year, and it will help determine if Republicans keep their majority. Two House districts in suburban Atlanta, one held by a Democrat and one held by a retiring Republican, are among the 22 rated as tossups nationwide by the nonpartisan Cook Political Report.
Republicans are seeking to unseat Rep. Lucy McBath (Ga.), as well as Reps. Susie Lee (Nev.) and Joe Cunningham (S.C.), who also represent districts President Donald Trump won in the 2016 election and are in states with primaries Tuesday. North Dakota and West Virginia are voting, too.
Here's a look at the races to watch:
Georgia
Senate (Trump won Georgia 51%-46%): Seven Democrats are seeking the nomination to oppose first-term Sen. David Perdue (R).
They include Sarah Riggs Amico, a businesswoman who lost a close 2018 race for lieutenant governor; Jon Ossoff, a documentary filmmaker who raised almost $30 million for a nationally significant House special election campaign in 2017 that fell just short; and Teresa Tomlinson, a lawyer and former mayor of Columbus.
Ossoff is the best-funded Democratic candidate, with more than $4.1 million in campaign receipts through May 20. Amico's donors include some political action committees of labor unions.
If no candidate wins a majority of the vote, the top two finishers will compete in a runoff on Aug. 11.
Perdue serves as chairman of the Armed Services Seapower Subcommittee and the Banking, Housing, and Urban Affairs Subcommittee on Housing, Transportation, and Community Development.
Georgia's other Senate seat also is up for grabs this year, though it's not on Tuesday's ballot. Sen. Kelly Loeffler (R) is opposed by Rep. Doug Collins (R) and Democratic challengers in an all-party, single-ballot special election on Nov. 3, the national Election Day.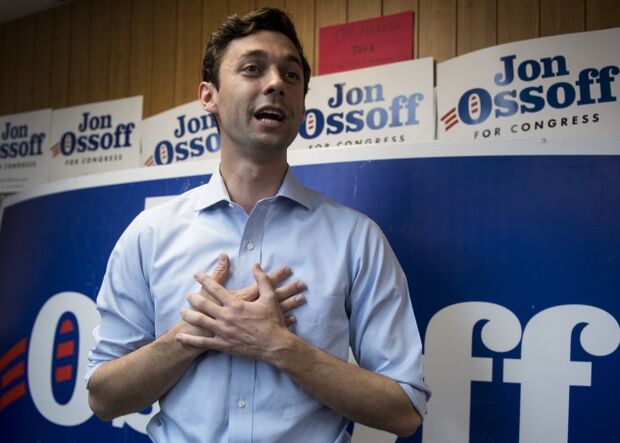 6th District (Roswell, Alpharetta, Dunwoody; Trump 49%-48%): McBath probably will again face ex-Rep. Karen Handel, by far the best-known and best-funded of the five Republicans seeking the nomination in suburbs north of Atlanta. McBath beat Handel by 1 percentage point in the 2018 election.
McBath had $2.9 million in her campaign account as of May 20, according to Federal Election Commission reports. In Congress, her areas of focus include gun safety. Her son, Jordan Davis, was shot and killed in a Jacksonville, Fla., convenience store parking lot by a stranger in 2012. She sponsored a 2019 law that protects military veterans' disability payments so they can't be seized in bankruptcy.
7th District (most of Gwinnett and Forsyth Counties; Trump 51%-45%): Democrats are making a major push to capture this Republican-held seat in a diversifying majority-minority district northeast of Atlanta. Rep. Rob Woodall (R) isn't running again.
Carolyn Bourdeaux, an educator who came within 500 votes of unseating Woodall in the 2018 election, began her second campaign early in 2019 and is the best-funded of the six Democrats seeking the nomination. Her competitors include state Sen. Zahra Karinshak, a former prosecutor and Air Force intelligence officer; Nabilah Islam, a progressive activist who's the daughter of immigrants from Bangladesh and is backed by Rep. Alexandria Ocasio-Cortez (D-N.Y.); and state Rep. Brenda Lopez Romero.
Among the seven Republican candidates, state Sen. Renee Unterman self-financed her campaign with more than $600,000 and touted her work in the state legislature to limit abortion and cut taxes. Rich McCormick, a Marine veteran and emergency room doctor, said he supported term limits for Congress. Lynne Homrich likened herself to Trump as a nonpolitician with a business background.
Club for Growth Action, a conservative super PAC that advocates for cutting taxes and spending, is backing McCormick. It aired a TV ad that noted Unterman first backed former Florida Gov. Jeb Bush for president in 2016 and said Trump was her last choice for the Republican nomination. The political arm of the House Freedom Caucus, a bloc of strongly conservative and antiestablishment Republicans, also is supporting McCormick.
An Unterman ad said McCormick didn't vote for Trump in 2016.
9th District (Northeast; Trump 78%-19%): In this overwhelmingly Republican district Collins is giving up to run for the Senate, whoever emerges from the nine-candidate GOP field will be a shoo-in to prevail in November.
Ex-Rep. Paul Broun, who served in the House from 2007 to 2015, is making another comeback bid after losing a 2016 primary challenge to Collins by almost 40 percentage points. Broun pledged to join the Freedom Caucus.
State Rep. Matt Gurtler, known for casting the most dissenting votes in the state House, was endorsed by the Club for Growth, Sen. Rand Paul (R-Ky.) and Rep. Thomas Massie (R-Ky.). State Rep. Kevin Tanner's donors included the PACs of the Georgia Bankers Association and the American Council of Engineering Companies. State Sen. John Wilkinson, a farmer, won backing from PACs representing cotton and peanut growers.
Andrew Clyde, a firearms business owner who mostly self-financed his campaign, testified before Congress in 2015 in favor of legislation to change asset seizure law. It was enacted in 2019 as part of an IRS services and enforcement measure (P.L. 116-25). Clyde would end the IRS and implement a flat tax on consumption.
Ethan Underwood, a property rights attorney, also primarily self-financed his campaign.
14th District (Northwest; Trump 75%-22%): As in the 9th District, the neighboring 14th District features a nine-way GOP primary in a safely Republican district in which no incumbent is running. Rep. Tom Graves (R) isn't seeking re-election after a decade in the House.
The best-funded Republican is Marjorie Greene, a wealthy businesswoman supported by the House Freedom Fund and Rep. Jim Jordan (R-Ohio). Greene attracted attention with an ad of her holding an AR-15 semi-automatic rifle, warning leftist antifa activists to "stay out of northwest Georgia," and accusing George Soros and Joe Biden's staff of funding the movement. In another ad, she attacked "weak-kneed Republicans" and "nasty radical women" in the Democratic Party.
John Cowan, a neurosurgeon, won support from the PACs of the American Medical Association and other health care-related organizations. Matt Laughridge, an auto dealer, aired an ad that said China has "gone from taking American jobs to American lives." Georgia First PAC, a super-PAC backing Laughridge, distributed a similar anti-China ad.
The field includes Ben Bullock, an Air Force veteran and businessman; John Barge, a former state superintendent of schools; Clayton Fuller, an Air Force veteran who was a White House Fellow in 2018-2019; state Rep. Kevin Cooke; and former state Rep. Bill Hembree.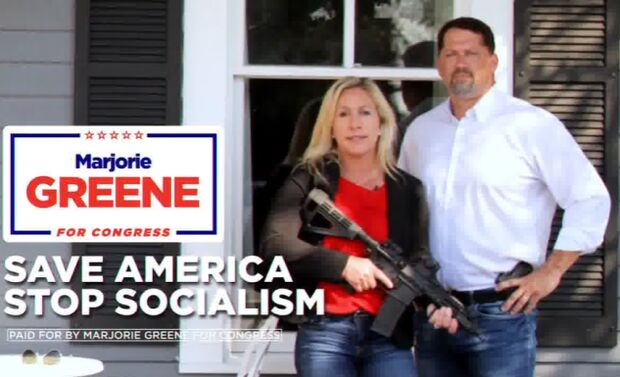 Nevada
3rd District (Henderson, part of Las Vegas; Trump 48%-47%): Susie Lee has nominal opposition in the primary and will face the winner of a six-candidate Republican primary in Nevada's most politically competitive district.
The top two Republican candidates are Dan Rodimer, a businessman and retired professional wrestler, and Dan Schwartz, Nevada's former treasurer and a candidate for governor in 2018. Rodimer's donors included House Minority Leader Kevin McCarthy (R-Calif.). Schwartz self-financed most of his primary campaign.
ESAFund, a super PAC supporting limited government that has ties to TD Ameritrade founder Joe Ricketts, aired a TV ad that attacked Schwartz for saying in July 2016 he was "not super-enthusiastic about" Trump as the Republican presidential nominee. It's not clear yet who gave the money to ESAFund to cover the $318,000 cost of the anti-Schwartz effort.
Lee's priorities include education and veterans' services, and she serves as chairwoman of the House Veterans' Affairs Subcommittee on Technology Modernization. She had $2 million on hand on May 20.
4th District (part of Las Vegas, most of North Las Vegas; Clinton 49%-45%): Eight Republicans want to oppose Rep. Steven Horsford (D), who's seeking a third term in a Democratic-leaning district where most voters live in Clark County in metropolitan Las Vegas. The district also includes some rural counties.
The best-funded Republicans are Jim Marchant, a former Nevada assemblyman, and Lisa Song Sutton, a businesswoman and former Miss Nevada. Marchant received donations from the political arm of the House Freedom Caucus and its chairman, Rep. Andy Biggs (R-Ariz.). Sutton's supporters include Rep. Elise Stefanik (R-N.Y.), who's focused on electing more Republican women to Congress.
The Republican field also includes Sam Peters, an Air Force veteran who promoted endorsements from former Speaker Newt Gingrich and rock singer Ted Nugent.
Horsford was first elected in 2012, lost his seat in 2014, then won it back it in 2018. He acknowledged last month he had an extramarital affair.
North Dakota
At-Large House District (Trump won 63%-27%): Rep. Kelly Armstrong (R) is favored to win a second term in one of the nation's most strongly Republican states. Both Democratic candidates on the ballot raised less than $6,000 through May 20.
South Carolina
Senate (Trump won South Carolina 55%-41%): Sen. Lindsey Graham (R), who's seeking a fourth term, and Democrat Jaime Harrison, the former chairman of the state Democratic Party, are preparing to wage the most expensive Senate election in state history.
Graham, who has three minor opponents in the primary, raised more than $26 million as of May 20. Harrison, who's unopposed in the primary, raised more than $19 million.
Graham clashed with Trump when they both sought the 2016 Republican presidential nomination, but he's been a strong ally of the president the past three years including on judicial nominations. Graham is chairman of the Senate Judiciary Committee.
Michael LaPierre, a retired businessman opposing Graham, attacked the senator for voting for Sonia Sotomayor and Elena Kagan to the Supreme Court and for working with Democrats on legislation that would create a path to citizenship for millions of undocumented immigrants.
A Democrat last won a South Carolina Senate election in 1998, when Fritz Hollings won his final term.
1st District (part of Charleston; Hilton Head; Trump 54%-40%): Four Republicans are running to unseat Joe Cunningham, an upset victor in 2018 in a Republican-friendly coastal district.
The Republican front-runner is Nancy Mace, a state representative who was the first woman to graduate from The Citadel. She raised more than $1.3 million through May 20 from donors including the House Republican leadership and the Club for Growth.
Kathy Landing, a financial planner, is the preferred candidate of the House Freedom Caucus. Chris Cox, who founded the Bikers for Trump organization, has brandished his personal ties to the president.
Cunningham, who's unopposed in the primary, had $2.6 million on hand on May 20. In September 2019, the House passed Cunningham's bill to prohibit oil and gas leasing off the Atlantic and Pacific coasts. His anti-drilling position was a linchpin of his 51%-49% win in 2018 over Republican Katie Arrington.
If no GOP primary candidate wins a majority, the top two finishers will compete in a runoff on June 23.
West Virginia
Senate (Trump won West Virginia 69%-26%): Sen. Shelley Moore Capito (R) is favored to win a second term in the state that gave Trump his highest percentage in the 2016 election.
The Democratic candidates include Paula Jean Swearengin, a liberal activist who ran against Sen. Joe Manchin (D) in the 2018 primary, and Richard Ojeda, a former state senator and Army veteran who lost a bid for the state's 3rd District in 2018 and briefly sought the 2020 Democratic presidential nomination.
To contact the reporter on this story: Greg Giroux in Washington at ggiroux@bgov.com
To contact the editors responsible for this story: Kyle Trygstad at ktrygstad@bgov.com; Bennett Roth at broth@bgov.com
Stay informed with more news like this – from the largest team of reporters on Capitol Hill – subscribe to Bloomberg Government today. Learn more.