Georgia Democrats Amplify Quiet Support in Republican Stronghold
Forsyth County saw Democratic gains in 2018, 2020
Local leaders say area undergoing "culture change"
Bloomberg Government subscribers get the stories like this first. Act now and gain unlimited access to everything you need to know. Learn more.
At first glance, Democratic candidate Jon Ossoff handing out yard signs to 100 cars on a weekday looked like run-of-the-mill, coronavirus-era campaigning — albeit in an election-year December and with the Senate majority on the line.
But last week Ossoff was in Forsyth County, a large suburban area northeast of Atlanta. To Democrats, the event was revolutionary.
"This turnout speaks for itself," said Daniel Blackman, a resident of the county who's running in a coinciding race to serve on the Georgia Public Service Commission. "Five years ago, Democrats wouldn't be caught dead with a Democratic sign."
Ossoff didn't win Forsyth County in the general election and he's not expected to carry it on Jan. 5 in one of two Senate race runoffs. Still, his 31% of the vote there was slightly better than Stacey Abrams' performance in the 2018 governor race and significantly better than the 18% the Sen. David Perdue's (R) Democratic opponent received in 2014.
The unexpected outreach there is part of an effort to not only mobilize the party's base in the most populous Democratic counties in the state, but also find growing blue pockets in traditional Republican strongholds.
"We just want to energize the community, be visible and present," Ossoff told reporters at the Caney Creek Preserve park, located just over the border from northeastern Fulton County.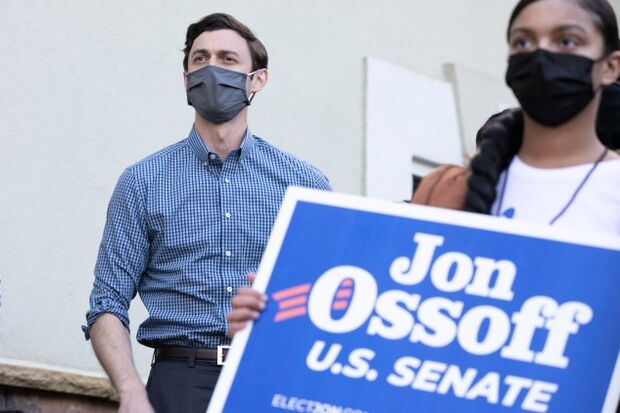 Democrats hope to continue making inroads in Forsyth, one of the 10 largest counties in the state, by appealing to the increasing population of Black, Hispanic, and Asian American voters. If that happens, Forsyth could slowly begin to look more like neighboring Gwinnett County, which voted for Ossoff in 2020 after backing Perdue six years ago.
Forsyth County has "potential to have so much more of an impact, because diversity is coming," Blackman said.
Not Easy Being Blue
Eric Cohen, the first vice chair of the Forsyth Democratic Committee, said "an event like this four years ago was unimaginable," he said. Still, being a Democrat in Forsyth County isn't yet easy, said Melissa Clink, chair of the county's Democratic Party.
She recalled a member who was worried about coming to a watch party at a bar out of fear of harassment or worse. But Clink said it's less about overcoming actual harassment than it is the fear of it — no one bothered them at that watch party or at other events at the same bar.
Clink sees her job as helping fellow Democrats in the county feel comfortable expressing their political preferences. Part of that involves party members showing up at volunteer events and "slipping in the fact" they're Democrats. Or challenging stereotypes by hosting events with groups such as the National African American Gun Association.
She filled her own yard on a high-trafficked street with signs for various candidates. Some drivers-by hurled expletives at her — both while she had her signs up and even after she took them down. But she said some Democrats told her they would make detours past her house because it felt like seeing Christmas lights.
"It's really creating a culture change around here," she said.
While waiting to get an Ossoff sign for his wife and son, Jerry DiCarro said his family is one of the few in his neighborhood who support Democrats — or, at least, support them openly. A newer neighbor they didn't know recently gave his wife a greeting card thanking her for being courageous enough to have a Joe Biden sign in her front yard.
Taking Notice
Local Republicans have noticed the increasing number of Democrats. Patrick Bell, chair of the Forsyth County Republican Party, called the 2018 governor race a "wake-up call." He's since seen more Republicans wanting to get involved, including Indian American, Hispanic, and Black Republicans who are reaching out to their communities about the party.
Bell said educating voters on what Republicans stand for is key to ensuring the party remains strong in Forsyth. He compared Democrats in the county to kudzu, a vine native to some Asian countries that's classified as an invasive species in the South.
"If we ignore the kudzu," he said, "it will take over."
Even if Democrats remain a minority, Cohen said they've become more confident in touting their support for their politics. That could lead to dividends in January and beyond.
"Democrats have been awakened," he said. "I don't think this is going away whatsoever."
To contact the reporter on this story: Emily Wilkins in Atlanta at ewilkins@bgov.com
To contact the editors responsible for this story: Kyle Trygstad at ktrygstad@bgov.com; Bennett Roth at broth@bgov.com
Stay informed with more news like this – from the largest team of reporters on Capitol Hill – subscribe to Bloomberg Government today. Learn more.