Gen Z Rep. Frost Looks Beyond Youth in 2024 Candidates: Q&A
Congress does not understand Gen Z, says youngest member Frost
Florida Rep. talks leadership, DeSantis, and 2024 candidates
Bloomberg Government subscribers get the stories like this first. Act now and gain unlimited access to everything you need to know. Learn more.
Rep. Maxwell Frost is first in his class.
At 26 years old, the Florida Democrat is the only member of Generation Z – those born since the late 1990s who grew up in the digital age and are too young to remember the Sept. 11 attacks – to ever serve in Congress. In 2022, the same year he met the constitutional age requirement to run, Frost bested a primary field that included two former House members and then sailed into the newly created, Democratic seat in Orlando.
Frost ran on a progressive platform focused on issues that appeal to younger voters, including the Green New Deal, canceling student loan debt and gun control. He got his start in politics as a teenage organizer calling for ending school violence after a mass shooting in Newton, Conn.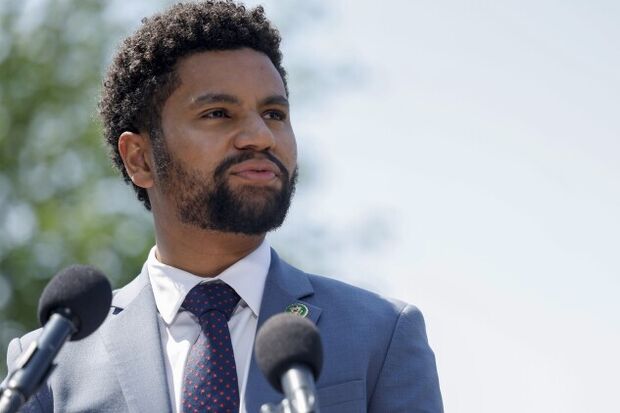 On the trail, Frost, who did not finish college, was vocal about the need for new, younger voices in Washington. He supports congressional term limits, and is quick to say that Congress is out of touch with young people.
Yet ahead of the 2024 election, Frost told Bloomberg Government that being a member of Gen Z is not enough of a reason to run for Congress.
"We have enough people up here who are just looking for power, and I think it's important that we have people who are looking for impact," Frost said. "I'd rather have one good Gen Z-er come through who believes in an issue and comes from a place of humility, than 10 Gen Z-ers who have been looking for the title their whole life."
Frost has shown his youthful credentials over his first seven months in Congress. He went viral talking about his struggles finding an apartment in Washington, D.C. due to credit score requirements. He wears AirPods on the House floor (Ethel Cain and The Sims soundtrack have been recent plays — "It kind of helps calm me" he said.)
But Frost has taken on weightier issues issues too, such as junk fees for credit cards and Medicare costs, in his first months in Congress. He tries to focus on issues that affect his district and cares about electing members of Congress with those priorities, no matter the age.
This interview has been edited for length and clarity.
It's been seven months since you took your seat as the first Gen Z member of Congress. What issues have you focused on so far?
We picked three issues — gun violence, housing and transportation, and arts and culture. And obviously things can change for any member, as you go and you find who you are within the institution and outside of it, but keeping true to your values. But these really came from either personal experience, people writing in, or the issues that really impact my community.
Where do feel you have been able to make an impact?
In the national conversation with what's going on here in Florida. We have a right wing, authoritarian government. And I remember in January when I first got inaugurated I started saying, 'Ron DeSantis is a fascist.' And people from both parties hit me up and said, 'No, that's fear mongering and hyperbole; don't say that.' Even my own party! Now it's kind of common to use that word in describing DeSantis within my party and across the country. So I do think we had an impact in normalizing just defining things.
So from the messaging to actually getting things done in Congress — all 15 of our community project funding requests have been accepted out of committee. We feel really good that we'll be able to bring back this money to Orlando. We've released three bills already, on gun violence, Medicare, and junk fees.
What has your relationship been like with House leadership? Do you feel like you are taken seriously given your age?
100%. I had been speaking with Hakeem Jeffries before I was elected in my primary and getting advice from him. Whip Katherine Clark, who was then the assistant Speaker, endorsed me in my primary.
I'm one of these people where I have a hard time saying no, so I'm in the Congressional Black Caucus, the Congressional Hispanic Caucus, and the Congressional Progressive Caucus. I hold leadership roles in all three. And on top of that, I'm actually the organizing co-chair for the DCCC. It just kind of shows that I'm obviously trusted by leadership to be in these positions.
Does Congress understand Gen Z?
No, most of Congress doesn't understand what this young generation is going through — or really just what people are going through outside of Congress. This is part of the reason why we need younger people in Congress. But more than just young people, we need new people.
Growing old and growing up right now is different than it was 20, 30 years ago. So we need new, older people in Congress and we need younger people in Congress to provide that perspective. What does it mean to live on a fixed income right now? What does that look like with cuts to SNAP and other welfare programs?
But we do have some great advocates. I think about someone like Senator Ed Markey, who's really constantly thinking about the climate crisis. And so there are great older folks in Congress looking out for the young generation. It's not just me by any means.
Might next year's election bring more Gen Z members to Congress? What would that mean for you?
There are a few Gen Z-ers running across the country. We're kind of keeping track of everybody and I hope one, two, or all of them make it through. But I will say that more than just having Gen Z-ers here, we just need people who are going to fight for working people no matter what, and who will be unafraid to talk about what they actually believe in.
What I tell Gen Z-ers that are running for office is very simple: don't run just to be a member of Congress. Run for an issue or something that you believe in.
To contact the reporter on this story: Amelia Davidson in Washington at adavidson@bloombergindustry.com
To contact the editors responsible for this story: George Cahlink at gcahlink@bloombergindustry.com; Bennett Roth at broth@bgov.com
Stay informed with more news like this – from the largest team of reporters on Capitol Hill – subscribe to Bloomberg Government today. Learn more.