Garcia Deploys Cash, Contacts, Comic Relief to Help New Members
Freshman class president takes active role in rallying members
Goal is to get first year House Democrats re-elected in 2024
Bloomberg Government subscribers get the stories like this first. Act now and gain unlimited access to everything you need to know. Learn more.
Robert Garcia only recently arrived in Washington. But he's already playing tour guide, social director and provocative message maker – even lobbing the occasional drag queen meme – as he seeks to rally a large and diverse House Democratic freshman class.
First-term Democrats elected Garcia as their class president, a role that granted the former Long Beach, Calif. mayor a coveted seat at caucus leadership conversations.
Between visits to the Library of Congress and private sessions with senior administration officials, Garcia is leveraging a little-known  position in House leadership that could help the newest members of Congress win re-election races to a body that traditionally defers to more senior members.
"As freshman class president and as a freshman class, our contribution to winning the majority back is ensuring that the 34 freshmen get re-elected," Garcia said in an interview.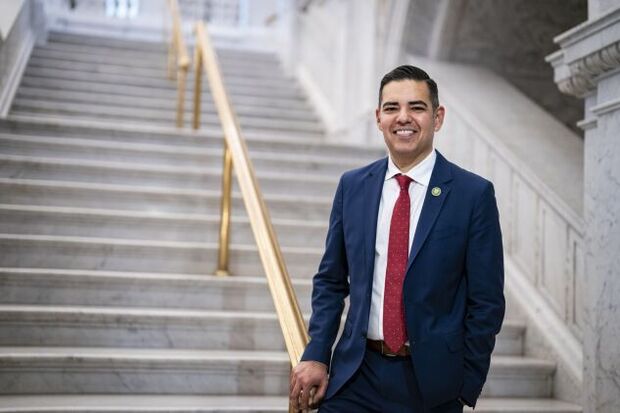 First-term lawmakers make up about three-quarters of the races the Cook Political Report with Amy Walter rate as toss-up next year. Five more are in races rated as "lean Democratic."
House 2024 Outlook Comes Down to a Few Dozen Seats: BGOV OnPoint
Serving as freshman class president is what Rep. Haley Stevens (D-Mich.) called "a soft leadership role." Stevens said as co-president of the class of Democrats elected in 2018 along with Rep. Colin Allred (D-Texas), their work included spotlighting initiatives and achievements by politically vulnerable members.
"A lot of it is bringing the class together and providing opportunities for relationship-building and exchanging" views on upcoming legislation, Stevens said.
Democrats have sought to use their unity on high-profile issues like balloting for speaker last month or on Republicans' high-priority bills as a foil to GOP divisions.
Ahead of the 2024 elections, they hope touting individual members' successes and the party's overall message with one voice could help them make the case they deserve to regain control of the chamber.
Garcia sees value in keeping the caucus united where possible while allowing frontliners to break away when necessary. But GOP political operatives are betting more party-line votes will backfire as they seek to tie new Democratic lawmakers to President Joe Biden's uncertain fortunes.
"We greatly appreciate him doing the hard work of keeping every vulnerable Democrat as tightly yoked to their unpopular president as possible," said Will Reinert, national press secretary for the National Republican Campaign Committee.
Fostering Relationships
Garcia's leadership style and penchant for fostering relationships and conversations between members has so far allowed the class to avoid internal conflict, nine of those lawmakers representing both moderate and liberal sides of the party, said in interviews with Bloomberg Government.
"Compared I think to past Democratic classes, there is not a tension between the moderates and the progressives in the class," said Rep. Hillary Scholten (D-Mich.), a moderate who flipped a GOP-held seat last year. "I think we take a look that this is not a zero-sum game."
Garcia's support for the class predates his time in Congress. He was one of the top fundraisers in the freshman class for the Democratic Congressional Campaign Committee in the 2022 cycle, according to two sources familiar with his political activity.
After handily winning his own primary, Garcia gave $68,000 to fellow House candidates, including a third of the current freshmen class, according to Federal Election Commission records.
Meet the New Members of the 118th Congress: BGOV OnPoint
Party Switch
Garcia, 45, is the first openly LGBTQ immigrant member of Congress. He married his husband, Matthew Mendez Garcia, while he was mayor in 2018. Garcia immigrated from Peru with his parents as a child, but they overstayed their visa. He became a US citizen in his 20s thanks to a change in immigration policy signed by then-President Ronald Reagan, which inspired Garcia and his family to register as Republicans.
Garcia's politics have since turned progressive and he joined the Democratic Party in 2007. After his 2014 election as mayor of Long Beach, a city of over 456,000 neighboring Los Angeles, he championed priorities like universal basic income, marijuana legalization, and tackling climate change.
"I don't mind like taking a leadership role and taking a little bit of an executive role," Garcia said.
His management of the quick rollout of Covid vaccines to health care workers and the general public served as national model for cities struggling to respond to the pandemic. He frequently invokes the death of his mother and stepfather to Covid when arguing for robust pandemic response, a case he can continue to make as a member of the Select Subcommittee on the Coronavirus Pandemic Response.
Garcia will also sit on the Homeland Security and Oversight and Accountability committees.
Party organizers gave Garcia a brief speaking slot at the virtual 2020 Democratic National Convention. When she was state Attorney General, Kamala Harris swore in Garcia as mayor in 2014, and Garcia was a California co-chair of Harris's presidential campaign. Harris's husband, Doug Emhoff, was one of Garcia's first visitors to his Capitol Hill office.
On social media, Garcia deploys gifs of drag queens and occasional obscenity to mock House Republicans. He has rallied lawmakers against embattled Rep. George Santos (R-N.Y.), who has acknowledged lying about numerous aspects of his life, and scolded CBS for failing to caption Puerto Rican rapper Bad Bunny's Spanish-language performance at the Grammys.
Garcia is now leveraging connections from his mayoral tenure to make inroads at the White House, organizing a reception for freshman members of both parties with Biden, Harris, and cabinet officials at which lawmakers asked leaders of their party about abortion policy and implementation of 2021 Covid relief plan (Public Law 117-2).
Freshmen Democrats also had private sessions with House Minority Leader Hakeem Jeffries (D-N.Y.) and his top deputies to discuss committee assignments and Health and Human Services Secretary Xavier Becerra to pitch the former House member on a visit to their districts. Garcia has also organized meetings with Labor Secretary Marty Walsh and Office of Management and Budget Director Shalanda Young.
Garcia also organized a recent tour of the Library of Congress. Nearly all of the new Democrats showed up to gawk at artifacts like James Madison's crystal flute that artist Lizzo briefly played at a recent D.C. show. Rep. Morgan McGarvey (D-Ky.), Garcia's Navy Yard roommate, and other lawmakers broke out into a spontaneous rendition of Lizzo's "Good as Hell" while crowding into an elevator on the tour.
Garcia, who was sworn into office on a copy at the Library of Congress of the first edition of "Superman," was particularly interested in displays of the first appearances of "Spider-Man" and "Batman."
"Those are like Holy Grails in comic books," Garcia said.
But the visit also included introductions to available event spaces, a members-only reading room, and a surplus books program that donates volumes to local libraries.
Lawmakers acknowledge the group will inevitably face divisions, especially as the 2024 election gears up.
"We keep joking, we're like, 'ah, in a few weeks we hope we still like each other,'" said freshman Rep. Delia Ramirez (D-Ill.).
Vulnerable members and those representing safe seats have already split, with moderates joining with Republicans to back measures establishing a select committee on competition with China (H. Res. 11), attacking socialism (H.Con.Res. 9), and condemning attacks on groups that oppose abortion rights (H.Con.Res. 3).
"I think we understand that we represent different constituencies, and so members are going to vote differently sometimes," Garcia said. "And I think that's okay. And I think we've all kind of discussed this, that our job is to support each other as a class."
To contact the reporter on this story: Zach C. Cohen in Washington at zcohen@bloombergindustry.com
To contact the editors responsible for this story: Bennett Roth at broth@bgov.com; George Cahlink at gcahlink@bloombergindustry.com
Stay informed with more news like this – from the largest team of reporters on Capitol Hill – subscribe to Bloomberg Government today. Learn more.