From Space Force to AI, a $750 Billion Defense Puzzle Awaits
Pentagon to unveil its fiscal 2020 budget week of March 11
Caps, controversial asks seen complicating defense outlook
The Pentagon's next budget request is likely to be a hotbed of pivotal issues that will mire Congress in divisive debates and lobbying wars.
Lawmakers will have to consider as part of the Defense Department proposal in March a request for a massive war fund even as U.S. forces are set to withdraw from Afghanistan and Syria. They'll also have to weigh whether to fund creation of a Space Force and whether the Air Force should be buying a Boeing Co. fighter aircraft it rejected only last year. Decisions over how much money to pour into hypersonic technology and artificial intelligence—areas dominated by China and Russia—also loom.
Here's a list of issues selected by Bloomberg Government that will dominate the national security discourse this year:
War Funding
The Defense Department is preparing to request about $174 billion for its Overseas Contingency Operations account for fiscal year 2020— at least $100 billion more than previously projected—according to a congressional aide who confirmed the administration's plans and asked not to be named.
The decision is puzzling because Pentagon and Office of Management and Budget leaders had been talking about reducing the war account and rolling many of the expenses into the regular defense budget. Unlike the regular budget, the OCO account is not subject to annual spending caps under the Budget Control Act.
Iffy prospects for a speedy budget deal to ease those caps yet again and calls from congressional defense hawks and President Donald Trump to increase national security spending to $750 billion are likely prompting the Pentagon to inflate its war account.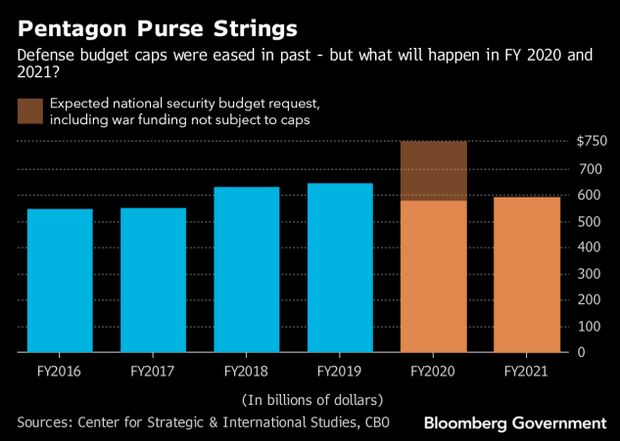 This tactic, however, is going to run aground with congressional Democrats who run the House and is already dividing some key congressional Republicans.
"We will see how it works out. It's better if we have a baseline budget," Rep. Ken Calvert (R-Calif.) the top Republican defense appropriator, said in an interview. "It's better budgeting process."
Meanwhile, Senate Armed Services Chairman Jim Inhofe (R-Okla.) said he wants to see an increase in defense spending and isn't fussy about the means.
"All I care about is the top line," Inhofe said in an interview. "Others are more concerned with how things are divided up. All I want is the results."
Space Force
Trump will attempt to make good on one of his signature issues by asking Congress next month to establish Space Force as the sixth branch of the U.S. military. The historic move, aimed at countering Russia and China, could mark the first new service since the Air Force was created in 1947.
The details of the fiscal 2020 request are being drawn up by acting Defense Secretary Pat Shanahan. But Trump's order Tuesday, called Space Directive-4 makes clear the administration will propose a space service located inside the Department of the Air Force, rather than a stand-alone military space department.
The administration settled on that structure, which is based on the Marine Corps' relationship with the U.S. Navy, to allay concerns among lawmakers that a new department would create unneeded bureaucracy. The proposal outlined by Trump echoes a proposal by the House Armed Services Committee two years ago.
Space Force is still likely to draw tough scrutiny from the committee and Adam Smith(D-Wash.), the new chairman. Smith has questioned the need for and cost of the new service, saying it faces bipartisan opposition.
Still, the requested funding in fiscal 2020 is likely to be relatively small as the Pentagon aims to set up the Space Force headquarters. It could be about $100 million in new spending, a senior administration official told reporters on a background call.
"A couple hundred million is probably all of the additional cost that you would need in that first year," said Todd Harrison, a defense budget and aerospace analyst at the Center for Strategic and International Studies.
F-15 X Fighter Purchase
Pentagon and Air Force leaders will have some explaining to do on Capitol Hill for the surprise decision to buy as many as 80 Boeing Co. F-15X fighter aircraft, starting with eight in fiscal year 2020. Mainly, the Air Force has spent years saying it only needed stealthy fifth-generation fighter aircraft to evade adversaries and had rebuffed a Boeing sales pitch for the upgraded version of the F-15 fighter bomber it last bought nearly two decades ago, in 2001.
The plan will prompt Boeing's and Lockheed Martin Corp.'s congressional supporters to lock horns. Lockheed backers, led by Sen. John Cornyn (R-Texas) already have sent a letter to President Donald Trump raising alarm that pouring money into a fighter aircraft like the F-15X without stealth could distract from dedicating resources to Lockheed's F-35 Joint Strike Fighter. Lockheed builds that plane in Fort Worth, Texas, Cornyn's home state.
Decisions on the future fighter mix were made by former Defense Secretary Jim Mattisin consultation with Air Force leadership, according to a Pentagon official who asked not to be named to talk about the decision process. The purpose was to figure out how to carry out future missions that don't require stealth as well as the high cost of flying Lockheed's F-22 Raptor or the F-35, the official added.
New Guided-Missile Frigate 
The fiscal 2020 budget request will also offer a clue for the Navy's plans to move ahead with a new frigate. The Navy capped its troubled Littoral Combat Ship program after concerns that the vessels wouldn't be able to withstand battle damage. Instead, it plans to buy about 20 missile-guided frigates. All eyes are on the Navy to release a draft request for proposals this spring, likely in March or April.
The final request for proposal is supposed to be issued by the end of September, with a goal of awarding the contract in September 2020. The service aims for a price tag of $800 million to $950 million per ship. Congressional supporters of Austal USA and a team of Lockheed Martin-Fincantieri Marinette Marine are already making the case that the two builders of the LCS—who are also contenders for the frigate — need the new vessel win to survive.
Lawmakers on congressional defense committees have expressed frustration at what they saw as a slow rollout of the new frigate program. Inhofe said in an interview that he will attempt to ensure that the frigate purchases will be increased as rapidly as possible.
Hypersonic Weapons
It's become a familiar refrain for lawmakers: Russia and China are beating the United States at hypersonic technology and especially at using it in warfare. Michael Griffin, the Pentagon's research and engineering chief, has made hypersonic technology its No.1 development goal. Hypersonic weapons are missiles that can travel at Mach 5 or higher—at least five times faster than the speed of sound. Such weapons can travel about a mile per second, making them difficult to defend against.
Even though everybody from defense leaders in Congress to Pentagon officials acknowledges the gap between the U.S. and its rivals China and Russia, the level of concern may be seen in the funding and development timelines laid out in the budget request. Lockheed, for example, has already won some development contracts for an air-launched rapid response weapon and a hypersonic conventional strike weapon—a contract worth almost $1 billion. Raytheon Co. has also been selected to develop a tactical boost glide weapon, which is basically an unpowered vehicle which a rocket booster accelerates to hypersonic speed.

The SpaceX Falcon 9 rocket launches from Vandenberg Air Force Base carrying the SAOCOM 1A and ITASAT 1 satellites, as seen during a long exposure on October 7, 2018 near Santa Barbara, California. (Photo – David McNew/Getty Images)
The U.S. is being pulled in multiple directions and has to worry about so many national security aspects such as war on terrorism, the North Korean nuclear threat, and competition with Russia and China, said Rep. Mac Thornberry of Texas, the top Republican on the House Armed Services Committee. The U.S. doesn't have the "luxury" to focus exclusively on hypersonics to beat Russia and China, he said.
"Hypersonics is one field in which both the Russians and the Chinese have made significant advancements and in a lot of respects we are playing catch up," Thornberry told a group of reporters earlier this year.
Artificial intelligence
The Pentagon says it is on the cusp of an artificial intelligence revolution that could profoundly change the way it manages defense and wages war. It unveiled the new AI strategy this month, the latest step after standing up the Joint Artificial Intelligence Center, or JAIC, last year and naming a general to lead it. But the ultimate success could come down to next month's budget request.
"The real question will be whether this is sufficiently funded in the budget, and if it's not in the budget, it's not going to be real," said Paul Scharre, a senior fellow at the Center for a New American Security. "That is where we will really see whether the Defense Department leadership's priorities match their rhetoric."
Several hundred million dollars would jump-start the new center and fund projects across the department aimed at incorporating AI, Scharre said. Lt. Gen. Jack Shanahan, the JAIC commander, said he anticipates a funding boost and that initial military AI work will lean heavily on commercial service contracts.
Post-INF missiles
The Trump administration announced earlier this month it intends to leave the Cold War-era INF treaty with Russia, potentially clearing the way for the Pentagon to pursue ground-launched weapons that have been banned since the 1980s.
The military has not indicated what specific research and development might be on tap but a request for new funding in FY20 is likely, said Roman Schweizer, a defense analyst with Cowen Washington Research Group.
The Pentagon could request new money next month, but it could also file a supplemental request later in the year or money could be added into the defense budget by Congress, Schweizer said.
"If DOD wanted to respond quickly, you kind of have to go with something off of the shelf," he said.
Two missiles already in the military inventory are potential candidates to be modified into ground-launched munitions within the 300- to 3,000-mile range barred by the INF treaty, Schweizer said.
Lockheed Martin's Joint Air-to-Surface Standoff Missile, or JASSM, is a missile designed to be launched from U.S. bombers and fighter jets. Raytheon's Tomahawk cruise missile can be fired from ships and submarines with a range over 1,000 miles.
To contact the reporters on this story: Roxana Tiron in Washington at rtiron@bgov.com; Travis Tritten at ttritten@bgov.com
To contact the editors responsible for this story: Paul Hendrie at phendrie@bgov.com; Jonathan Nicholson at jnicholson@bgov.com