Fresh Polling, Fundraising Underline Susan Collins Vulnerability
Bloomberg Government subscribers get the stories like this first. Act now and gain unlimited access to everything you need to know. Learn more.
The wink of an eye by "Saturday Night Live" player Cecily Strong during a January episode's cold open captured the hit Sen. Susan Collins' bipartisan image has taken in recent years.
The pillorying of her swing-vote profile as the butt of a nationally televised joke is a trailing indicator of the trouble she already faced back home in winning a fifth term in November. Declining approval ratings, a polarizing president from her party sharing the ballot, and a well-financed, top-tier Democratic recruit combine to give the Maine Republican her most challenging re-election.
The latest evidence came last week with a poll finding Collins with a 37% approval rating and first-quarter fundraising reports showing state House Speaker Sara Gideon (D) brought in $7.1 million. That was nearly $5 million more than Collins, who paused her campaign in March to focus on the government's coronavirus response.
Brian Walsh, a partner at Republican firm FP1 Strategies, said both the polling and fundraising reflect a nationalization of the race and outside money pouring into Maine.
"This is going to be a close race, I don't think there's any question about that," Walsh said. "I think she just needs to do what she's always done, which is call the balls and strikes as fairly as she sees them. And she's been doing that by questioning the president's performance in his response, but also by working to get the small business package over the finish line."
Read More: Coming This Fall to TVs in Iowa and Maine: Lots of Political Ads
Collins recently announced she's been named to President Donald Trump's panel that's tasked with coming up with a plan to reopen the economy. But she might be better off maintaining social distance from the president, who is unlikely to carry Maine, political analysts said.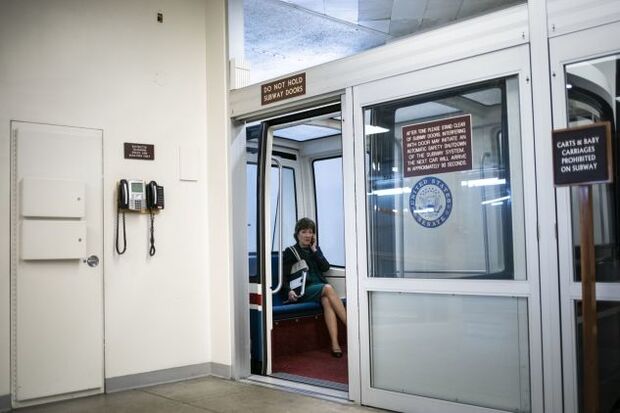 Brian Duff, a political scientist at the University of New England, said Collins was a highly popular senator until Trump took office and she came under pressure to vote with the party on items such as the 2017 tax overhaul and Justice Brett Kavanaugh's Supreme Court nomination. She also voted to acquit Trump in his impeachment trial, which the late-night sketch portrayed as in-the-bag all along despite her publicly being on the fence.
Her most prominent bucking of Trump and Senate Majority Leader Mitch McConnellcame when she voted against overturning the Affordable Care Act. "It's going to be very difficult for her to make a strong case to voters that she shouldn't be lumped together with Trump and, of course, McConnell even more so," Duff said.
The poll released last week found Collins' approval rating had dropped 5 points from an already worrisome figure in the fall. It first declined to the low-40s a year ago, following her Kavanaugh vote.
"After that vote her approval rating has been pretty steady and low," said Traverse Burnett of DigitalResearch.com, the Maine firm that conducted the Critical Insights poll. Burnett singled out the growing number of women who now disapprove of her performance.
A Collins aide downplayed the poll results and said they don't reflect her own campaign's internal numbers.
"Senator Collins' top concern right now is the health of Mainers and the well-being of our state and nation's economy," spokesman Kevin Kelley said.
Coronavirus Response
Collins used her Senate seniority and ties to the White House to help insert an emergency loan program into the $2.2 trillion stimulus that already delivered more than $2 billion to small Maine employers this month. At the same time, she's working to get the $300 million she won for the state's seafood and aquaculture industries released, and trying to help New England dairy farmers faced with plummeting prices.
But the veteran lawmaker who made her reputation as a bipartisan deal-maker and is in a position to steer billions more to her home state over the next several months is still getting poor marks from a majority of Maine voters.
So far, they view their state leaders in a better light than those at the national level, Burnett said. Maine Gov. Janet Mills (D) has seen her approval rating rise from 47% to 60% over the last six months, and 52% approve of how the state legislature — where Gideon serves — is working.
"We think that's because of the coronavirus response," Burnett said.
SNL Cold Open Fodder
Collins announced her decision to seek re-election in December shortly before Congress signed off on a large spending package that demonstrated her ability to bring home money for Maine. Her decision to run was a boon for McConnell, who immediately hosted a luncheon of GOP senators where Collins' photograph and the message "Thank You Susan" adorned placards around the room.
As vulnerable as she appears — the race is rated a toss-up by the Cook Political Report, Inside Elections, and Sabato's Crystal Ball — the seat would've been far more endangered without her. As it is, Maine figures prominently in Democratic plans to win the majority, along with ousting GOP senators in Arizona, Colorado and North Carolina.
Collins encountered difficulties in January, when she joined other Republicans in declining to address impeachment charges against Trump in order to remain "an impartial juror" in the proceedings. That's what led to the SNL portrayal, though it wasn't the first time. The sketch-comedy show featured a 2018 send-up of a GOP celebration after Kavanaugh's confirmation and in 2019 did a parody of "Meet the Press" with actors portraying Collins, McConnell, and Sen. Lindsey Graham (R-S.C.).
Those ties won't help in a state where Trump's approval was a point lower than Collins' in the recent poll.
"In general, Maine is becoming more and more one of these New England states that is shifting with national politics," Duff said. "New England is blue, and I think it's going to catch up with Collins eventually, and I think there's a very good chance it's going to catch up with her this year."
To contact the reporter on this story: Nancy Ognanovich in Washington at nognanov@bgov.com
To contact the editors responsible for this story: Kyle Trygstad at ktrygstad@bgov.com; Bennett Roth at broth@bgov.com
Stay informed with more news like this – from the largest team of reporters on Capitol Hill – subscribe to Bloomberg Government today. Learn more.