Four California Districts Split Tickets for President, Congress
GOP benefited from strong candidates, unpopular propositions
Democrats still will have 42-11 advantage in House delegation
Republicans won four House races in California in congressional districts carried at the presidential level by Joe Biden, according to a Bloomberg Government analysis of precinct-level results.
The split-ticket victories last month, which have become relatively rare in recent elections, allowed the GOP to claw back some of its sharp losses from 2018. Three of the seats were held by a Democrat, and the fourth Republicans first won in a special election earlier this year.
The four "Biden Republican" districts are the only ones out of California's 53 that voted for different parties in presidential and House elections. In overwhelmingly Democratic California, Biden carried 46 districts compared with 7 for President Donald Trump, while Democrats will have a 42-11 advantage in the House delegation in the 117th Congress.
The Republicans who flipped Democratic districts include former state Assemblywoman Young Kim, who unseated Rep. Gil Cisneros in the 39th District in parts of Orange, Los Angeles, and San Bernardino counties, and Orange County Supervisor Michelle Steel, who ousted Rep. Harley Rouda in the 48th District in part of Orange. Both Democrats are in their first terms.
Kim, who lost a close race to Cisneros in 2018, won by 1.2 percentage points as Biden carried the 39th by 10 points. Steel prevailed by 2.2 points, as Biden won the 48th by 1.5 points.
Kim and Steel will be the only Republican women in the California delegation and are two of the first three Korean-American women ever elected to Congress. They targeted their districts' large Asian-American constituencies — mostly Chinese, Korean, and Filipino in the 39th, and largely Vietnamese in the 48th.
"Even in a polarized political climate, good candidates with a strong message can win anywhere," said Sam Oh, vice president of the Republican digital firm Targeted Victory, who was general consultant to the Steel and Kim campaigns. "Michelle Steel and Young Kim are dynamic candidates with deep roots in their communities and with proven records of getting things done and being bipartisan."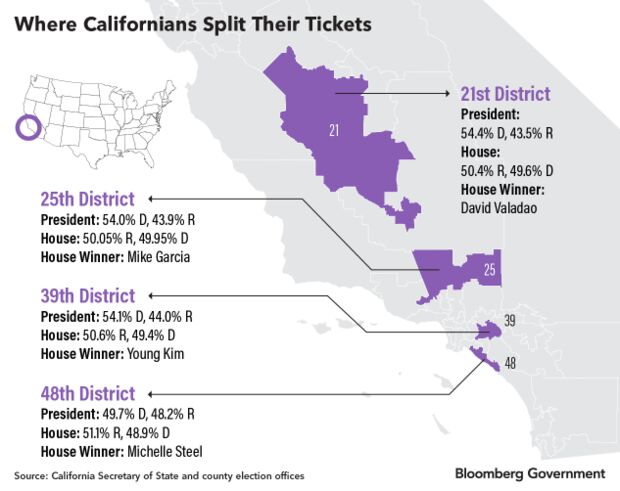 In the 21st District, a low-income Hispanic-majority area in California's Central Valley, ex-Rep. David Valadao (R) defeated first-term Rep. TJ Cox (D) by less than a point in a rematch of their 2018 contest, even as Biden won the district by 11 points.
Cox and Democratic groups ran TV ads linking Valadao to Trump. But Valadao, a supporter of the "Dream Act" immigration overhaul opposed by most Republicans, has a history of crossover support: he won House elections in 2012 and 2016, when Democratic presidential candidates also carried the district by double-digit margins. One of Valadao's ads said he worked with the Obama administration to develop and deliver water supplies to the agricultural Central Valley.
"Recruitment is a big part of the story here. This was a good slate of Republicans in these seats — especially getting Valadao to run again," said Rob Stutzman, a California Republican consultant.
Click here to download the full presidential vote by congressional district chart
Valadao and Republican groups ran ads attacking Cox's ethics.
"It just wasn't surprising that a strong local brand could bounce back — someone who demonstrated that he was able to pull voters in from across the aisle in past elections and was able to do it again against someone so flawed as TJ Cox was," Stutzman said.
Republicans also kept control of the 25th District, a historically Republican area of northern Los Angeles County and southeastern Ventura County that's drifted Democratic in presidential elections. Rep. Mike Garcia (R) won by 333 votes over state Assemblywoman Christy Smith (D) even as Biden carried the district by 10 points. Garcia, a former Navy fighter pilot, also defeated Smith in a May special election after Democrat Katie Hill resigned in a personal scandal.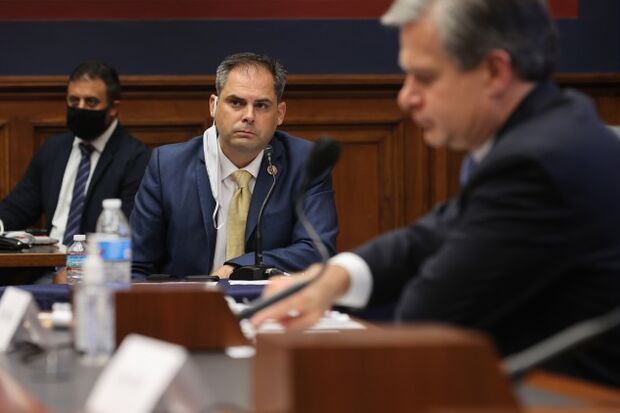 Rose Kapolczynski, a Democratic consultant in the state, said "incumbency wasn't always an advantage" for Democrats who benefited from an anti-Trump political environment in 2018 but had to defend their own voting records in 2020. Cisneros was attacked for voting with Speaker Nancy Pelosi (D-Calif.) 100% of the time.
"In 2018, the only way to send a message to Donald Trump was to vote against the House members who were incumbents and supporting his efforts, particularly to repeal the Affordable Care Act," Kapolczynski said. "In 2020, you could send a message to Donald Trump by voting against Donald Trump and then you could go down the ballot and say, 'But I'm a little more comfortable with the Republican candidate for Congress.'"
Ballot measures may have also had an effect on some results, Democratic consultants in the state said. Kapolczynski said a failed statewide measure that would have overturned a ban on California's affirmative action policies boosted turnout from Asian-American voters and helped Kim and Steel. Andrew Acosta noted Orange County rejected an unsuccessful ballot measure opposed by Republicans that would have raised taxes on commercial properties to generate more money for education and local governments.
Solid Blue
To be sure, California remains a Democratic bastion. Biden won it by more than 5 million votes and by 29 points. In the next Congress there will be more Republicans in Ohio's House delegation and more than twice as many in Texas.
In the 2020 election, Republicans might have put even more California districts in contention if they'd had more strong candidates.
In California's 10th District, which includes Modesto and Tracy, freshman Rep. Josh Harder (D) won 55%-45% over Ted Howze (R), whom party leaders shunned after his past social media posts came to light. California's 10th was the second-closest district in the state's presidential voting, backing Biden by 3 points.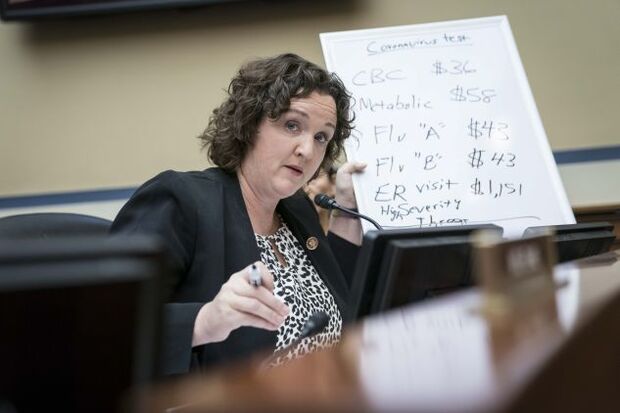 Rep. Katie Porter (D), a vocal progressive who represents the 45th District in Orange County, won a second term by 7 points, running a little bit behind Biden's 11-point win in the district.
Harder and Porter were among the seven Democrats who flipped Republican seats in the 2018 election.
The Republican gains this year in California helped augment the GOP Conference led by Minority Leader Kevin McCarthy, whose 23rd District enveloping most of Bakersfield was the most pro-Trump of any in the state.
Former Rep. Darrell Issa (R) is coming back to Congress from the 50th District, a swath of San Diego and Riverside Counties that both he and Trump won by 8 points. Issa didn't seek re-election in 2018 from the adjacent 49th District, a Democratic-trending coastal area where Biden won by 13 points and Rep. Mike Levin (D) won a second term.
The most pro-Biden districts in California were the 13th District in and around Oakland and Berkeley, an area represented by Barbara Lee (D); Pelosi's San Francisco-based 12th District; and the Los Angeles-area 37th District of Karen Bass (D).
California's congressional lines will be redrawn for the next decade of elections, starting in 2022, by the state's citizen redistricting commission. It's projected to lose a seat in reapportionment for the first time ever. A new map could prompt some of the 53 incumbents to retire or seek other political office, challenge other incumbents, or seek re-election in overhauled districts.
To contact the reporter on this story: Greg Giroux in Washington at ggiroux@bgov.com
To contact the editors responsible for this story: Kyle Trygstad at ktrygstad@bgov.com; Bennett Roth at broth@bgov.com