Former Top Senate Aides, Climate Activists Form Lobbying Firm
Pioneer comes as White House, Congress debating climate policy
Recent hire specialized in reconciliation process for Leader Schumer
Bloomberg Government subscribers get the stories like this first. Act now and gain unlimited access to everything you need to know. Learn more.
Pioneer Public Affairs formally launched Thursday with a focus on progressive, climate, and clean energy clients.
The firm was founded by Joe Britton, executive director of the Zero Emission Transportation Association and a former chief of staff to Sen. Martin Heinrich (D-N.M.). He's been quietly building up the new venture over the past year and began signing clients in recent months.
One of the most recent hires on the team of seven was Charlie Ellsworth, a former budget staffer for Senate Majority Leader Chuck Schumer (D-N.Y.) with extensive experience in the reconciliation process, which allows the Senate to pass certain budget-related legislation with a simple majority.
"During my time in the Senate, I most valued finding creative policy solutions during key debates, from the Affordable Care Act to the American Rescue Plan, and I look forward to doing the same at Pioneer," Ellsworth said in a news release announcing the firm's launch.
The formation of Pioneer Public Affairs comes as President Joe Biden's agenda is focused on infrastructure, sustainability, and action on climate issues.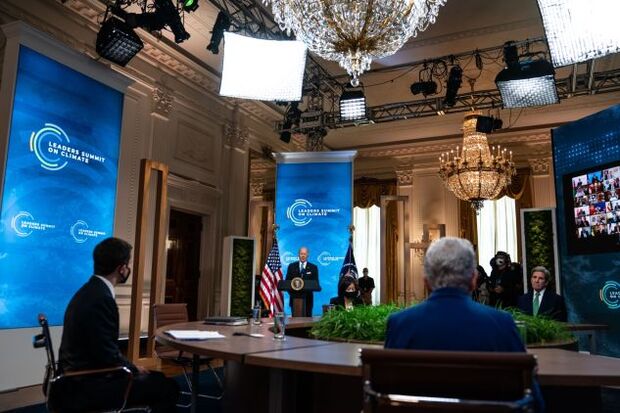 The firm signed clients working on climate solutions. They include SilviaTerra Inc., which facilitates carbon offsetting purchases of forest land. The practice allows companies to pay farmers and foresters to not harvest their trees for varying periods of time, which lets the plants absorb additional carbon from the atmosphere, thereby counterbalancing carbon emitted elsewhere.
It also represents Climate Power, an organization run by former top White House aide John Podesta and financed by the Center for American Progress.
Read More: Former White House Climate Adviser: 'We Just Don't Have Enough Time'
Pioneer took in $110,000 in lobbying fees during its first quarter.
"It's a space that I'm just passionate about, and we're lucky in that it's providentially timely in that these are issues that are garnering national attention," Britton said in an interview. "We can provide a really meaningful contribution to the debate and work with people that are doing really innovative work to decarbonize the economy, and rethink how we deliver and provide energy and how we can create a more sustainable infrastructure for the U.S. going forward."
The other members of the firm include Eric Washburn, former top energy and environmental staffer for former Senate Democratic leaders Tom Daschle (S.D.) and Harry Reid (Nev.); Brian Willis, the former federal press secretary for Sierra Club's Beyond Coal campaign; Jake Jackson, former energy and environment staffer for former Rep. Xochitl Torres Small (D-N.M); Sweta Chakraborty, the U.S. representative for We Don't Have Time, a social network for climate action; and environmental advocate Sofya Olenicheva.
Institutional Knowledge
Britton said in the release that the firm's staff "will collectively leverage our institutional knowledge and personal relationships to deliver results," but he didn't detail the firm's advocacy strategies.
"If my decades in Washington have taught me anything, it's that you should seize the moment and do big things when the stars align," Washburn said in a statement. "With the talent we have at Pioneer, and the sharp focus on low-carbon, clean energy policymaking, we are perfectly positioned to assist our clients to thrive in this time of rapid change."
Ellsworth, who helped Democratic leadership pass earlier this year the massive American Rescue Plan package to address the economic fallout from the pandemic (Public Law 117-2), said in an interview he's bullish on moving infrastructure despite uneasy Republicans and challenges within the party from moderates such as Sen. Joe Manchin (D-W.Va.).
He and Britton said achieving victories on climate issues means meeting members where they are and appealing to their overall goals.
"Even Sen. Manchin understands the type of investments that are needed, and I'm confident that Leader Schumer will be able to see eye-to-eye with Sen. Manchin when the time is right," Ellsworth said in an interview.
"Reconciliation, vis á vis the jobs plan, the family plan, and the rest of the Biden agenda, as a procedural matter, I don't see any hang-ups," he said. "I mean, it's all eminently achievable."
"It may not be exactly the way that it was originally conceived," he added, "but all of the things that are on the table can be done through reconciliation."
To contact the reporter on this story: Megan R. Wilson in Washington at mwilson@bgov.com
To contact the editors responsible for this story: Kyle Trygstad at ktrygstad@bgov.com; Bennett Roth at broth@bgov.com
Stay informed with more news like this – from the largest team of reporters on Capitol Hill – subscribe to Bloomberg Government today. Learn more.