Former Members Trade Capitol Perks for Lucrative Influence Jobs
Some veterans of 117th Congress lured to lobbying gigs
Ex-members can still advise clients even with restrictions
Bloomberg Government subscribers get the stories like this first. Act now and gain unlimited access to everything you need to know. Learn more.
Being a former member of Congress comes with perks. A collection of lawmakers who left after the 117th Congress has embraced one of them: influence gigs.
House and Senate members, who decamped from Capitol Hill, have begun to set up shop in lobbying, policy, and advisory jobs. Even those who don't register as lobbyists can deploy their legislative experience and contacts to guide outsiders through advocacy campaigns and political risk.
Not all former members make for sought-after lobbyists, nor do all ex-lawmakers seek out such work. But the ones who land well can trade their member pins for lucrative paychecks and can sustain their interest in the political process after retiring from, or losing, elective office.
"There's just a whole number of things I've worked on my entire career, with companies in Pittsburgh to help them grow and help the region prosper," said former Rep. Mike Doyle (D-Pa.), who joined the firm K&L Gates as a part-time government affairs counselor based in the Pittsburgh office. "I get to continue that."
Doyle, like all House members, is not permitted to lobby anyone on Capitol Hill for one year after leaving office, while senators face a two-year restriction. He resigned a few days before the end of the 117th Congress, on Dec. 31, after 14 terms.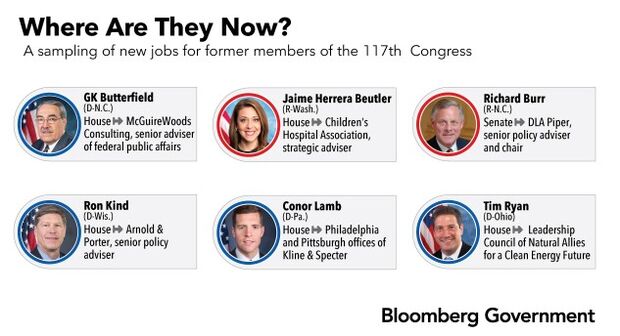 Recent former members may immediately lobby the executive branch, or state and local officials, and can help shape congressional lobbying efforts behind the scenes while riding out their bans. They can use their old campaign cash, if any remains, to make donations to their one-time colleagues.
Doyle, who is registered to lobby, noted that the executive branch was working to implement major bills Doyle helped to pass in the 117th Congress. "Right now all the action's in the administration."
Former Rep. Kurt Schrader (Ore.), a pro-business Democrat who served on Energy and Commerce and the Agriculture panels, joined Williams & Jensen this week. Coinbase, a cryptocurrency company, said last week that ex-Sen. Patrick Toomey (R-Pa.), who served on the Banking panel, had signed on to its global advisory council.
Doyle and Schrader's path from Capitol Hill to the K Street lobbying corridor is well trod. Public Citizen, a liberal group that lobbies for tighter restriction on such revolving-door arrangements, tabulated in 2019 that nearly two-thirds of recently departed lawmakers had gone into lobbying, consulting, law, corporate, or related jobs.
Even with the temporary restrictions on directly lobbying the legislative branch, ex-lawmakers can do plenty to influence, said Craig Holman, a Public Citizen lobbyist.
"They can join the lobbying team, organize the lobbying campaign, they can instruct other lobbyists at the firm who to contact and what to say," Holman said.
Getting 'the Rust Out'
Members from the 117th Congress have joined firms, corporate boards, and consulting outfits. It's a big class of ex-members because of fallout from congressional redistricting and from angst over Republican votes to impeach former President Donald Trump.
"There's been a lot of interest, especially a pretty good competition among the law firms for member talent," said Ivan Adler, a lobbyist headhunter.
Trade associations sometimes tap former members "especially those with a reputation for rolling up their sleeves and strategically leaning into legislative battles," said Julian Ha, who leads the search firm Heidrick & Struggles' global legal, risk, compliance, and government affairs practice. "Members with renewable energy, financial services, and technology committee experience are generally more sought after."
Most deals are private and don't require former members to disclose their compensation, but those in top posts at industry groups make public their salaries, offering insight into the money an ex-member may command. Former Rep. Jim Nussle (R-Iowa), who left Congress in 2007, runs the Credit Union National Association and was paid about $1.5 million, according to a recent tax filing from the group.
Former Rep. Ed Perlmutter (D-Colo.), who served on the House Financial Services Committee, joined Holland & Knight, working out of its Denver and D.C. offices.
He's working on real estate, banking, and oil and gas matters, he said, and has lobbied state lawmakers in Colorado.
Drumming up new business, after 16 years in the House, has been a transition.
"It's been harder than I expected, but you got to get the rust out," he quipped.
Perlmutter's prohibition on lobbying Congress will expire in January. Same for ex-Rep. Rodney Davis (R-Ill.), who lost his seat in a primary and has set up shop at Cozen O'Connor Public Strategies. Davis, a congressional aide before his election to the House, was the top Republican on the House Administration Committee, helped craft farm bills, and worked on transportation matters.
Another former Illinois member, Democrat Cheri Bustos, joined the lobbying and communications firm Mercury Public Affairs this year. Bustos, who chaired House Democrats' campaign arm for the 2020 cycle and ran a subcommittee of the House Agriculture Committee, spent a decade in the chamber.
Now she is helping set up Mercury's new Chicago and Springfield, Ill., offices and co-chairs the firm's Washington, D.C., office.
Bustos said she is focusing on agriculture, health care, and strategic communications.
"I'm really good at brainstorming solutions," she said. "I know how a lot of members think, through the lens of what's good for their district."
Back on the Hill
Former Rep. Tom Reed (R-N.Y.), who resigned a year ago amid a sexual harassment allegation after nearly a dozen years in the House, joined Prime Policy Group as vice chairman and was back on Capitol Hill last week, just as his one-year ban expired. He's in the process of figuring out which clients he will register to lobby.
"I did have a client last week that I took to the member dining room," he said, during an interview inside the Capitol complex. "It is great to be able to walk into the offices. I mean, these folks are my personal friends. We did a lot of stuff together, especially the Problem Solvers Caucus, on both sides of the aisle, and so it's good to catch up."
He was on the Ways and Means Committee and co-founded the Problem Solvers Caucus, a bipartisan group of moderate members. "I'm going to be focusing on a lot of Ways and Means items, so tax, energy, health care are the kind of cornerstones that we're offering to people out there."
Reed is already registered as a foreign agent on behalf of South Korean client Jayu Press, according to Justice Department filings.
Former Rep. Fred Upton (R-Mich.), who like Reed belonged to the Problem Solvers, hasn't joined a firm but said he plans to help a PAC supporting the Problem Solvers members and is getting involved with the centrist group No Labels. He spent much of the winter skiing in Utah.
"The days are going fast," he said. "I've got no staff. They took away my phone. Don't go into my basement, that's where I've got all my framed photographs."
Some recent ex-lawmakers take their aides with them, or even follow them. That was the case with ex-Rep. John Katko (R-N.Y.), who went to the HillEast Group, the firm of his former top aides.
Former Sen. Roy Blunt (R-Mo.) joined Husch Blackwell Strategies to chair its new Leadership Strategies Advisory Services unit, surrounded by former aides, including his longtime Senate Chief of Staff Stacy McBride and Deputy Chief of Staff Richard Eddings.
"My intention is to be more of an advice giver than a lobbyist," said Blunt in a phone interview, as he drove to the Homestead resort in Hot Springs, Va., for a recent congressional chiefs of staff retreat. "Between the three of us, we can usually figure out everybody we know."
Seemeen Hashem in Washington, DC also contributed to this story.
To contact the reporter on this story: Kate Ackley at kackley@bloombergindustry.com
To contact the editors responsible for this story: Bennett Roth at broth@bgov.com; George Cahlink at gcahlink@bloombergindustry.com
Stay informed with more news like this – from the largest team of reporters on Capitol Hill – subscribe to Bloomberg Government today. Learn more.