Food Labeling Mandates Floated From FDA Draw Industry Ire (1)
Federal agency considers front-of-pack food labeling
Industry-wide rule would take fire from snack companies
(Updates with more detailed information about digital labels in 11th paragraph. A previous version replaced Gallo's title in fourth paragraph.)
Bloomberg Government subscribers get the stories like this first. Act now and gain unlimited access to everything you need to know. Learn more.
The food industry is sounding the alarm on a yet-to-be-announced plan that could change package labeling, with companies warning they would oppose new mandates.
The Biden administration has directed the Food and Drug Administration to craft a system for front-of-pack labels on food products. Such labels could help consumers make better nutrition choices as diet-related diseases are on the rise and more than 40% of Americans are obese, nutrition and consumer advocates say.
Current industry rules mandate nutrition facts, such as serving size and sodium, be printed on the back of a food package. The nutrition label was last updated in 2016, after more than 20 years, to make changes such as boldfacing calorie numbers and disclosing added sugar amounts. Food companies want the placement of such nutrition information to stay voluntary. They warn requiring new labeling could further drive up consumer prices at a time of inflation.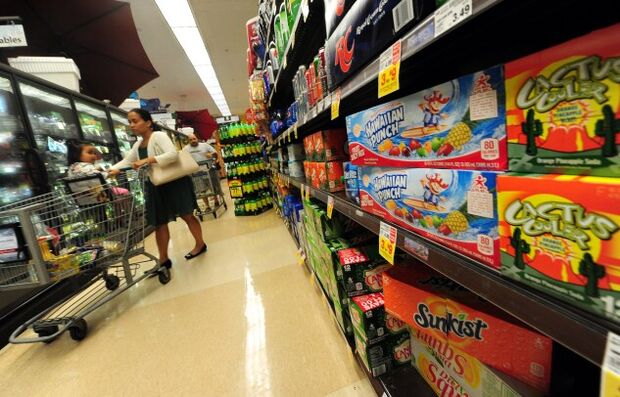 "The skull-and-crossbones attempt to scare consumers away from certain kinds of products, or to take away that autonomy of consumers making the right choices for them and their families, is something that we're concerned about," said Sarah Gallo, vice president of product policy at the Consumer Brands Association, which counts major food companies such as PepsiCo. Inc. and General Mills Inc. among its members.
The FDA has yet to form a concrete plan for front-of-pack labeling, but an agency spokesperson said it plans to broaden its research on the topic, look at other countries' systems, and convene focus groups to gauge how consumers feel about the labels. Other countries have mandated the change in recent years, with Mexico in 2020 adopting a stop sign icon showing when food has excessive amounts of nutrients such as sugar and fat.
Read More: US Aims to Shift 'Healthy' Food Labels as It Fights Malnutrition
'Little Bit Tentative'
The White House summit on hunger, nutrition, and health in September produced a far-ranging list of policy recommendations. The FDA last month announced plans to change the criteria that companies can use to label their food "healthy," highlighting the nutrition community's greater emphasis on the risk of added sugars, and lesser on fat content.
An industry-wide change to food labeling criteria would affect more products, and consumer advocates say it could have a bigger impact on Americans' food intake.
"The language is a little bit tentative, but certainly it's more than we've so far heard," said Peter Lurie, president of the Center for Science in the Public Interest, adding he's encouraged by the agency's plan to evaluate front-of-pack labeling. The consumer advocacy group and other organizations in August petitioned the FDA to mandate front-of-pack labels that provide context for the amounts of nutrients in the food — for example, a warning mark when a snack has excessive sodium.
More than half of consumers said front-of-pack labels influence their food decisions in a survey by the International Food Information Council, and more than 20% said they had a significant impact. But not all front-of-pack labels are the same. Lurie is wary of food labels that state the numbers for certain nutrients without including context to tell consumers when they're at risk of consuming too much of them.
Industry groups devised a voluntary label called Facts Up Front, which many companies including Kellogg Co. and The Coca-Cola Co. already use. The system allows companies to place on the front of a food package nutrient amounts for calories, saturated fat, sodium, sugars, and other nutrients. Food companies argue the voluntary program should be enough.
"We worked with FDA at the highest levels, as well as the White House leadership during the Obama administration to develop a system," said Jennifer Hatcher, chief public policy officer at FMI, The Food Industry Association. Industry groups also developed digital labels, where customers can see more detailed nutrition information on the internet, Hatcher noted.
The Facts Up Front style guide was recently updated to include added sugars. This highlights the benefits of a voluntary, industry-led approach to front-of-pack labeling, the Consumer Brands Association's Gallo said.
"We're a little more nimble, and we move a little bit faster than the agency itself," Gallo said.
Inflation, Legal Risks
Lurie dismissed the notion of a voluntary shift from putting nutrition information on the back of a package, to the front.
"You don't get any interpretation, and it's voluntary," he said. "So we think it's not an adequate kind of intervention."
What many consumer groups want — an interpretive label with something like a traffic light or stop sign to warn people about certain snacks — draws fierce opposition from large food companies.
Forcing companies' hands would impose costs as food prices are already soaring, said Jason Culotta, president of the Midwest Food Products Association. Grocery costs jumped 13% in September from a year ago, according to data out last week from the Bureau of Labor Statistics.
Read More: Soaring Food Costs Further Squeeze US Consumers in Blow to Biden
Culotta said his trade group, which primarily includes canned and frozen food processors, is concerned about requiring companies to comply with another labeling change, after already shifting in accordance with the FDA's new 2016 label.
A mandate from the FDA could also face legal challenges from companies. Gallo said the Consumer Brands Association would analyze the legal ramifications of such a change, including whether the agency had the authority to force it.
The FDA needs to consider potential free-speech challenges as it writes its rule, said Jennifer Pomeranz, a public health lawyer and assistant professor at New York University. Food companies have used the First Amendment to oppose forced disclosures in the past, and such an argument could be evoked if the FDA requires a certain type of labeling. Cigarette companies won a major court case challenging certain health labels using similar free speech arguments in 2012.
"I beg agencies to please consider this," Pomeranz said, adding that commercial speech has constitutional protections and any rulemaking will need to acknowledge that. "There are hundreds of choices, and there's some clear-cut ones that would violate the First Amendment, there's some clear ones that would not — and then there's some fuzzy ones in between."
To contact the reporter on this story: Maeve Sheehey in Washington at msheehey@bloombergindustry.com
To contact the editors responsible for this story: Anna Yukhananov at ayukhananov@bloombergindustry.com; Robin Meszoly at rmeszoly@bgov.com
Stay informed with more news like this – from the largest team of reporters on Capitol Hill – subscribe to Bloomberg Government today. Learn more.