Food Insecurity for Children Spiked in 2020, New Report Says (1)
Almost 15% of U.S. households with kids faced food insecurity
Hunger jumped in the South, dipped in the Midwest
(Adds quote from Joel Berg in last two paragraphs.)
Kids in about 2.9 million homes nationwide went hungry at some point last year during the coronavirus pandemic, new Agriculture Department data show.
That's children in about 7.6% of U.S. households with kids, an uptick from 6.5% in 2019, the latest Economic Research Service study on food security reported. The annual survey helps the agency determine the extent of food access across the country.
Adding adults into the mix tipped the balance slightly higher. The pervasiveness of food insecurity for all members of households with children jumped to 14.8% in 2020, from 13.6% the year before.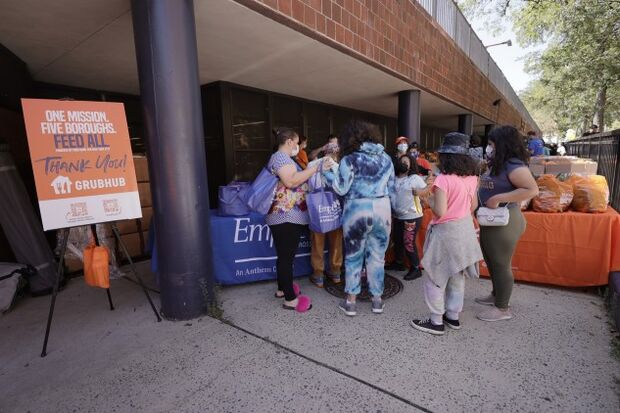 The report estimates that about 13.8 million households overall were food insecure last year. That number didn't change much from 13.7 million in the 2019 report, before Covid-19 outbreak triggered lock-downs and job losses.
The last peak for hunger was at almost 15% in 2011.
Food insecurity rose for households run by Black homeowners or renters to 21.7% percent, from 19.1%. It increased in the South and declined in the Midwest.
Among the less-hungry populations were people who live alone (women and men) as well as White-led households.
About 55% of households experiencing food insecurity reported participating in one or more of the three main federal nutrition aid programs: the National School Lunch Program, the Supplemental Nutrition Assistance Program (SNAP), and the Special Supplemental Nutrition Program for Women, Infants, and Children (WIC).
Biden to Give Biggest Permanent Boost to Food-Stamp Benefits
In 2019, that percentage was 58%. Participation in the lunch program dipped in 2020 to 19.5%, compared with 27.6% in 2019, due to the shuttering of schools.
While the Agriculture Department launched a program to feed eligible students affected by the closures, the survey didn't measure participation in that initiative.
"While tens of million of Americans suffered mightily from food hardship in 2020 – and are still suffering mightily – the nation avoided mass starvation mostly because the federal government stepped in to dramatically increase food and cash aid," said Joel Berg, CEO of Hunger Free America. "This safety net was a giant food life preserver."
Berg said the government needs to continue providing aid as delta cases surge, and more spending is needed in the long term to create jobs and increase wages.
To contact the reporter on this story: Megan U. Boyanton in Washington at mboyanton@bgov.com
To contact the editors responsible for this story: Fawn Johnson at fjohnson@bloombergindustry.com; Sarah Babbage at sbabbage@bgov.com; Robin Meszoly at rmeszoly@bgov.com