Fluor May Be Among Military Builders at Risk in Trump Wall Plan
Pentagon spent $9.2 billion on military construction in 2018
Defense Department weighs tapping into $3.6 billion for wall
"The projects that could lose funding include military training centers in Virginia, a plant to prevent water contamination at Camp Lejeune, and a cybersecurity facility in Georgia," Sen. Tim Kaine (D-Va.) said in a statement. "I hope my colleagues in Congress will take a serious look at the projects that support our military in their own states and then vote to override the president's veto."
Projected Revenue
Because the Pentagon has yet to identify specific projects that could end up paying for the border wall, the impact on individual companies is difficult to determine. Even so, the $3.6 billion Trump requested under his national emergency declaration represents more than a third of what the Defense Department spent on construction in fiscal 2018.
That could be significant for those companies that had included in their projected revenue some of the projects that could end up being scrapped at least in the short run.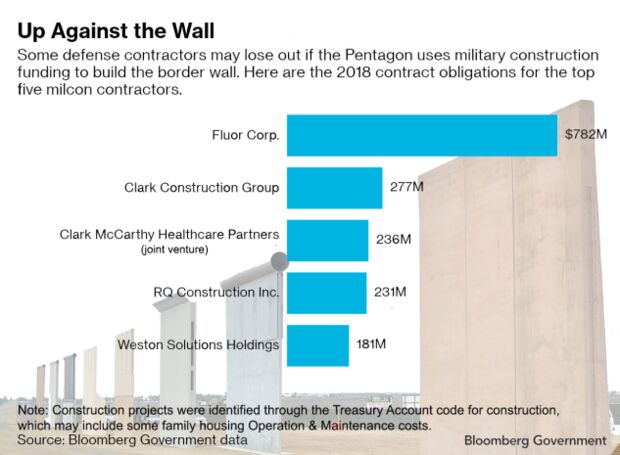 For example, the top construction contractor for the Army in fiscal 2018 was Fluor, with $779 million in contract obligations, followed by Clark Construction with $277 million, according to Bloomberg Government data.
"We are aware of the President's emergency declaration," Fluor spokeswoman Annika Toenniessen said in an e-mailed statement. "While our ongoing work for the U.S. government has not been affected to date, we are prepared to adapt to any changes that arise as a result of the declaration."
Clark is partnered with McCarthy Building Companies on a large project to build the new William Beaumont Army Medical Center complex at Fort Bliss, Texas. The project experienced several design errors and escalating costs, according to a Pentagon Inspector General report released last June. In 2018, the joint venture had contracts worth $236 million. The hospital complex is scheduled to open its doors next year. Clark Construction had no comment.
The biggest Navy construction contractor in 2018 was RQ Construction with $231 million. The company pulled in $70 million for work at Camp Lejeune and $64 million for SEAL Teams 1 and 3 facilities in Coronado, Calif.
Washington Footprint
Even though these companies dominate military construction contracts, only one has an established Washington footprint through political action committees and lobbying contracts.
Fluor's PAC spent $723,600 on political contributions during the 2018 election cycle, according to data collected by the Center for Responsive Politics. House Minority Leader Kevin McCarthy (R-Calif.), Rep. Kevin Brady (R-Texas), and Democratic Whip Jim Clyburn (D-S.C.) are among the top recipients with $10,000 each. In the Senate, Kaine, Kevin Cramer (R-N.D.), Martin Heinrich (D-N.M.) and Jon Tester(D-Mont.) were among the beneficiaries of the company's PAC.
Fluor has a hefty lobbying presence in Washington. In 2018, the company spent $5.3 million lobbying Congress and the executive branch, according to the Senate's lobbying disclosure database.
Clark, RQ Construction, and McCarthy Building Companies don't have PACs or lobbying presences in Washington. Individual employees made some donations, including Clark's Peter Forster, a Board of Managers member who made donations to the National Republican Congressional Committee, the Republican National Committee, and the campaigns of Sens. Josh Hawley (R-Mo.) and Martha McSally (R-Ariz.), according to data compiled by the Center for Responsive Politics. RQ Construction employees didn't make donations in 2018, but donated to Trump and Sen. Ted Cruz in 2016.
Other companies did not respond to requests for comment.
With assistance from Jodie Morris
To contact the reporters on this story: Robert Levinson in Washington, D.C. at rlevinson@bgov.com; Roxana Tiron in Washington at rtiron@bgov.com
To contact the editors responsible for this story: Paul Hendrie at phendrie@bgov.com; Robin Meszoly at rmeszoly@bgov.com