Florida Wants to Out-Gerrymander New York: Ballots & Boundaries

Republicans would probably gain four more seats in Congress — perhaps enough to oust Speaker Nancy Pelosi and the Democrats from control — under a new district map put forward by Gov. Ron DeSantis.
It's an aggressive gerrymander that includes 20 districts that went for Donald Trump in the 2020 presidential election and leaves eight districts that favored Joe Biden.
That map on its own would be enough to offset any advantage Democrats would gain if their New York configuration continues to survive court challenges.
The Florida map, which would also have to withstand legal challenges, probably would kick a Black incumbent out of Congress.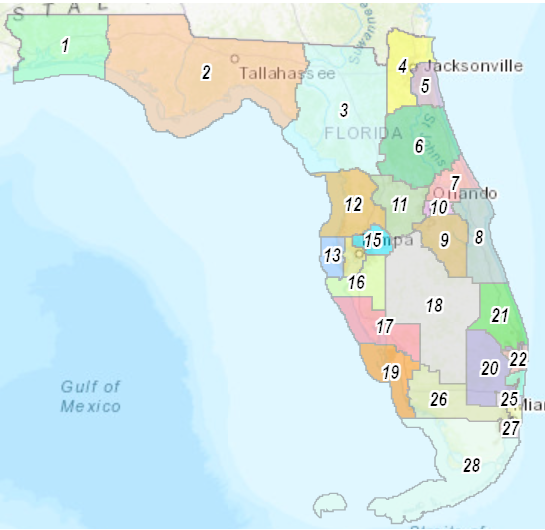 Florida gained a seat in reapportionment, and Republicans control the state legislature, so GOP gains were a given in redistricting. The size of those potential gains goes from big to super-max under the new DeSantis proposal. Republicans hold 16 of the 27 current districts.
The state legislature has a special session next week to vote on redistricting. After DeSantis (R) vetoed the lawmakers' first try, the leaders said they'd defer to him even though line-drawing is their responsibility and the governor has no defined role in the process other than the veto-or-sign decision.
See also: DeSantis on Track to Get What He Wants
The map proposed by DeSantis targets Rep. Al Lawson (D) by dismantling that Black-plurality and heavily Democratic Tallahassee-to-Jacksonville district, which the governor described as "a 200-mile gerrymander that divvies up people based on the color of their skin."
A plurality of Lawson's constituents would live in the proposed 4th District, which went for Trump by 7 percentage points. Lawson is from Tallahassee, which would be wholly in the proposed 2nd District, which went even bigger for Trump — an 11-point margin. If Larson decided to run where he lives, Rep. Neal Dunn (R) would be favored.
It would switch areas now represented by Stephanie Murphy(D) and Charlie Crist(D) from pro-Biden districts to pro-Trump districts. Neither is seeking re-election: Murphy is retiring, and Crist is running for governor.
The map would shift Democrats from Pinellas County (St. Petersburg) in Crist's district to the Tampa-based district of Rep. Kathy Castor (D) across the bay.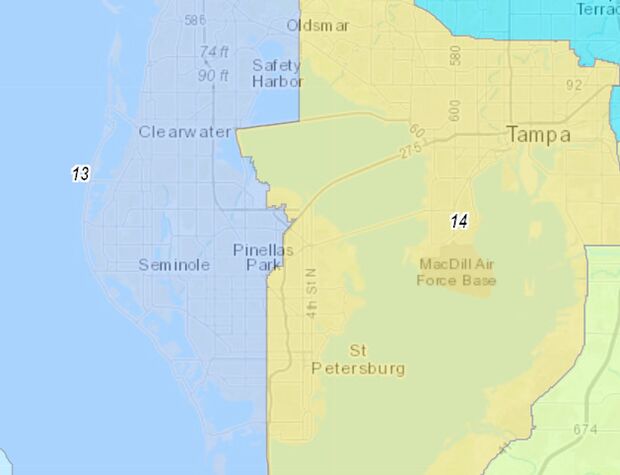 The DeSantis configuration also would shore up first-term Rep. Maria Elvira Salazar (R), by erasing the 3-point Biden edge in her south Florida district. On paper, the revisions look like they set up a swing seat, but generally the party in the White House loses ground in midterm elections, so the political environment would favor Salazar.
As DeSantis moved to neutralize the Democrats by putting them into seats where they'd be outnumbered, that meant giving some in his own party less heavily-Republican districts. Case in point: Dunn, who now has the district that went the biggest for Trump — by 35 percentage points.
Going from Trump +35 to Trump +11 might seem like he's being told to take one for the team.
The state Senate's redistricting chair Ray Rodrigues (R) said he's backing the DeSantis plan.
And a Democrat who's seeking her party's gubernatorial nomination said there's no reason for the minority party to even show up.
"I'm calling the rest of my Democratic colleagues in the legislature to join me in the cojones caucus and boycott this upcoming special session," state Sen. Annette Taddeo (D) said on Twitter.
Caught Our Eye
Looking Ahead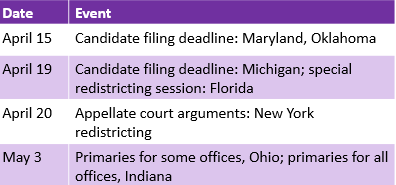 Resources
Add Us to Your Inbox
Click HERE to sign up for Ballots & Boundaries, your check-in on redistricting, state voting laws, and initiatives.
To contact the reporters on this story: Greg Giroux in Washington at ggiroux@bgov.com; Jennifer Kay in Miami at jkay@bloomberglaw.com
To contact the editors responsible for this story: Katherine Rizzo at krizzo@bgov.com; Bennett Roth at broth@bgov.com