Florida Citizens Decide Issues, Then Lawmakers Ignore Them (1)
Ballot initiatives need approval from 60% of voters
New law limits contributions to ballot initiatives
(Updates with ruling in lawsuit.)
Bloomberg Government subscribers get the stories like this first. Act now and gain unlimited access to everything you need to know. Learn more.
Florida voters may have thought they had the last word when they approved ballot initiatives legalizing medical marijuana, restoring voting rights to former felons, and raising the minimum wage.
That's not how lawmakers see it.
"One of the main reasons that people use the initiative process of Florida is to bypass the Legislature," said University of Central Florida state politics expert Aubrey Jewett. "On an issue that the Legislature doesn't like, they have a long record of trying to undermine whatever was passed."
Plus lawmakers keep moving the goalposts, requiring larger percentages of the vote to win, adding restrictions on raising money, and making it harder to get initiatives on the ballot in the first place.
A proposal being offered for the 2022 ballot grew out of that tension between legislators and voters.
Advocates successfully campaigned in 2018 to automatically restore voting rights to former felons, but they were thwarted by a 2019 legislative requirement withholding those voting rights until ex-felons paid all court-ordered fees, fines, and restitution.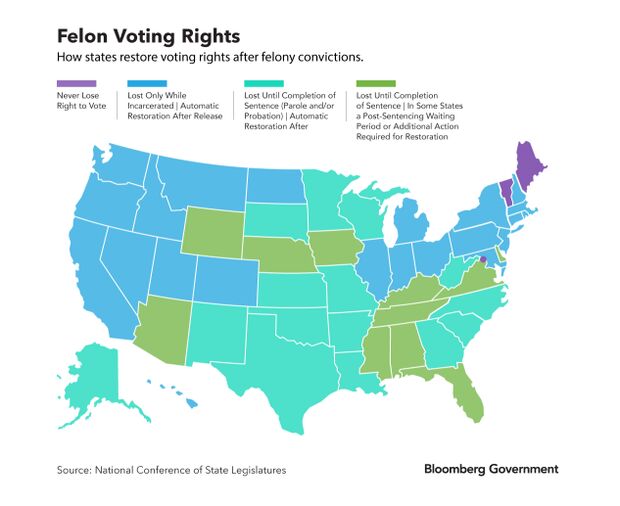 Now a new group of advocates wants to amend the state's constitution to spell out that voting eligibility couldn't be denied because of any debt, including legal financial obligations.
If the proposal clears Florida's hurdles for ballot placement and wins approval from at least 60% of voters, tens of thousands of former felons would be able to register and vote in the next presidential election—unless the elected officials in Tallahassee figured out another workaround.
'Slap in the Face'
An election-approved change involves "millions of voters saying, 'We want this.' And then to come behind the process and gut it or neutralize it with legislation after the fact is startling," said Glenn Burhans, a Stearns Weaver Miller attorney who has worked on numerous ballot initiatives.
"On some of those issues, it could be rightly viewed as a slap in the face to millions of Florida voters," he said.
Burhans chaired a group behind an open primary initiative on Florida's 2020 ballot; it pulled 5.8 million votes, or 57%, with 60% needed for adoption.
(To sign up for our weekly newsletter on what states are doing to change voting laws and reconfigure political boundaries, CLICK HERE .)
The ex-felon suffrage initiative won with nearly 65% of the vote. Two years earlier, a medical marijuana constitutional amendment got 71.3% on its second appearance before voters (in 2014, it had pulled 57.6%).
After the pot vote, lawmakers in 2017 added a "vertical integration" requirement that companies can get licensed only if they handle all aspects of the medical marijuana businesses, including growing and distributing products. The Florida Supreme Court upheld that law over a business' challenge this year.
It was a different set of judges, on the U.S. Court of Appeals for the Eleventh Circuit, that diminished the suffrage outcome, ruling that ex-felons failed to prove the payment requirement violates the 14th Amendment's equal protection and due process clauses or the 24th Amendment's prohibition on poll taxes.
"I think one reason why ballot initiatives have become so frequent in Florida is because the legislature has proven itself impervious to the public will," said Micah Kubic, executive director of ACLU Florida.
In 2006, voters approved a Republican effort to raise the bar for voter approval to 60%, instead of a simple majority. This year, Republicans sponsored bills to raise the approval threshold still higher, but both bills in the House and Senate failed.
Financial Hurdles
Under new requirements for citizen initiatives, sponsors must collect nearly 900,000 signatures, including over 220,000 needed to trigger a Florida Supreme Court review of the amendment language for the ballot.
Legislators this year also capped individual financial contributions to political committees that are pushing ballot initiatives during the signature-gathering phase. The ACLU of Florida has sued the state in federal court over that new law (S.B. 1890), saying it curtails free speech and hurts citizen efforts during the most expensive phase.
A judge blocked the Florida Elections Commission from enforcing the law in a ruling Thursdaygranting the ACLU's motion for a preliminary injunction.
The state had argued that a $3,000 cap on individual contributions prevents special interests or even a single donor from dominating the process.
"Without this underlying assurance, petition signers will be less able to make informed choices about whether to sign," the Florida Elections Commission said in a June 15 court filing. "The harm to the state substantially outweighs the harm to the plaintiffs."
The political cause and effect is a straight line, Burhans said. Initiative sponsors have to raise a lot of money early in the process to meet new requirements, then the Legislature argues that the money-raising needs to be limited.
"They now say, 'Well, we have to limit campaign contributions to preserve the integrity of the system—P.S., because we made it so expensive,'" he said.
On to 2022
Efforts are underway to try to qualify three voting initiatives for the 2022 ballot. The ACLU of Florida is among the groups backing them.
One would automatically register eligible voters when they get their driver's licenses, unless they opt out. Another would allow registering and voting at the same time during early voting and on Election Day. The third is the "Voting Eligibility Restoration Amendment" crafted out of frustration with the limited impact of the 2018 constitutional change.
Not only were the ex-felons required to pay debts, they had an added layer of difficulty because no state database shows how much each person owes, and record-keeping varies county by county.
State Sen. Jeff Brandes (R), who helped write the 2019 restitution law, predicts the latest effort will fail. There's no new information on the issue likely to sway voters, he said, and "based on the polling that I've seen, it won't pass."
Michael Bloomberg, the majority owner of Bloomberg Government's parent company, raised over $16 million in 2020 to pay the court costs and fines of nearly 32,000 ex-felons in Florida.
Though the GOP is in charge right now, initiative veteran Burhans said the tug-of-war between voters and Tallahassee is a Florida thing, "not a Republican or Democrat thing."
"That's how the system operates, and it's not a Republican or Democrat thing," Burhans said. "It's whoever's in power, if they don't like what somebody's trying to do via the initiative process, they'll take steps to counterbalance it or counteract it."
To contact the reporter on this story: Jennifer Kay in Miami at jkay@bloomberglaw.com
To contact the editors responsible for this story: Katherine Rizzo at krizzo@bgov.com; Cheryl Saenz at csaenz@bloombergindustry.com
Stay informed with more news like this – from the largest team of reporters on Capitol Hill – subscribe to Bloomberg Government today. Learn more.