Florida, Arizona Seek Abortion Limits Before Supreme Court Rules
Florida House will vote Wednesday on 15-week abortion ban
Vermont voters will consider abortion protections this fall
Bloomberg Government subscribers get the stories like this first. Act now and gain unlimited access to everything you need to know. Learn more.
Florida could be next to enact abortion restrictions as legislators try to position their states to curtail the procedure if the U.S. Supreme Court reverses Roe v. Wade.
If Florida's effort is successful, two of the nation's three most populous states—along with 19 or more smaller states—would be able to automatically implement new restrictions.
Lawmakers in Arizona took an initial vote Tuesday, and Florida's on track to do the same on Wednesday as activists across the U.S. push to get new abortion laws on the books or in position for voter referenda before the high court acts. Already, an abortion-rights measure is certified for the ballot in Vermont.
The impending decision from the U.S. Supreme Court on a Mississippi law banning abortions after 15 weeks of pregnancy adds urgency to Florida's effort to enact similar legislation (H.B. 5), Rep. Erin Grall (R) said on the Florida House floor.
"Working within that infrastructure of 15 weeks gives Florida its best opportunity to save a significant number of babies very quickly after the court's decision," she said.
In Arizona, the state Senate voted 16-13 to advance a measure (S.B. 1164) that would ban abortions after 15 weeks and impose penalties on doctors for violations. That bill next goes to the Republican-led House of Representatives for consideration.
"Viability is no longer going to be the standard going forward, a lot of us believe," said the bill's sponsor, Sen. Nancy Barto (R).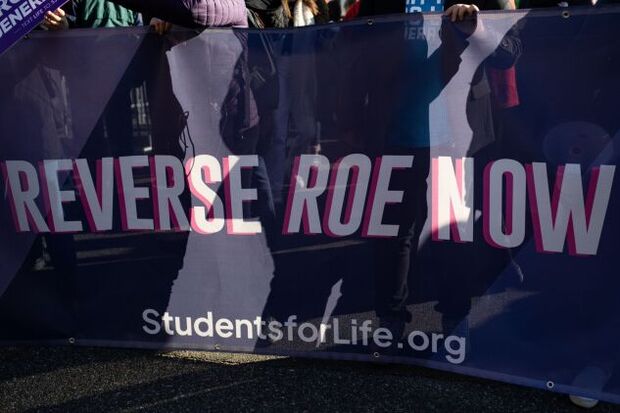 In an open letter to lawmakers, hundreds of health-care workers in Florida criticized the legislation as an "alarming attempt to improperly insert politics into the patient-clinician relationship" in a state with "widening and unsustainable" gaps in access to health care.
"Since when has Florida ever wanted to model states like Mississippi, where their health disparities are so pronounced compared to other states?" state Rep. Anna Eskamani (D) said in a phone interview before the Florida House began debating its bill.
Over 20 states have laws restricting or banning abortions, should the court overturn Roe, according to the Guttmacher Institute, which supports abortion rights. Fifteen states and the District of Columbia have laws protecting abortion rights.
State lawmakers may be debating changes to local abortion laws, but national politics drive the conversation.
"Candidly, I think for me, the fight is not necessarily about what happens in the chamber. It's about the folks who are watching us and helping Floridians and Americans understand what's at stake in 2022 when it comes to bodily autonomy and reproductive rights," Eskamani said.
'Tribal Call'
The legislative proposals reflect a Republican tribal call, said Ilene Jaroslaw of Phillips Nizer LLP, a former senior staff attorney for the Center for Reproductive Rights.
"The specifics of the bills don't matter very much. It's really a way of saying, 'This is our team,'" Jaroslaw said in a phone interview.
Should the Supreme Court uphold Roe v. Wade, Republican lawmakers will continue to push for more restrictions, she said.
"Five or six years ago, when the demise of Roe v. Wade seemed like a pipe dream for Republicans, they still passed these laws."
Pending Bills
The Wisconsin Senate is set to take up a bill (S.B. 923) that would ban abortions if doctors find a fetal heartbeat. The legislation emulates a Texas law that allows individuals to sue doctors alleged to have violated the statute.
"We must start that good work here in Wisconsin as soon as possible," Sen. Julian Bradley (R) said in a statement.
But if it passes the Republican-controlled Wisconsin Legislature, the bill likely faces a veto by Gov. Tony Evers (D).
A bill introduced in Oklahoma (S.B. 1553) would ban abortions "after 30 days have elapsed since the probable beginning of the last menstrual period of the pregnant woman."
Conversely, California lawmakers want to reduce the costs of abortion for women. Abortion is considered a "basic health care service" in California, and average out-of-pocket costs for any abortion services total $543, according to a legislative analysis for a bill (S.B. 245) that would stop insurers from charging for abortion-related services.
Ballot Questions
In November, Vermont voters will consider a proposed constitutional amendment (P.R. 5) protecting "personal reproductive liberty" in the state.
The proposed amendment follows a 2019 state law preserving the right to abortion in Vermont.
Kansas lawmakers put a proposed constitutional amendment (H.C.R. 5003) on the August ballot asking voters to change the state constitution to specify that nothing in that document protects the right to abortion or funding for abortions.
Kentucky lawmakers approved a similar proposed constitutional amendment (H.B. 91) for the November ballot.
In Montana, lawmakers added to the November ballot a proposed state statute (H.B. 167) that would require medical care be provided to infants born alive and impose a fine up to $50,000 and up to 20 years in prison for health-care providers convicted of violating the provision.
Enshrining abortion protections into a state constitution is necessary now because U.S. Supreme Court decisions since the 1990s have allowed lawmakers to chip away at protections for reproductive choices, Rep. Ann Pugh (D) said Feb. 8 before the Vermont House of Representatives.
"We can no longer rely on federal courts to uphold protections for fundamental reproductive rights based on the federal Constitution," she said.
With assistance from Brenna Goth, Stephen Joyce, and Joyce E. Cutler
To contact the reporter on this story: Jennifer Kay in Miami at jkay@bloomberglaw.com
To contact the editors responsible for this story: Katherine Rizzo at krizzo@bgov.com; Tina May at tmay@bloomberglaw.com
Stay informed with more news like this – from the largest team of reporters on Capitol Hill – subscribe to Bloomberg Government today. Learn more.