Five Takeaways for Contractors from the $1.9T Covid Stimulus
Bloomberg Government subscribers get the stories like this first. Act now and gain unlimited access to everything you need to grow your opportunities. Learn more.
President Biden delivered on his pledge of a $1.9 trillion Covid-19 aid package to assist Americans struggling with economic hardships caused by the global pandemic.
Signed March 11, the American Rescue Plan Act of 2021 (PL 117-2) includes $1,400 direct payments to millions of Americans, extends supplemental unemployment assistance, expands healthcare subsidies, provides guaranteed incomes for families with children, and offers aid for state and local governments, among its many provisions.
The 628-page document also contains billions of dollars in stimulus funding accessible by federal contractors. This includes additional spending on vaccine and pharmaceutical production and distribution, information technology, cybersecurity, and professional services.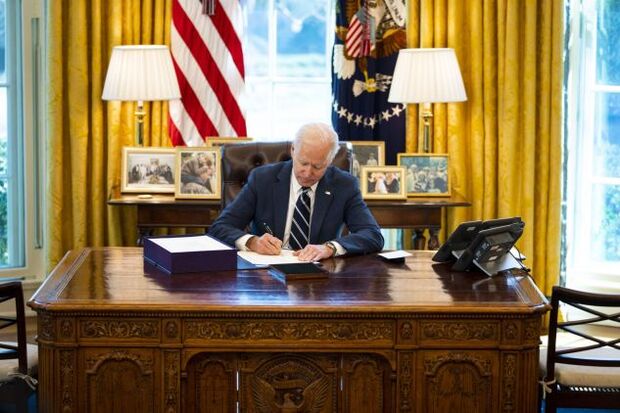 Below are the top five takeaways for federal contractors from the $1.9 trillion stimulus package:
1. Billions of dollars in contractor-accessible funding to fight the Covid-19
The American Recovery Act offers the Department of Health and Human Services (HHS) tens of billions of dollars in supplemental funding to combat Covid-19. The aid package includes relief for healthcare systems around the country, including $8.5 billion for rural healthcare providers, $7.6 billion for community health centers, $6.1 billion for tribal health programs, and $14.5 billion for veterans' healthcare.
Billions more could be directly accessible by federal contractors. The largest single line item is $48.7 billion for testing and contact tracing. New cases of coronavirus in the U.S. have fallen dramatically in recent weeks to less than 50,000 per day, according to Bloomberg data. But eradicating the virus will require establishing a robust test-and-trace infrastructure, requiring collaboration between healthcare networks and federal, state, and local governments. There are already dozens of active solicitations for Covid-19 testing and contact tracing and this funding could generate further activity.
Funds available include $6 billion for production of additional vaccines and pharmaceuticals and $500 million for vaccine and pharmaceutical testing by the Food and Drug Administration (FDA). It also contains $1.8 billion in research and development funding to sequence the genome of new coronavirus variants in an effort to prevent a resurgence in cases. HHS has obligated more than $5 billion on contracts for vaccine and pharmaceutical R&D since the pandemic began, with billions more coming from the Defense Department under Operation Warp Speed.
The Centers for Disease Control and Prevention (CDC) will further receive $500 million to modernize its health data infrastructure, a move likely to generate contracting activity in the data analytics and cloud computing markets. The funding is aimed at enabling the Atlanta-based agency to better track Covid-19 and its variants, and to forecast future biological threats.
In addition to HHS, the National Science Foundation (NSF) and the National Institute for Standards and Technology (NIST) will receive $600 million and $150 million, respectively, for R&D activities related to the pandemic. NSF and NIST spent only a few million dollars on contracts related to Covid-19 response efforts. Instead, they're more likely to disburse funding in the form of grants.
2. Federal IT modernization gets a billion-dollar boost
The aid contains $1 billion additional funding for the Technology Modernization Fund (TMF), a revolving capital fund overseen by the federal chief information officer. The fund was established to help agencies invest in cross-agency digital services and cybersecurity initiatives — using resulting cost savings to repay the fund. The influx of resources available could enable members of the TMF board to issue a higher number of awards each year, increase the amount of funding available for awards each year, or broaden the pool of projects eligible for funding, including transformational IT projects traditionally deemed too high-risk.
Initial proposals from Biden officials called for as much as $9 billion in supplemental funding for the TMF. But that figure was subsequently trimmed amid weeks of negotiations. Still, $1 billion dwarfs the $175 million lawmakers allotted the TMF in the previous four budget cycles. Funding will remain available until the end of fiscal 2025.
To date, the TMF board has funded 10 projects, issuing a combined $79.4 million for deserving IT projects. The expansion of TMF funding represents a significant opportunity for federal contractors pursuing opportunities in digital services, cloud computing, web development and design, or data analytics.
In addition to the $1 billion set aside for the TMF, the plan includes $200 million for the U.S. Digital Service (USDS), a team of in-house technology experts agencies can consult when planning or implementing IT projects. The USDS could use that funding to hire additional staff trained in agile software development, cloud computing, and artificial intelligence to serve as resources for agencies and contractors alike.
The stimulus package also contains $150 million for the Federal Citizen Services Fund (FCSF) administered by the General Services Administration's Technology Transformation Service (TTS). The FCSF pays for shared resources and training in support of technology modernization efforts. It also funds provisions of the 21st Century Integrated Digital Experience Act (IDEA) and improvements to the Federal Risk and Authorization Management Program (FedRAMP). With more cash on hand, the TTS could accelerate the federal government's transition to fully paperless, web-based services, or expand the pool of pre-vetted cloud service providers authorized to operate in the federal market.
3. CISA gets $650 million to beef up government cyber defenses
Under the new law, the Cybersecurity and Infrastructure Security Agency (CISA), an arm of the Department of Homeland Security, would receive $650 million over the next 30 months to strengthen the federal government's cybersecurity posture. This represents a major boost to an agency tasked with protecting the ".gov" domain of civilian networks and the nation's critical infrastructure — and that has faced years of budget uncertainty, according to top officials.
This comes in the wake of the SolarWinds data breach that affected possibly dozens of federal agencies. The breach ranks among the most damaging in U.S. history. And CISA's key cyberdefense systems, a perimeter system known as EINSTEIN, and a suite of network monitoring tools under the Continuous Diagnostics and Mitigation (CDM) program, failed to detect it.
CISA has a fiscal 2021 budget of $1.8 billion, about $800 million of which is for IT programs. An additional $650 million over the next three fiscal years could generate new contracting activity related to the EINSTEIN or CDM programs, or a range of other programs aimed at fostering public-private partnerships on cybersecurity and threat information sharing. Federal cybersecurity contract spending reached $8 billion in fiscal 2020, according to Bloomberg Government data, a figure likely to climb in fiscal 2021.
4. Contractors receive six additional months of Covid shutdown relief
The law will extend a provision offering relief to federal contractors adversely impacted by Covid-19-related stop-work orders. The measure, initially introduced under Section 3610 of the Coronavirus Aid, Relief, and Economic Security (CARES) Act (PL 116-136), allows contractors to bill the federal government for paid leave to keep employees in a "ready state" if the nature of the contract makes remote work impossible. The relief, set to expire at the end of March, will be extended until the end of September 2021. However, congress did not appropriate supplemental funding for Section 3610 payments, forcing federal budget officials to make tradeoff decisions.
A December 2020 report from the DOD inspector general found defense agencies had reimbursed contractors for more than $68 million under Section 3610, as of the end of fiscal 2020. That figure has no doubt risen in the first two quarters of fiscal 2021.
5. SBA extends protections for small-business contractors
The stimulus package extends relief for small businesses impacted by Covid-19 and the subsequent recession, including eligible small federal contractors. It also extends the Paycheck Protection Program (PPP) and raised its lending authority to $814 billion. It also includes $15 billion for the Economic Injury Disaster Loan (EIDL) program, of which $10 billion must flow to eligible businesses that did not receive full loan payments in fiscal 2020 due to lack of funds.
The bill also contains $840 million for SBA administrative costs to continue carrying out the PPP and $390 million to administer the disaster loan program, both of which could drive new contracting activity. The SBA paid Herndon, Va.-based RER Solutions Inc.$760 million in emergency loan support services in fiscal 2020.
In addition to these five items, federal contractors can expect to see activity in other areas, such as emergency preparedness and response, as well as rural broadband installation. The bill includes $50 billion for the Federal Emergency Management Agency and $7.2 billion for an "emergency connectivity fund" benefiting libraries and schools.
To contact the analyst on this story: Chris Cornillie in Washington at ccornillie@bgov.com
To contact the editor responsible for this story: Michael Clark at mclark@ic.bloombergindustry.com
Stay informed with more news like this – the intel you need to win new federal business – subscribe to Bloomberg Government today. Learn more.