Final House Filing Deadline Passes With Record 584 Women Running
The final candidate filing deadline in Louisiana on July 24 made it official: The 2020 election cycle has a record 584 women from the two major parties running for the House.
This year's tally includes 227 Republican women, easily eclipsing the party's previous record of 133 set in 2010, and 357 Democratic women, edging by one the party's previous high water-mark two years ago.
The total represents a 23% increase over the previous record of 476 women who sought House seats in 2018, according to data compiled by the Center for American Women and Politics at Rutgers University. Despite the record tally, women accounted for 29% of House candidates this year. They hold 23% of the seats in the current 116th Congress.
"In 2020, we're surpassing the records of just two years ago, an encouraging sign that we could be entering a new era of women's political participation," CAWP Director Debbie Walsh said in a statement. "But electoral progress for women should be the norm, not the exception, in a political system where women remain significantly underrepresented as officeholders."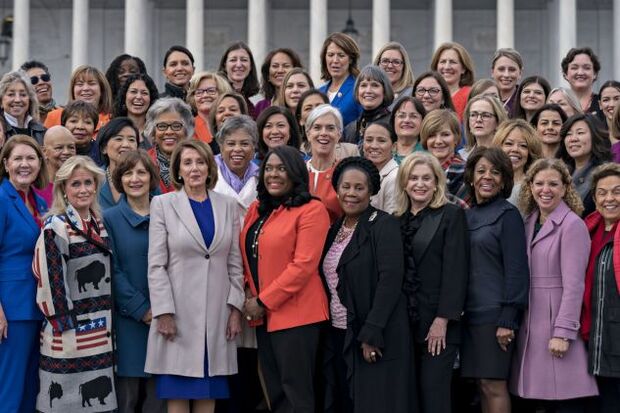 The 584 filings encompass all House districts, most of which are politically not competitive, and it include women who lost in primaries earlier this year. The number of women who advance to the Nov. 3 general election and join the 117th Congress in January will be thinned further by defeats in the remaining primaries and in the general election.
Read More: A Record Number of Women Are Running for Congress Again
There are 19 states that must still hold primaries. Democratic women are the nominees in 135 districts so far and Republican women are the nominees in 63 districts, CAWP data show. The GOP's previous high for House women nominees was 53 in 2004.
Republican women in Congress, led by Reps. Elise Stefanik (N.Y.) and Susan Brooks (Ind.), concentrated on recruiting and funding more Republican women following a 2018 election that left the House Republican Conference with just 13 women, compared with 88 Democratic women. The current 116th Congress began with a record 102 women in the House, including Katie Hill (D-Calif.), who resigned in November.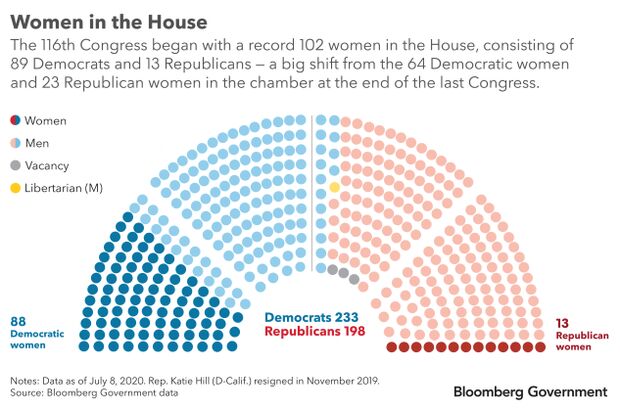 Republican women promoted by party leaders and strategists include Ashley Hinson, an Iowa state representative and former TV journalist who's opposing first-term Rep. Abby Finkenauer; Nancy Mace, a South Carolina state representative challenging first-term Rep. Joe Cunningham; Beth Van Duyne, a former Irving mayor who faces Candace Valenzuela (D) for the seat of retiring Rep. Kenny Marchant (R-Texas); and Michelle Steel, a supervisor in Orange County, Calif., who's challenging Rep. Harley Rouda.
Read More: A Record Number of Women Running for the House, Again (Podcast)
There have been some losses on the GOP side. Renee Swann, a Texas businesswoman backed by retiring Rep. Bill Flores (R), lost a runoff this month to ex-Rep. Pete Sessions. North Carolina businesswoman Lynda Bennett lost a primary runoff for the seat of ex-Rep. Mark Meadows, who had endorsed her. Meanwhile, Rep. Martha Roby (R-Ala.) and Brooks aren't seeking re-election, though two women were nominated in the open-seat race to replace Brooks.
Democrats also are looking to augment female representation. Women account for 26 of the 30 candidates on the Democratic Congressional Campaign Committee's Red to Blue list of nominees it says are waging competitive campaigns in Republican-held districts. Just three of the 88 Democratic women in the House aren't seeking re-election.
Fourteen Democratic women are seeking re-election from districts President Donald Trump won in 2016. All of them are first-term members except DCCC Chairwoman Cheri Bustos (Ill.), who's politically secure.
To contact the reporter on this story: Greg Giroux in Washington at ggiroux@bgov.com
To contact the editors responsible for this story: Bennett Roth at broth@bgov.com; Kyle Trygstad at ktrygstad@bgov.com