Fight to Close Digital Divide Gets Record $2.75 Billion Bump (1)
Legislation also addresses digital literacy training
Funding to address affordability as well as access
(Updates with statement from Commerce Secretary Gina Raimondo in fifth paragraph.)
Bloomberg Government subscribers get the stories like this first. Act now and gain unlimited access to everything you need to know. Learn more.
A $550 billion bipartisan infrastructure package the House cleared Friday includes a record $2.75 billion in state grants to help millions of Americans access and use technology—a great start, advocates say, but more is needed.
The Covid-19 pandemic illustrated in stark terms the importance of broadband connectivity, both for working Americans and especially for children, many of whom were forced to attend classes virtually across the country during the darkest days of the pandemic. The legislation (H.R. 3684) would help low-income and minority populations who lack at-home internet, and train adult populations on how to use computers to help apply for jobs.
"If there's connectivity, and a computer but there's nobody to provide support, then it's a really important missing component," said Angela Siefer, the executive director of the National Digital Inclusion Alliance, a nonprofit focused on broadband access that advocated for digital equity funding in the infrastructure package.
The legislation, passed by the House in a 228-206 vote following Senate passage by a 69-30 vote on Aug. 10, heads to the White House for President Joe Biden's signature. The Biden administration has made expanding broadband access and affordability a key priority to bridge the digital divide.
BGOV Bill Summary: H.R. 3684, Bipartisan Infrastructure Deal
"Broadband is the gateway to economic opportunity and so in order to open that gateway we're putting equity at the center of everything we do," Commerce Secretary Gina Raimondo said in a White House press briefing Tuesday.
The Commerce Department is charged with dispersing approximately $42 billion in funding from the infrastructure package to states to ensure all Americans have access to affordable, high-speed broadband internet. That includes providing at least $100 million in grants to each state, Washington, D.C., and certain territories.
"To truly transform our economy into one that works for all Americans and one that will make our country more competitive on the world stage, we have to make investments in a way that is equitable and just," Raimondo said.
Vice President Kamala Harris said during a White House event focused on the digital divide in May, "The disparities are clear: fewer Black and Brown Americans use home broadband than white Americans.
"When people are cut off from high-speed internet, they are also cut off from opportunity," she said.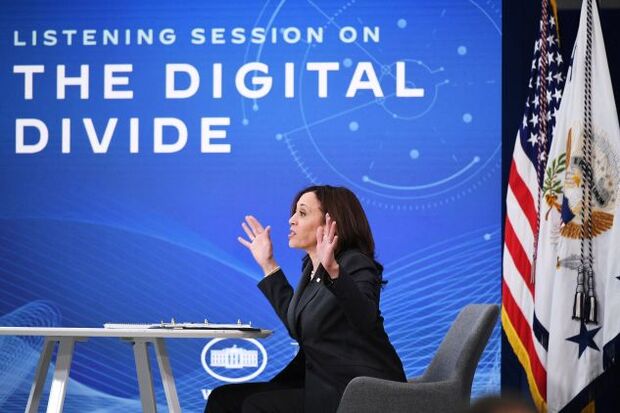 The package includes language from the bipartisan Digital Equity Act (S. 2018), originally introduced by Sens. Patty Murray (D-Wash.), Angus King (I-Maine) and Rob Portman (R-Ohio). It provides resources for digital literacy and skill training for individuals to learn how to use the internet, with a particular focus on low-income populations and those with disabilities.
"The hope we have for the Digital Equity Act is that there will be more resources to be able to fill in more of the gaps of where there aren't enough of these programs or they don't have the resources they need to fully function and meet the needs of their communities," Siefer said.
The goal is for the funding to assist those who lost their jobs during the pandemic. Approximately one-third of unemployed individuals lack the digital training to be able to apply for new jobs, according to Greg Guice, director of government affairs at the nonprofit broadband and technology policy group Public Knowledge.
"This could actually change your life," Guice said of the digital training programs. "It can be transformative."
Affordability Drives Broadband Adoption
The Biden administration has been focused on expanding affordable broadband internet to Americans who don't subscribe to a wireline broadband service, which is approximately 36 million households, according to 2019 U.S. Census data.
The digital divide has shifted over the years and is now more about affordability, data show. Of the 36 million homes without internet, 26 million are in urban areas where access is typically widely available, and 10 million are in rural areas with little or no broadband access, according to the Census data.
"That tells you that for at least 26 million, it's about affordability and being able to use it," Siefer said.
Homelessness, language barriers, perceived relevancy of the internet and fear of technology all drive lack of adoption, said Mylayna Albright, AT&T Inc.'s assistant vice president of corporate social responsibility.
The legislation would create new grant programs over five years that would be administered by the National Telecommunications and Information Administration, including: $1.44 billion for state implementation grants; $1.25 billion for competitive grant programs that individual groups, coalitions or communities can apply for; and $60 million for state planning grants.
The bill also would direct states that want to apply for these grants to submit digital equity plans to NTIA for review prior to receiving funding. The state plans have to provide economic and workforce development goals, including educational, health and civil engagement outcomes.
The plans also must identify potential stakeholders a state would partner with to deploy digital equity programs, including community institutions like libraries, municipal governments, educational agencies, nonprofits, and organizations representing individuals who are disabled, aging and face language barriers.
Internet providers also back the expansion of federal digital equity resources. To date, telecommunications companies have partnered with nonprofits to help fund digital literacy programs in local communities. For example, AT&T announced in late September that as part of its recent $2 billion investment in bridging the digital divide, it will open more than 20 centers with partner organizations to provide free internet, computers and education resources for local communities.
"It's going to take many corporations, residents and lawmakers to help solve the digital divide," Albright said. "The issue is very complex and it's going to take more than access to connectivity and/or devices to the narrow the gap."
More Funding Needed
Many advocates said the $2.75 billion is a good initial down payment but won't bridge the digital divide, and more funding will be necessary.
One potential funding source would be for Congress to designate proceeds from auctions of the public airwaves conducted by the Federal Communications Commission to fund digital equity programs.
Guice called the $2.75 billion "extremely meaningful" but added, "more will need to be done and those are the types of funding levels that you could probably accommodate through auction proceeds."
Siefer said the digital divide is a moving target.
"Until we really start addressing systemic kind of change, where there are institutions that are always addressing the next digital divide, technology is going to keep changing and how we use it is going to keep changing," she said.
"So we have to be prepared for that and help address it before it gets out of control."
To contact the reporter on this story: Rebecca Kern in Washington at rkern@bgov.com
To contact the editors responsible for this story: Giuseppe Macri at gmacri@bgov.com; John Dunbar at jdunbar@bloomberglaw.com
Stay informed with more news like this – from the largest team of reporters on Capitol Hill – subscribe to Bloomberg Government today. Learn more.