Fentanyl Ban Complicates Biden's Plan to Shift Drug Policy (1)
Civil rights groups want fentanyl-like substance ban to end
A record 85,000 Americans died from drug overdoses in 2020
(Updates throughout with hearing comments from the head of the ONDCP and Rep. Anna Eshoo.)
Bloomberg Government subscribers get the stories like this first. Act now and gain unlimited access to everything you need to know. Learn more.
President Joe Biden is facing a crucial test of his promise to reduce overdose deaths in the U.S. through addiction treatment, civil rights and drug policy groups say.
The imminent expiration of a ban on highly addictive fentanyl analogues could complicate Biden's preferred approach, which is focused on safe and supervised opioid use, medication-assisted treatment, and reducing the flow of illicit substances into the U.S. Those policies diverge from the previous administration's, which embraced crackdowns on the opioid trade alongside addiction treatment.
Federal prosecutions tied to fentanyl increased 3,600% between fiscal 2015 and 2019, according to a U.S. Sentencing Commission report, and most of those prosecuted were people of color, civil rights groups say. They're looking to the Democratic president to curb that trend.
"The Biden administration and leaders in Congress are faced with their first major test on criminal justice reform," Hilary Shelton, director to the NAACP's Washington Bureau, told reporters Monday.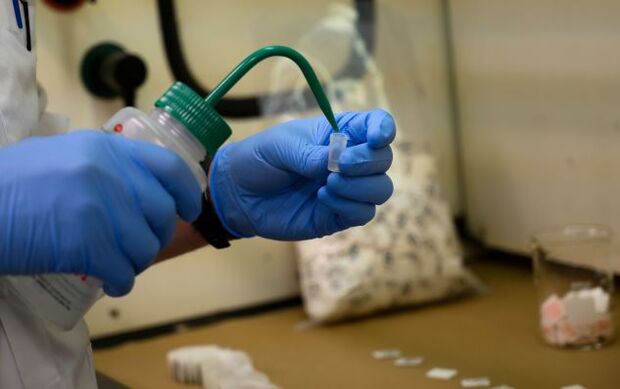 Fentanyl Restrictions
The House Energy and Commerce Committee Wednesday considered Republican-led legislation (H.R. 1910) to make permanent the temporary classification of fentanyl-like substances as one of the most strictly controlled drugs. That classification expires May 6.
Regina LaBelle, acting head of the Office of National Drug Control Policy, told lawmakers at the hearing that they should temporarily extend the classification of fentanyl while the administration looks at how to tackle broader issues such as mandatory minimum sentencing for drug crimes.
"Mandatory minimum issues are much broader than this bill," she said. "It's not going to happen before May 6 but we're going to be working as quickly as possible."
Civil rights groups are urging the Biden administration and Congress to let the temporary ban on fentanyl-like substances lapse.
Instead of cracking down on drug possession, these groups want the government to focus on steps to reduce harm — including addiction treatment and safe injection sites that allow people with substance use disorders to take illegal drugs under supervision.
LaBelle said her office will start flagging state laws that might prevent syringe services and the distribution of the overdose-reversal medication naloxone, according to her prepared remarks.
ONDCP also will highlight best practices for distributing and using fentanyl test strips, which are meant to find traces of the powerful synthetic opioid in heroin that users may not be aware of.
Overdose Spike
Overdose deaths in the U.S. grew steadily for years, spiking last year amid the Covid-19 pandemic. More than 85,000 people died from drug overdoses in the 12 months ending in August, the most of any year on record, according to provisional data from the Centers for Disease Control and Prevention.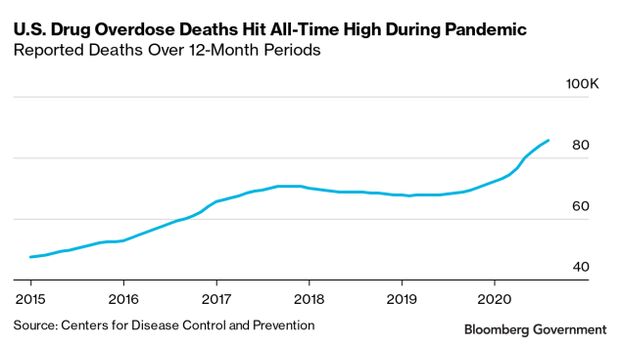 The rising fatalities show the current system isn't working, those pushing for changes to U.S. drug control policy say.
Lawmakers and the drug control policy office under President Donald Trump's administration focused on broader availability of overdose-reversing drugs and medication-assisted treatment programs, both previously considered controversial ideas for government programs.
The Biden administration, in an outline of its plans for the drug policy office, promised to go a step further and vowed to promote harm-reduction policies — although the White House has yet to lay out plans for creating or supporting programs such as safe injection sites.
Biden Taps Congress for Over $10 Billion to Fight Opioid Crisis
Enforcement Exception?
It's unclear over the long term whether fentanyl, a powerful synethetic opioid, will be the exception.
"What they've been saying sounds good," said Maritza Perez, director of the Office of National Affairs at the Drug Policy Alliance, which advocates for public health approaches to drug use over relying on law enforcement. "On the other hand we know that many lawmakers and some in the administration see fentanyl and fentanyl-like substances as the exception, much like we did with crack cocaine."
Perez said the Justice Department could issue guidance saying it won't prosecute anyone using overdose prevention centers, similar to how the Obama administration said it wouldn't crack down on businesses selling marijuana in states where it was made legal.
Members on both sides of the aisle have supported keeping fentanyl-like substances on the list of Schedule I drugs, saying it's crucial for helping law enforcement stop shipments of illicit synthetic drugs entering the country.
In Birth and Death, Opioid Crisis to Leave Mark Long After Covid
"Fentanyl is 50 times more potent than heroin and just a few milligrams can be lethal," Reps. Cathy McMorris Rodgers (R-Wash.) and Jim Jordan (R-Ohio) said in a joint statement. "If Congress doesn't extend the fentanyl analogues ban by May 6, these extremely lethal drugs coming from China and also across our southern border will essentially become street legal."
Some Democrats said they're skeptical about how useful the reclassification of fentanyl has been.
"Despite the temporary scheduling, deaths from fentanyl analogues rose by 10%, so clearly scheduling is not the silver bullet and Congress has to consider alternatives to stop synthetic opioids," Rep. Anna Eshoo (D-Calif.) said at the Wednesday hearing.
Addiction Treatment Bills
The Energy and Commerce Committee hearing covered 11 bills aimed at reducing overdose deaths.
One bill (H.R. 955) would allow Medicaid programs to extend eligibility to people in prison 30 days before their release, a change advocates say will help them access substance use disorder treatment as they leave incarceration.
Another bill (H.R. 1384) would eliminate the registration requirement for health-care providers who want to prescribe buprenorphine, an addiction-treatment medicine.
To contact the reporter on this story: Alex Ruoff in Washington at aruoff@bgov.com
To contact the editors responsible for this story: Robin Meszoly at rmeszoly@bgov.com; Sarah Babbage at sbabbage@bgov.com
Stay informed with more news like this – from the largest team of reporters on Capitol Hill – subscribe to Bloomberg Government today. Learn more.